The New Black- Classic Meets Modern in a Clean Package
Text and Photos by Jason Mulligan
Article
Going from modern luxury to classic muscle car can be a big hurdle to overcome. Heated seats, navigation and parking assistance had no place in the classic cars of the '60s. Back then, the only checkmark next to the word "power" on window stickers was by the engine. They were about one thing: blazing a trail of speed and torque down the highway—comfort and handling be damned. Patrick Collins of Pembrooke Pines, Florida, is a service manager at the nearby Lexus dealership. He is used to climbing in and out of high-end luxury vehicles all day long. When the weekend hits, he prefers to cruise town in something a bit more classic and American: his '69 Chevrolet Camaro built by the crew at Miranda Built in Deerfield Beach.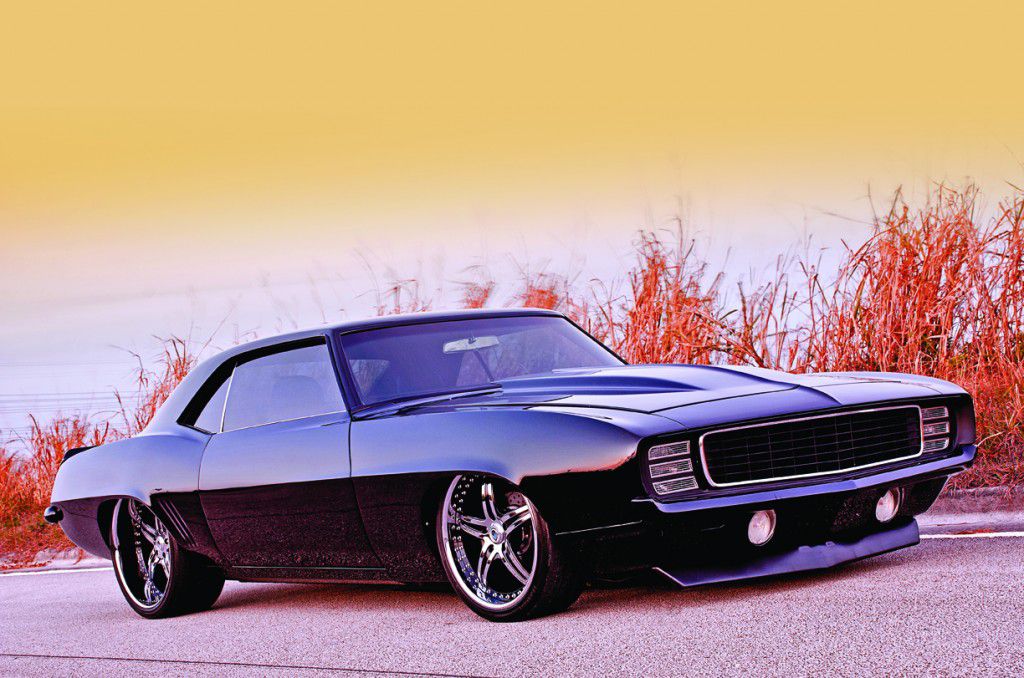 Of course, Patrick has gotten used to creature comforts found on luxury cars and his goal was to introduce these items into the Camaro with the help of Miranda Built. The modernization began under the hood where they dropped in a brand-new 6.2L LS3 crate engine from GM Performance Parts. A few items from Comp Cams, including a camshaft, lifters and springs were added for extra power, bringing it to 500 hp with 450 ft-lbs of torque. MSD wires were used and the engine was hooked up with Red Horse hoses and Russell fittings. A 4L60E with 2002 Camaro shifter was hooked up with an American Billet torque convertor to a Ford 9-inch rearend with Moser axles and Motive gears. Added power and style are achieved with Street & Performance headers and a Magnaflow exhaust coated by IPC Coatings. Topping things off is a Concept One front drive pulley setup and Edelbrock water pump.
For better ride and tight handling in the corners, the guys at Miranda Built installed a Ride Tech air system front and back, including new control arms and a reworked rear link system to set the car 2 inches lower. The luxury styling of the Camaro improved with a set of three-piece 19 x 8 and 22 x 10-inch Asanti AF144 wheels wrapped in Nitto Envo tires measuring 235/30/19 and 295/25/22 respectively. Stopping these meats is a full set of Wilwood four-piston brakes.
The inside was modernized and kept classy in black trim thanks to Tommy Nast. Pontiac GTO 2006 seats were used, and factory Camaro door panels were tricked out and installed. Miranda Built customized the dashboard, smoothing it out and fitting it with AutoMeter gauges and a Billet Specialties steering wheel. An ArcAudio sound system finishes things off. Finally, Chad Fister painted the smoothed and shaved Camaro body using PPG Black. The resultant combination of clean, classic styling and modern luxury is exactly what Patrick envisioned thanks to the crew at Miranda Built.
Owner
Patrick Collins
1969 Chevrolet Camaro
Pembrooke Pines, FL