Snake Bit – Jerry Hodges' Slick 1937 Ford Coupe
by Jerry Hodges
Article
The builder of this beautiful '37 Ford, Sean Ornduff, was on the phone filling in the blanks for us, when he said something that was pretty funny. "You know how some cars just sort of fall together, while others fight you every inch of the way? Well this car is a fighter." He went on to explain how he'd tested the patience of all the new guys at the shop by giving them some work to do on the '37. He was sure that the car would fight every inch of the way, so the new guys would either get through it or quit.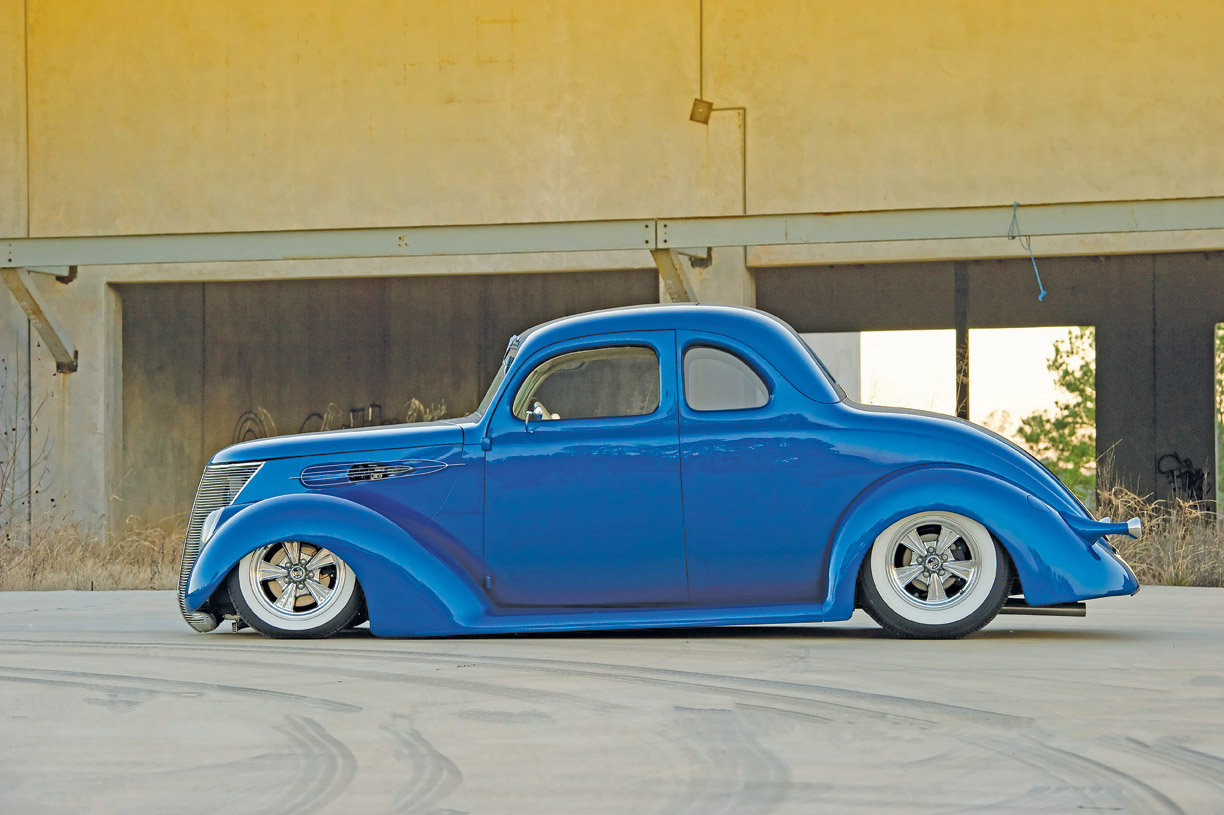 Part of the problem is that Sean, along with Greg Yoakum, Ashley Griffin and Larry Ornduff, were in charge of turning someone else's screw-ups into a rolling piece of jewelry. Jerry never suspected that the running, drivable coupe, had been someone else's headache. He found that the car was full of fiberglass to fix all of the questionable sheet metal. So he began going to all of the local hot rod swap meets and collecting all of the patch panels that the body was going to need. Then he dropped the '37 off at the first shop where the crew proceeded to take the car apart and cut out some of the bad bodywork. After a while Jerry got a call to come pick up his car and the boxes of parts because the shop was closing. They mentioned that he should bring a trailer.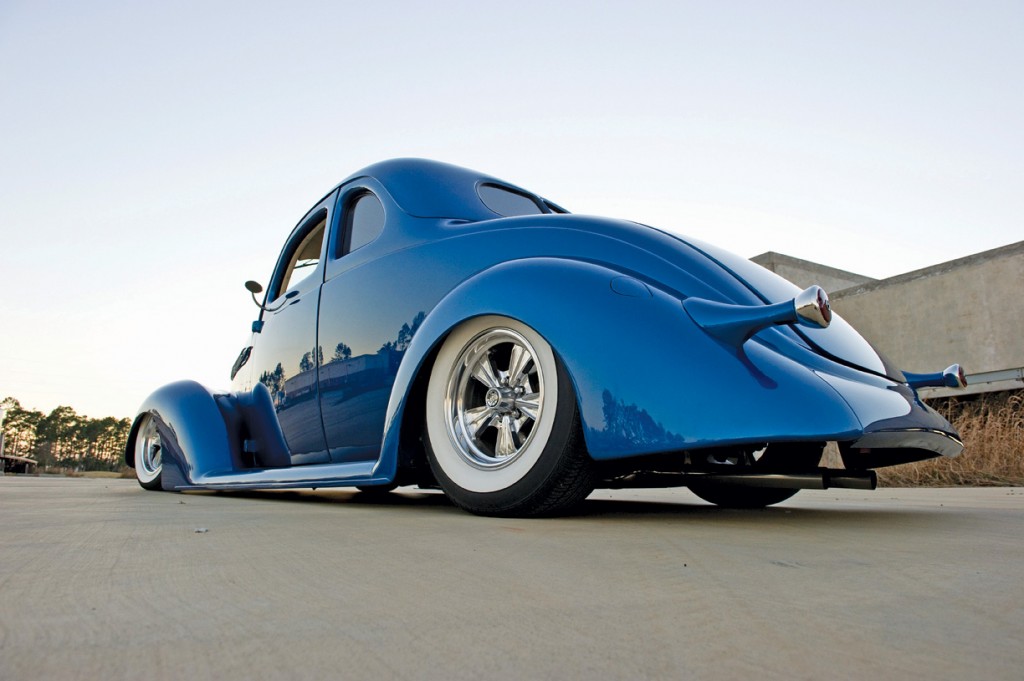 Not long after that, Jerry delivered all of the parts along with what was left of the '37 to shop number two. That shop didn't take quite as long to figure out that they were in over their heads, and that left Jerry searching for shop number three. Jerry had actually known Sean for quite some time, and he knew that the car would be finished and look like a million bucks if he left it in Sean's capable hands. So Jerry went and knocked on Sean's door.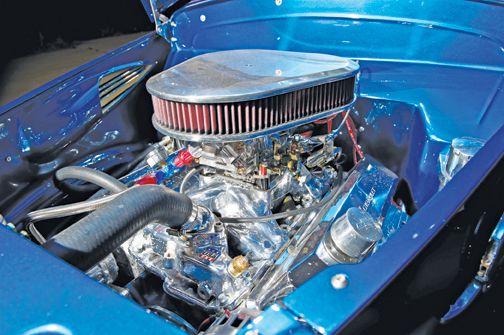 A few days later, Jerry showed up at Sean's shop with the '37 on a trailer and box after box of parts. Sean and his father Larry went over the car and through all of the boxes of parts, making a list of stuff that needed to be done to the car. By the end their list looked more like a book. It included replacing the entire floor, a number of patch panels on the body, building "reverse blister" hood sides with custom stainless steel trim and modifying a set of 1936 taillights—and that was just on the body.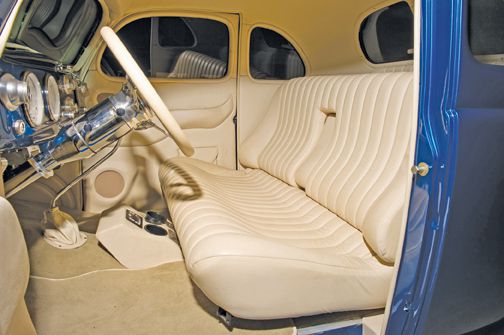 An aftermarket chassis with a Mustang II up front, Currie 9-inch out back, four-wheel disc brakes and a 350 Chevy power plant with a 700R4 tranny, radial wide whites and a stunning blue paint job were also in the works. Inside, the crew from Cy Fair Upholstery was called in to stretch the off-white leather over all of the panels and lay down the custom carpet. When everything was said and done it had taken two years to turn a car that two different shops couldn't handle into the rolling piece of art that you see on these pages. Of course the '37 fought the transformation every step of the way.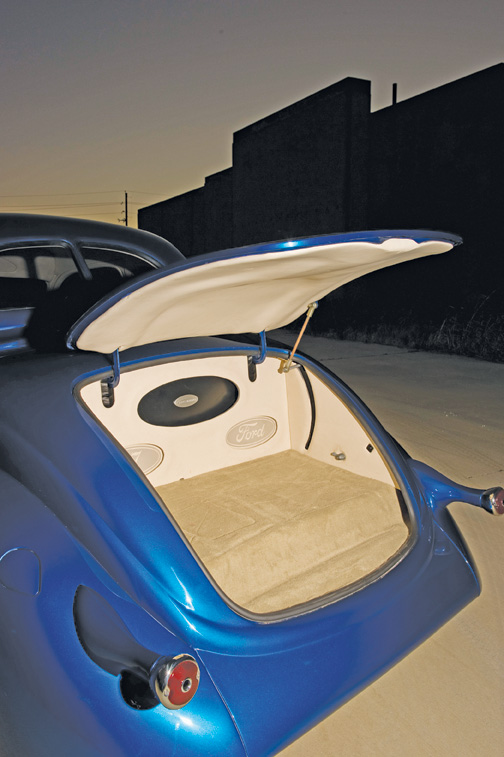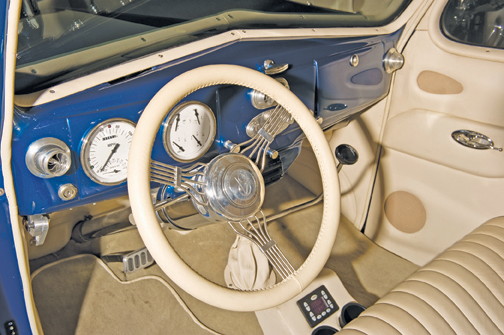 None of this would have been possible without the constant help and support from Greg Yoakum, Ashley Griffin, Larry and Sean Ornduff, Bruce Burroughs, Danny Burroughs, Les at P&P Performance, Cy Fair and especially Lisa Hodges for all of her patience and support.
Tech Block
Chassis
Frame/Manufacturer: Aftermarket
Wheelbase: Stock
Rearend: Ford 9-inch 3.50:1
Rear Suspension: Air Ride
Rear Brakes: 10-inch disc
Front Suspension: IFS/Air Ride
Front Brakes: 11-inch disc
Master Cylinder: Dual circuit
Steering Box: Rack and pinion
Steering Linkage: Borgeson
Steering Column: ididit
Front Wheels: Radir 15 x 7
Front Tires: 225/65/15 Diamond Back wide whitewall
Rear Wheels: Radir 15×8
Rear Tires: 245/65/15 Diamond Back wide whitewall
Fuel Tank: Tanks Inc.
Engine
Make/Displacement: 1976 350-ci Chevrolet
Machining: G&G Performance
Assembly: Les at P&P Performance
Heads: Edelbrock
Alternator: Powermaster
Manifold/Induction: Edelbrock air gap/Holley carb
Valve Covers: Chrome
Ignition: MSD
Exhaust: Custom built by Dustin at Bruce's Rod Shop
Transmission: GM 700R4 by DSJ Transmissions
Converter: Circle D
Shifter: Gennie
Body
Body style/Manufacturer: 1937 Ford coupe
Hood: Custom sides and stainless trim
Radiator: Aluminum
Grille: Stock
Taillights: 1936 Ford
Interior
Dash: Stock
Gauges: Classic Instruments
Stereo: Alpine head unit
Wiring: American Auto Wire
Steering Wheel: LeCarra Banjo-style
Upholstery By: Cy Fair Upholstery
Fabric/leather Color: Off-white leather
Seat Manufacturer: Teas
Jerry Hodges
1937 Ford Coupe
Magnolia, TX