Thompson Streamliner Test at El Mirage
By Roger Rohrdanz
Thompson Streamliner Test
Shortly after 8:30am the Thompson Challenger II with Danny Thompson onboard made its first pass down the track since 1968, 46 years ago!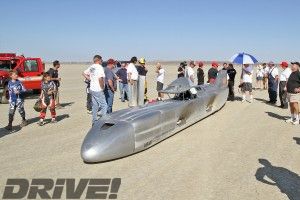 The first test run of Challenger II was at the El Mirage dry lake on June 10, 2014. After the run, Danny said, "It was a relatively low speed run (180mph range), but a whole lot of important things went just right, validating many of the engineering choices my team and I have made over the last three years.
"Tim Gibson's extremely complex front end architecture worked like a charm, and the steering was smooth and fluid. I was able to test the parachutes and the new carbon fiber brakes, both performed perfectly."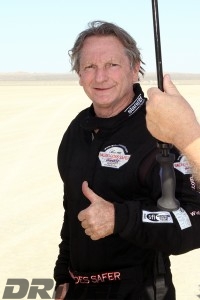 Danny concluded with, "That said, I'm pumped! We've got a lot of work ahead of us as we prepare for our next test at Bonneville in July. The engines will be coming apart tomorrow and we'll be examining every inch of the car as we fix, tune, and optimize." Thanks for coming along for the ride!