BRAKE GUIDE: Common Questions from Hot Rodders
Text by Chad Reynolds
Article
Every hot rodder's first project starts long before they actually acquire the car, and in almost all cases includes a laundry list of parts that will make their project go quicker and faster. In most cases, brakes are way down the list. In the early '90s, a friend of ours had just gotten a '65 GTO that was a great-running 389 four-barrel, four-speed car, and instead of making it stop, decided a new Edelbrock Torker intake and Holley carb were just what the doctor ordered. A few weeks later, he decided that the Lincoln Mark VII in front of him had just the right amount of brakes for both of them and ended up wadding up both cars. Don't be that guy.

Make no mistake, many of you have stepped up to better brakes, but it still surprises us when we see the number of cars at shows and cruise nights that don't have nearly enough stopping power. With the incredible advances in high performance brake systems and components over the past decade, there is no excuse not to make your Chevy, Ford, Mopar, street rod or custom stop as well as it goes. Companies like Baer, Stainless Steel Brakes, Wilwood, CPP and ABS, along with many others have kits and components that will not only make your rod safer, but also more fun to drive. Hawk, SSBC and Baer offer rotor and pad upgrades that will dramatically decrease you're stopping distance, as well.
One of the biggest questions we get, along with who the manufacturers are, is, "What options do I have for my car if I'm not running 18-inch wheels?" The answer is, A LOT, and we're going to tell you about some of those offerings.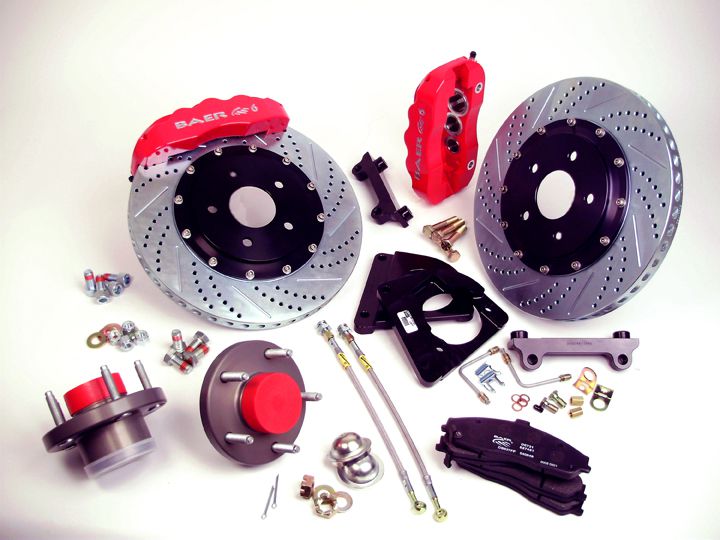 COMMON BRAKE SYSTEM QUESTIONS
From Hot Rodders:
How big a rotor should I put on my car?
Do I need 1, 2, 4, 6 or 8-piston calipers?
Will your brake system fit inside my current wheels?
These along with questions about specific spindles, power-assist options, brake bleeding and fluid, and bedding pads can all be answered by your favorite aftermarket brake companies.
From the Manufacturers to the Hot Rodder:
What kind of car are you looking to install new brakes on?
What size wheels and tires are on the car? Backspacing, offset, etc.
What are you going to do with the car? Cruise, drag race, road race, autocross?
What suspension modifications have you done, or are going to do, to the car?
What spindles are on your car?
If you are road racing or competing in Pro Touring events like the Optima Ultimate Street Car Invitational, you might consider stepping up to six-piston calipers and 14-inch rotors, but let's face it, most of us don't do those things with our hot rods.
Most of us want our cars to stop well at a red light, hold for the occasional burnout or drag strip launch, and slow us down from the occasional Goodguys Autocross lap. Nonetheless, the choices we make when purchasing a brake kit are very important, and very often confusing. Choosing the right system for your hot rod will be a much less daunting task with a little better understanding of some of the key components of your brake system, namely calipers, rotors, master cylinders and brake lines.