Put on a Happy Face – Retrofitting a VDO Tach Into a Vintage Mustang
Text and Photos by Matt Emery
Article
Instrument repair is becoming somewhat of a lost art. There are a lot of little springs, magnets and other parts hiding inside the average instrument, and it takes knowledge and practice to get them working again. Sure, you can get entire clusters from the major suppliers, but what if you want to retain the stock appearance?
Back in the day, there were plenty of places where you could get stock instruments repaired and upgraded, but not any longer. Repairs have become a virtual cottage industry.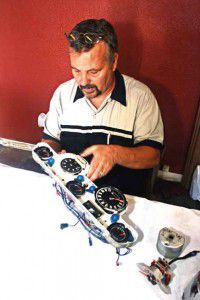 One such case was with the tachometer in this vintage Mustang. There are two considerations when dealing with this particular item. This one had simply worn out and needed to be replaced or repaired, but it also needed to be upgraded to work with modern ignition systems. Why, you ask? Well, Ford had the idea that running the stock unit in series with the ignition system when the vehicle is in operation was a good one. It is an odd design on a variety of levels, but new (i.e., aftermarket) ignition systems use a tickler wire to operate the tach, which is all in all a much better design.
So, even if your stock tach is still in good working order, if you upgrade the ignition system—a good idea due to the age of the stock system—you still have a problem with the tach not working. So the question is how to have a modern tachometer with the stock look? It's simple: Go to a guy who still practices the nearly lost art of instrumentation repair.
We were at Pomona Valley Customs in Montclair, California, where we watched Bruce Hollingsworth replace the stock tachometer with a new VDO unit, yet still keep it looking stock. Hollingsworth has 29-plus years experience specializing in speedometers and electrical. (See, he's even fastidious about his stated time experience; we'd have rounded it up to 30.) He is known as "the guy you take it to when you need a gauge or instrument cluster fixed or modified," or if you have an electrical problem nobody else can figure out.
To fix this problem, Hollingsworth simply took everything gently apart and put the two pieces back together again. We watched as he did this job in short order, but remember that he has a lot of practice (29 years to be exact, and we do mean exact). So, if you find yourself in need of instrumentation repair or upgrade, give Pomona Valley Customs and Bruce Hollingsworth a call. He'll get your gauges "pointed" in the right direction.
SOURCES
Pomona Valley Customs
4081 W. Holt Blvd.
Montclair, CA 91763
909.621.3570
VDO
Vdo.com
Text and Photos by Matt Emery