WOOD YOU BELIEVE!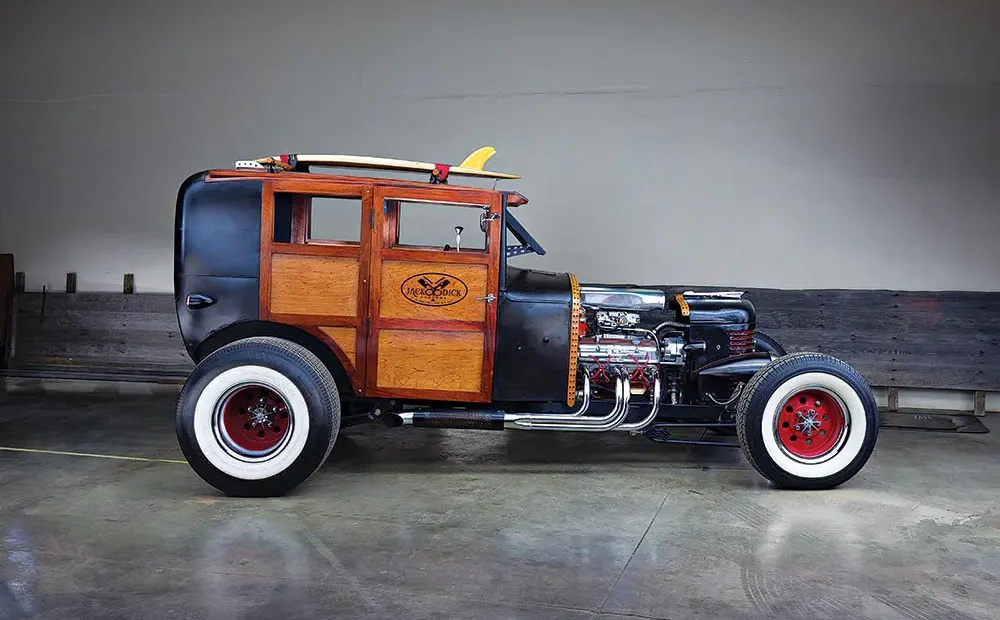 Two friends built an orphan 1928 Hudson hot rod; then the car built a business for them 
Longtime friends Ben McCloy and Scott Satterla didn't intend to open a hot-rod shop, it just sort of happened after they built their 1928 Hudson Woodie. Their work on this car drew so many requests for similar work, they quit their day jobs and opened Jack Dick Customs in Martinez, California, one year ago and have been busy ever since.
McCloy had always admired the looks of the 1928–1929 Ford Tudor sedans, so when a rusted hulk of a Hudson sedan body showed up on Craigslist for $500, McCloy jumped on the project. Neither McCloy nor Satterla had shop space at the time so the freshly purchased bare body sat in Satterla's driveway while McCloy sought to purchase a frame, doors, roof and any hardware for the orphan Hudson. The parts they needed turned out to be more than a little elusive so they set about building their own.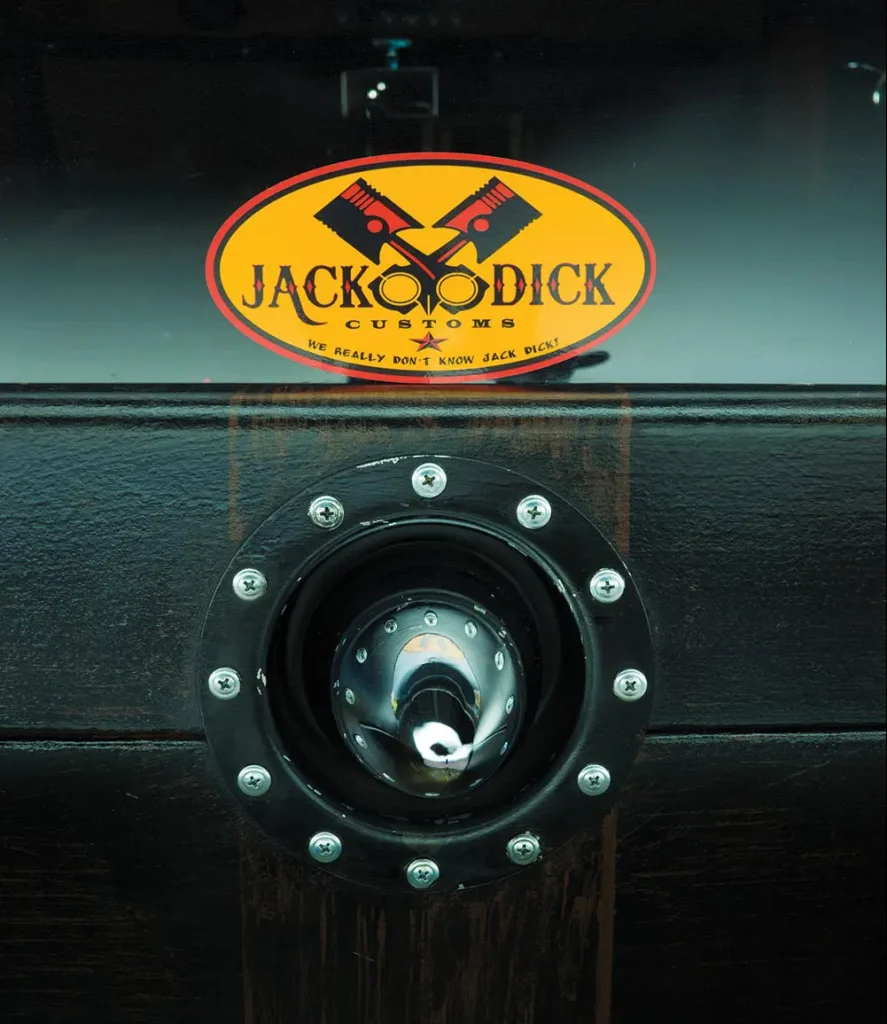 They laid the frame on the driveway using 2 x 3 box steel and measured other hot rods and customs to get the proportions right. A small-block Chevy motor and 400 trans were mocked up and the body fitted after being shortened 9 in. McCloy had always liked the looks of Satterla's 1948 Chevy Woodie, so when it came time to make the missing doors, McCloy made them from wood and the Woodie project took off. Wooden quarter panels followed and with no overall theme for the Hudson in mind, McCloy and Satterla started adding whatever was lying around Satterla's garage, what they could find at swap meets and what looked cool at the local home improvement stores.
The woodwork fell mostly to Satterla while McCloy scrounged for hardware. Flat pieces of mahogany, oak and zebrawood were cut to size and screwed onto the Hudson body.
Soaking planks in Satterla's hot tub over night, bending them into place and screwing them down made the curved pieces. McCloy and Satterla had planned to cover the factory opening in the sedan's roof with the traditional fabric, however, once the wood spars were in place they looked so good it would have been a shame to cover them up. So the Hudson Woodie became an open car. With no roof rack to hold an old surf board McCloy had in his closet since high school, McCloy used the skeg off a Maharaja water ski to give the Woodie's roof a "surfboard" look. Later McCloy covered his 1980's vintage pink surfboard with some wood-grain contact paper and fashioned a roof rack out of banister railing holders and shovel handles from the home improvement store.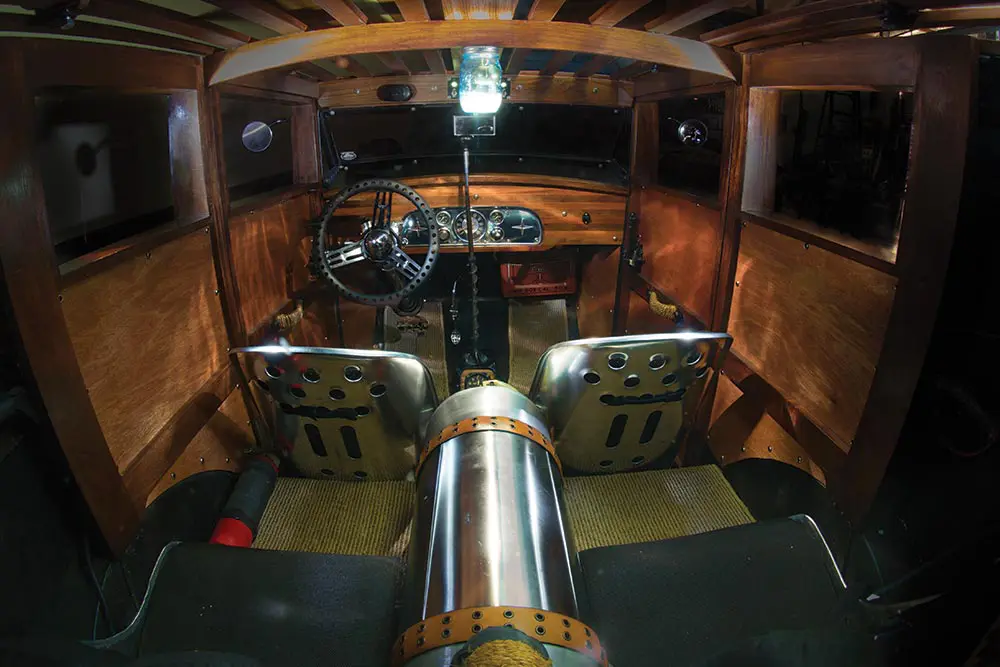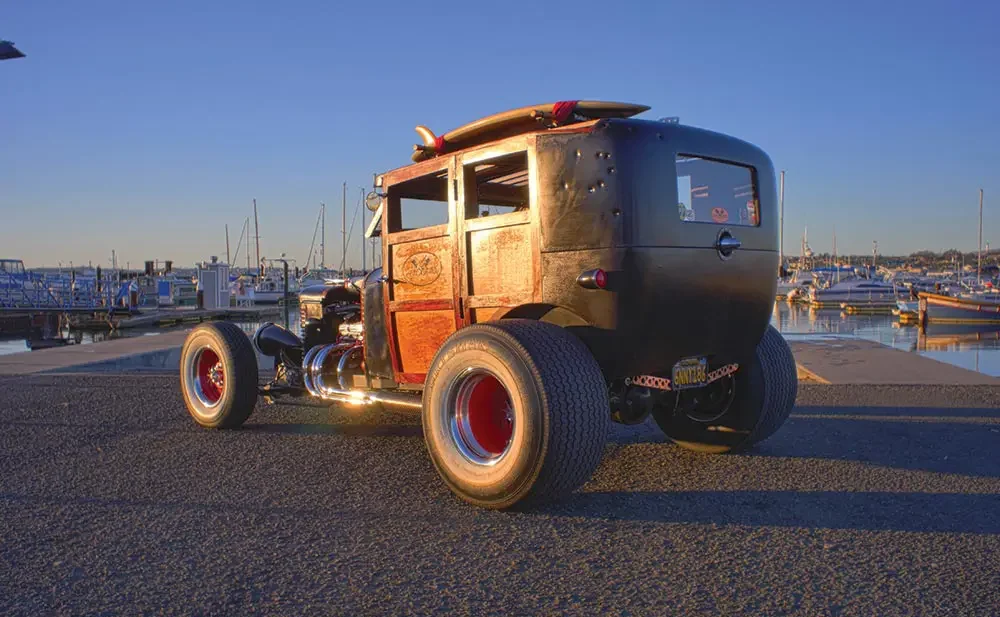 Once the wood was placed, the Hudson started to look like a rumrunner boat and a moonshiner hot rod combined so a Mason jar dome light, whiskey-still coiled copper tubing and the "XXX" radiator overflow bottle were all added. Still using whatever they had on hand, mid-1920's Ford door latches were used on the outside. The local home improvement store sourced the drawer pulls for inside door handles and the gate latches that ensure the suicide hinged doors stay shut at freeway speeds. A gauge panel from a 1957–1960 Ford truck from Pick-n-Pull found its home in the dash while a working altimeter donated by Satterla's father was fitted to the floor to round out the instrumentation.
In keeping with the newfound aviation influence, the switch panel was located over the windshield and given a vintage airplane look. With this aesthetic twist in mind, four bomber seats were sourced and placed on top of the home improvement store hall runner carpeting. The license plate in the floor is a cover for the brake master cylinder bolted to the frame below the body. The drilled out steering wheel resembles vintage aircraft controls and is fitted with a swap meet horn button. The glovebox is a little chest from a craft store with a boat tie-off cleat as a handle. A skeleton key found at a swap meet was ground down to fit a battery disconnect switch and serves as the ignition key. With little room left, fitting the spun aluminum gas tank was a chore. "I tried about seven different ways to fit it in there," says McCloy, "before it found its home in the center of the two rows of seats." The ammo box under the dash is a tool chest that holds all the tools needed for roadside repairs. "We built the car using as few sizes and types of nuts, bolts and screws as possible so our emergency tool kit would be small," McCloy says.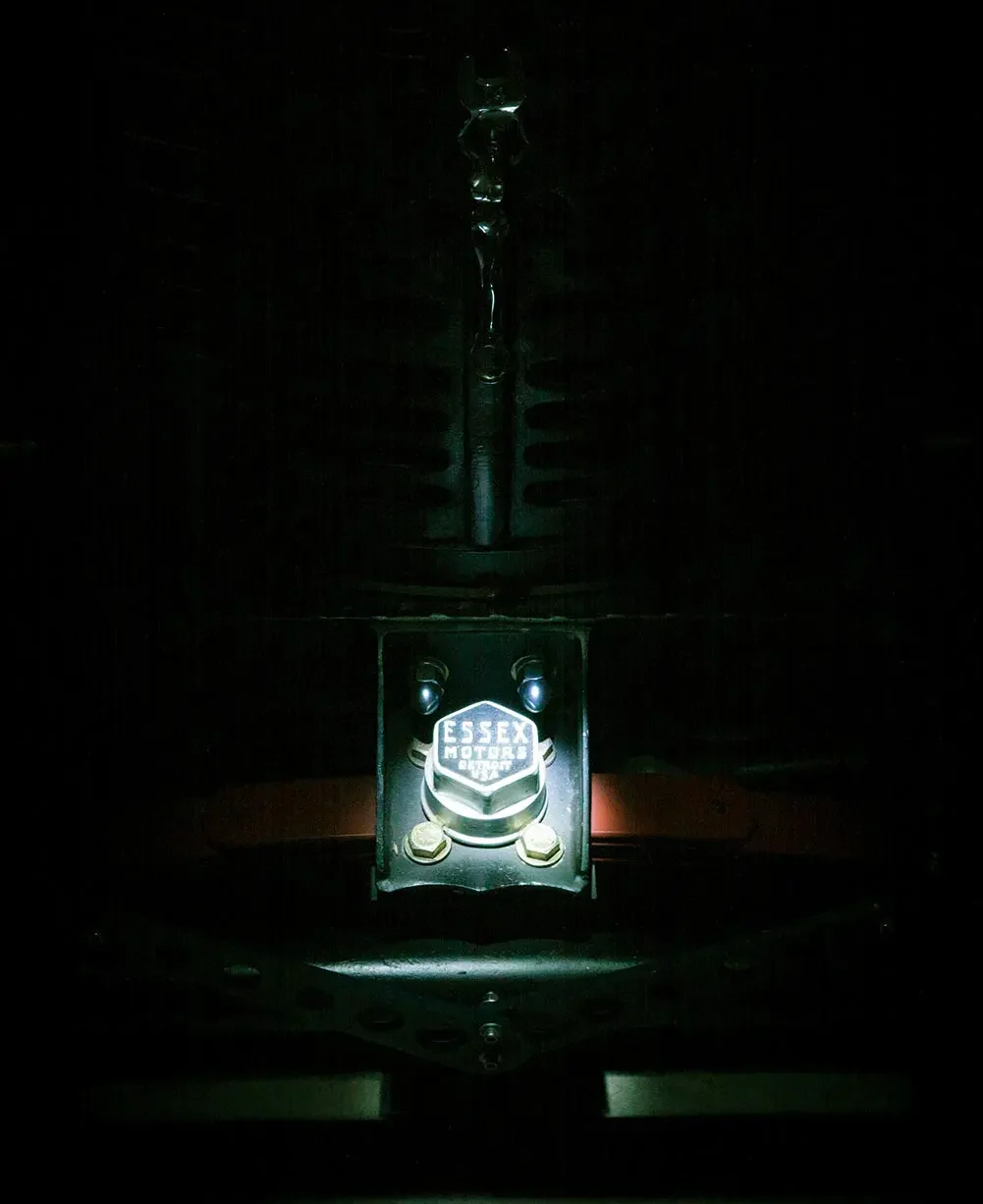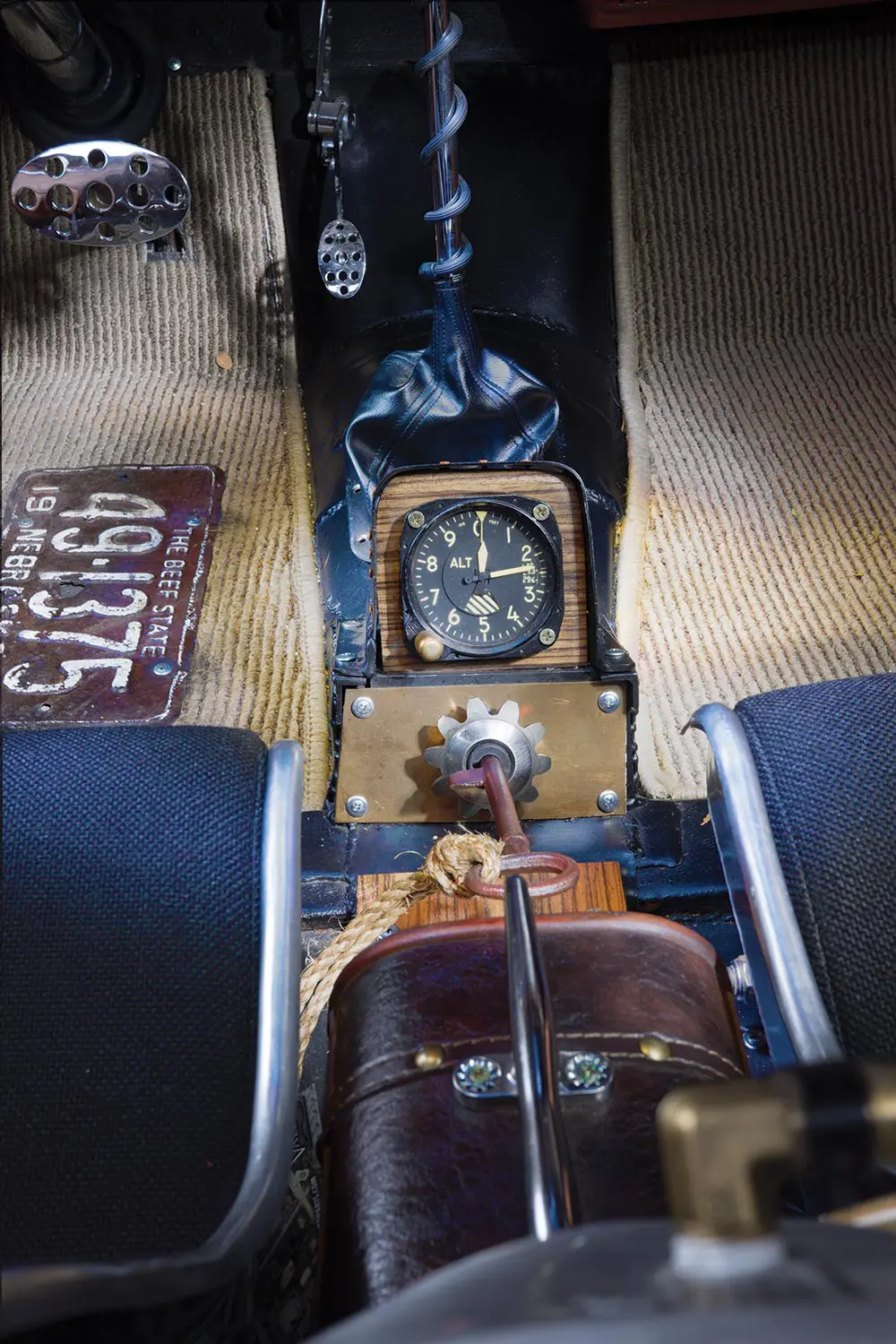 With the interior outfitted, McCloy and Satterla turned their attention to the mechanical aspects of the Hudson. Summit Racing supplied the 380-hp 4-bolt main 350 engine and TH400 automatic transmission. Dressing up the Chevy small-block are an Edelbrock intake, Demon 650 carb, Mr. Gasket air cleaner/scoop and Cal Custom valve covers. A 1968 Bronco donated its 9-in. posi 3.73 rear end, which sits on a custom coil spring/trailing arm set up similar to a 1960s Chevy truck. Mickey Thompson Sportsman 33 x 19½ tires with vulcanized porta-walls ride on painted Weld wheels out back while reversed Weld drag wheels with 235 x 75-15 tires ride on the Ford Model A 6-in.-drop-tube axle front end.
He wouldn't say exactly how much he has invested in the Woodie, but has said he's been offered many times that amount to sell it, but he won't because it is such good advertising for the shop.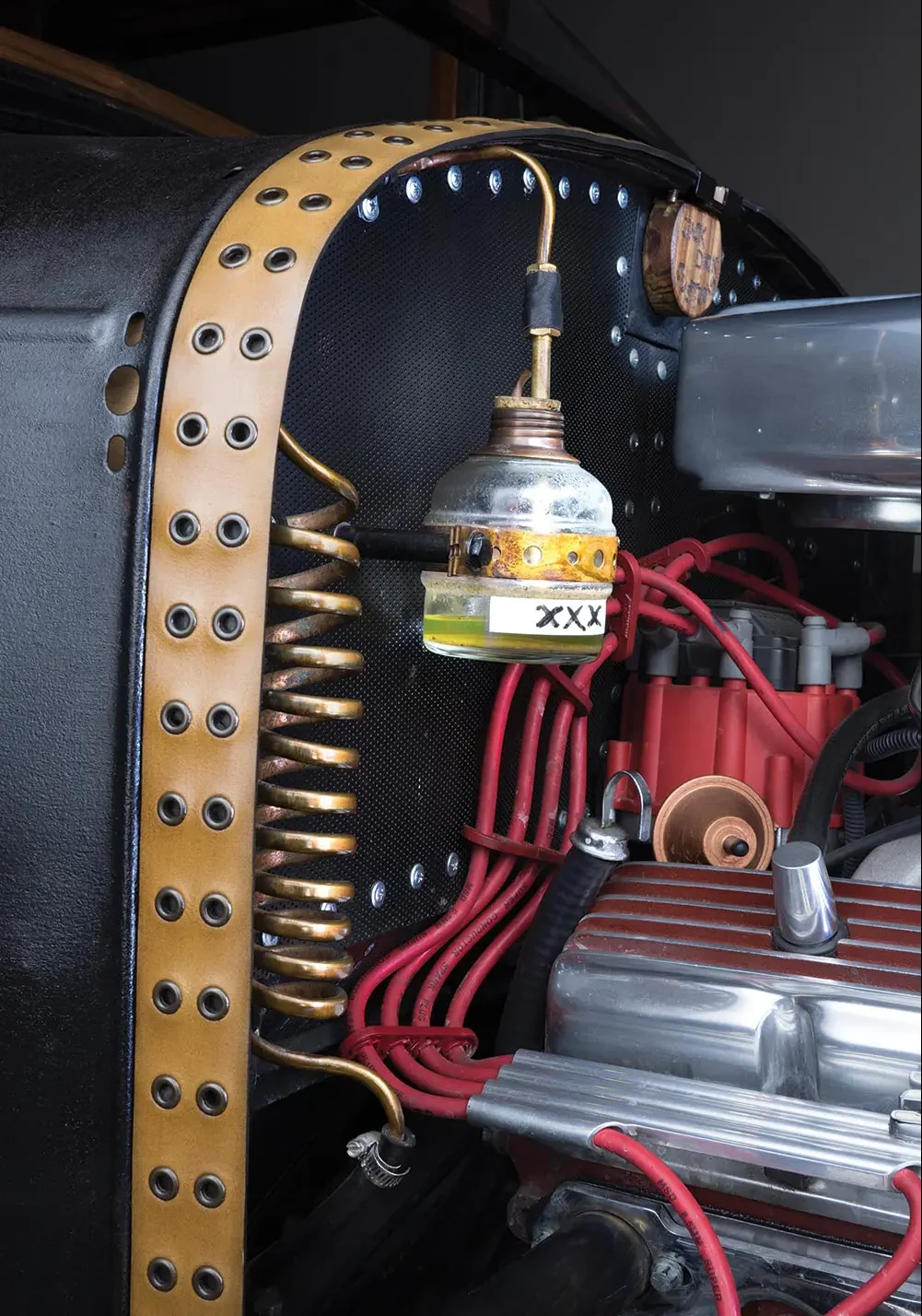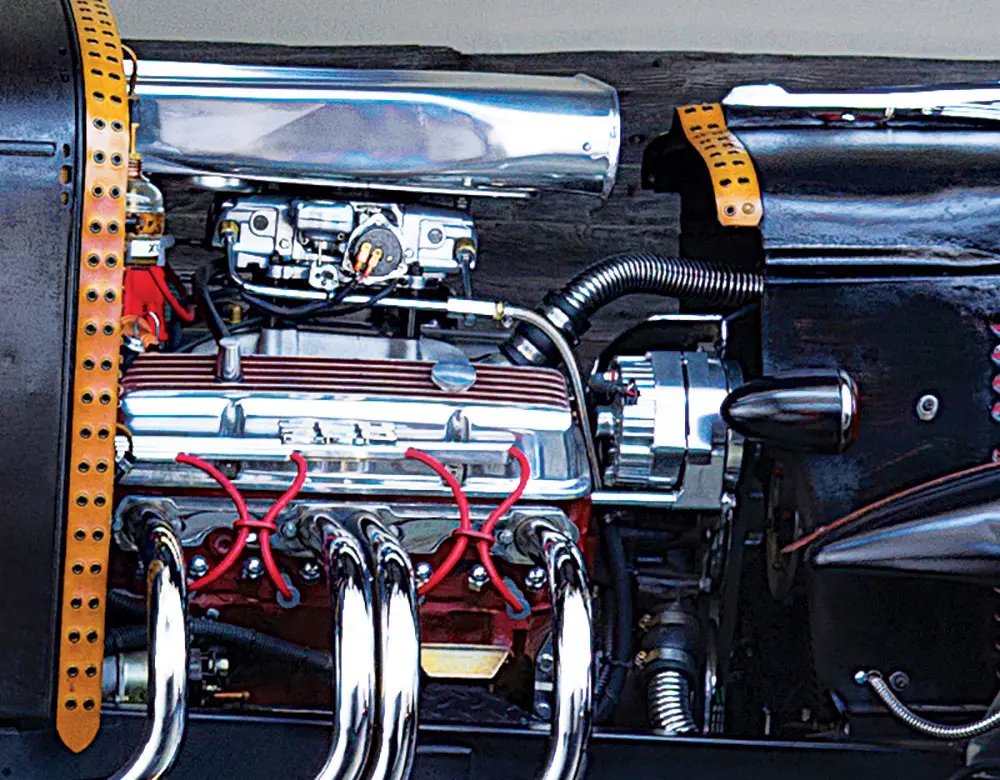 With the powerplant and suspension handled, McCloy and Satterla turned their attention to the exterior look of the Woodie. A Hudson Essex wheel cap bought for $3 at a swap meet tops the front-end spring perch. "I think it needed this, as nothing else on the car said Essex or Hudson," McCloy says. Capping the front end is an International Harvester tractor radiator shell that was cut down 3 in. to fit. While it was a cheap eBay find, McCloy said it needed lots of attention with a ball-peen hammer and dolly. A "lady wrench" adorns the front of the grille while the hood ornament from McCloy's 1948 Chevy rests on top. Packard headlight shells sport 1940s Chevy chrome trim and 1932 Ford lenses. Keeping with the what-you-can't-hide-enhance theory, an over abundance of machine screws highlight the perforated sheet metal covering the many holes in the factory firewall. After a shopping trip to the local clothing store McCloy discovered his new belt would make the perfect accent to frame the engine compartment, so he went back and bought two more and fashioned them into cowl and grille shell welting. A gap between the body and frame at the rear of the sedan is filled with a pair of drilled copper plates. Slightly above, the gas cap was fashioned from a Tri-Five Chevy bumper bullet. Finishing off the rear end are mid-1930s Ford taillights. Rust Reformer applied with a dirty, crusty paintbrush give the metal body parts a slightly wood-grain finish.
Lots of people are interested in it. People feel it's okay to touch it. Climb on it, touch it, smell it. I like that people get a more visceral connection to the car. Makes it more real.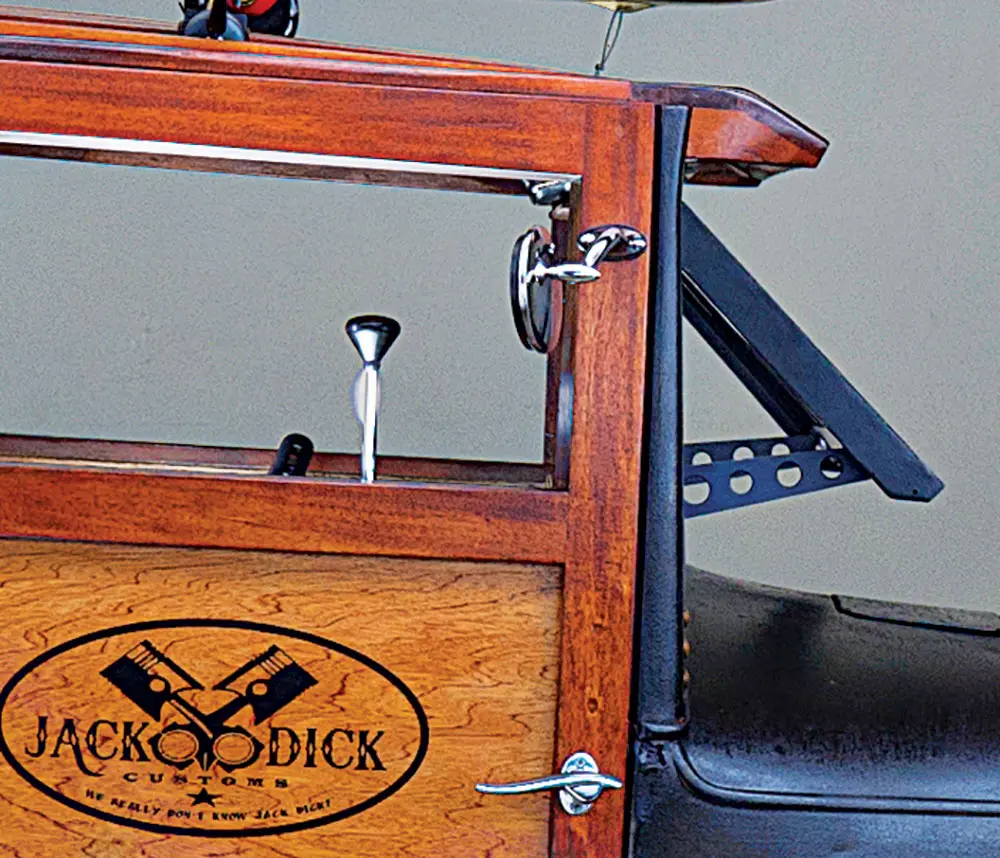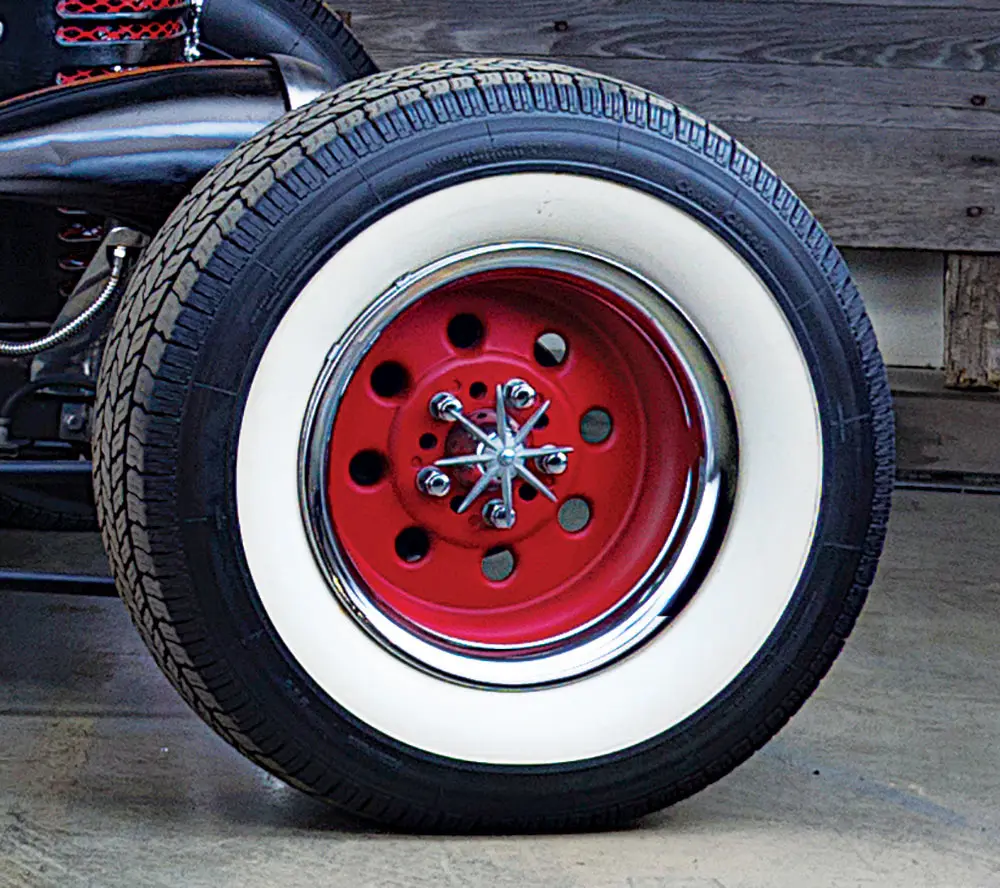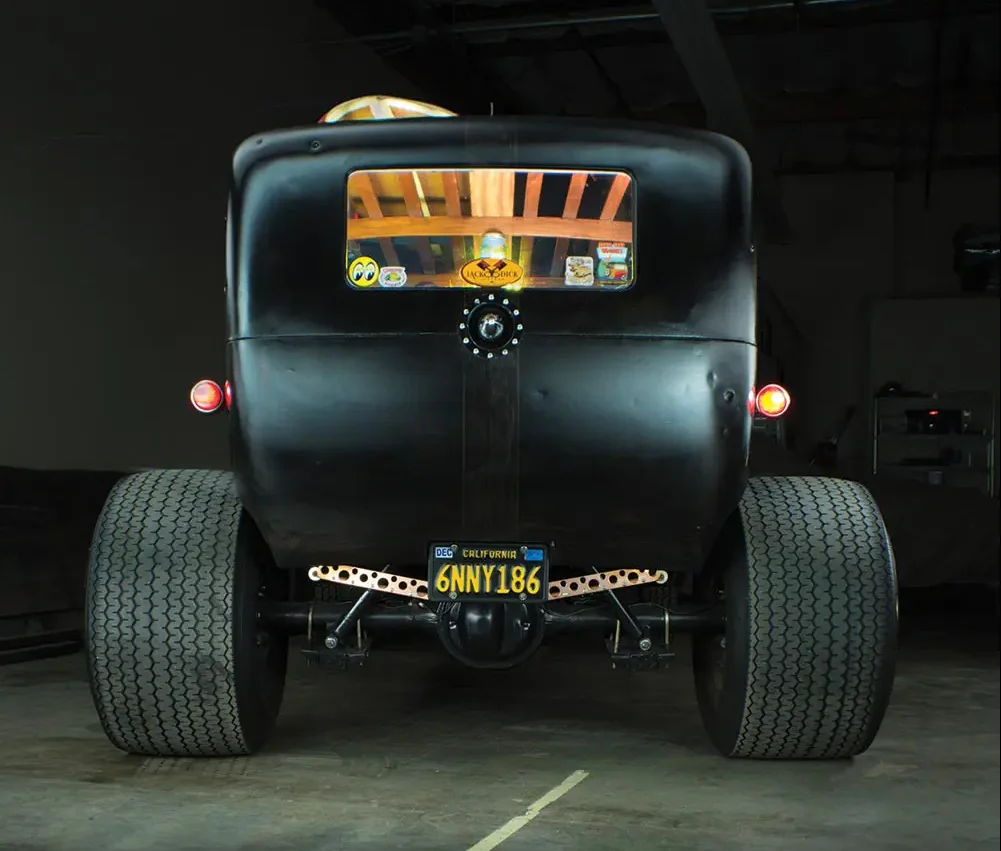 The entire built took three months of labor in Satterla's driveway. The inaugural run transformed what should have been a 15-minute ride to the local car show into a two- hour ordeal of roadside alignment sessions and adjustments. But once they sorted out the Hudson, it has proved reliable, comfortable and fun to drive even on long road trips. Both McCloy and Satterla enjoy taking their creation to shows such as Woodies on the Wharf in Santa Cruz, California. "Lots of people are interested in it. People feel it's okay to touch it. Climb on it, touch it, smell it. I like that people get a more visceral connection to the car. Makes it more real," McCloy says. He wouldn't say exactly how much he has invested in the Woodie, but has said he's been offered many times that amount to sell it, but he won't because it is such good advertising for the shop. So much so that after just one year in business, Jack Dick Customs (https://www.facebook.com/jackdickcustoms) has had to move to a larger shop. Finding this orphan Hudson not was not only the start of a fun project for two longtime friends, but it was also the start of a new and growing business for them both.
---