Wild Horse: A '68 Mustang that Performs (Part 1)
Text by Travis Noack
Photos by Travis Noack, Isaac Mion and John Glover
Article
Kindig-It Design releases one impressive pony from the stables in this two-part feature that will blow you away! Chiseling out a precision-built muscle car with all the raw performance and one-off style required to keep up with today's standards is no small feat. To hang with the big boys you have got to bring the heat and pack the skills to take something from a pile of rust to art on a turntable. The cars that get your blood boiling with one look are certainly cool, but we have more respect for the rides that can hold their own with the car show judge and do battle on the asphalt.
Make no mistake, the '68 Mustang pictured here sees its fair share of the inside of a car trailer. But when it's time to light off the 434-ci mill and blaze the rear 24s, owner Devan Alissmeyer is not shy about dumping the clutch, pounding on the skinny pedal and enjoying the sweet smell of burnt rubber and the sight of smoke billowing off of the rear Pirellis. The car definitely delivers in both appearance and "pin your back to the seat," neck-snapping performance.
To transform Devan's once well-worn pony into "Wild Horse," he pointed this former Eleanor towards Kindig-It Design in Salt Lake City, where Dave Kindig, William Lockwood, Kevin Schiele, Rodger Bailey, Lane Sukowati and Justin Stephens cut loose with a slew of one-off custom tricks and put the build throttle down hard to transform this ride.
Fortunately, when the Mustang arrived at Kindig-It it already had a healthy rumble under the hood. A 434-ci Ford SVO small-block had already been prepped and built with the best go-fast goodies. A total of 992 hp and 816 lb-ft of torque lays it down when the Crower crankshaft, Crower camshaft and Carillo rods start moving. JE slugs set at 8.2:1 compression ratio gets the performance party rocking in the chambers, while Crower lifters, Del West valves, Crower valve springs and Crower rockers keep things operating smooth in the valve train department. A Canton oil pan and Melling oil pump provide ample lubrication, while Air Flow Research heads keep the Blue Oval breathing easy.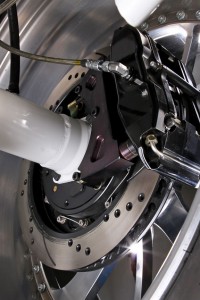 Up top, an Edelbrock intake and Holley carburetor suck down the octane cocktails, while a polished ATI Procharger unit packs more air down the engine's throat. An MSD ignition throws a king-sized match on the performance flame, and an Edelbrock water pump keeps things cool. All 992 hp is echoed to the enthusiast masses through custom Kindig-It Design fabbed headers thumping the camshaft note through stainless exhaust and Burns mufflers. ARP engine fasteners hold everything under the massaged hood together when this pony gets ready to bust out of the gate. Billet Specialties pulleys ensure everything operates in style. Sending all spine-folding 992 hp and 816 lb-ft of asphalt-blistering torque to the ground is a Tremec T56 six-speed commanded by a Kindig-It Design custom shifter delivering gear commands to a custom driveshaft by Driveshafts of Utah.
Out back, the rear donuts are ignited by a Currie housing stuffed with Strange Engineering axles and Strange Engineering case and gear set. A Strange rear four-link and shocks control the movement out back, while Art Morrison A-arms and Strange front shocks keep the nose planted and glued to the ground when the fun pedal is planted. An electric power rack from American Power Brakes and Steering points and shoots the front 20-inch Intro billets and low profile Pirellis. Serving as the rolling structure and performance bones of the project is an Art Morrison chassis slightly modified by Kindig-It Design. All of this automotive art rolls low on 20 x 8.5-inch front and 24 x 15-inch rear Intro 307 wheels with custom-built hoops. The rear 24s sit inside tubbed wheel wells to accommodate their massive stature. Pirelli rubber does the road battling, leaving the Wilwood six-piston front and four-piston rear brakes to bring the car to a firm stop when playtime is over.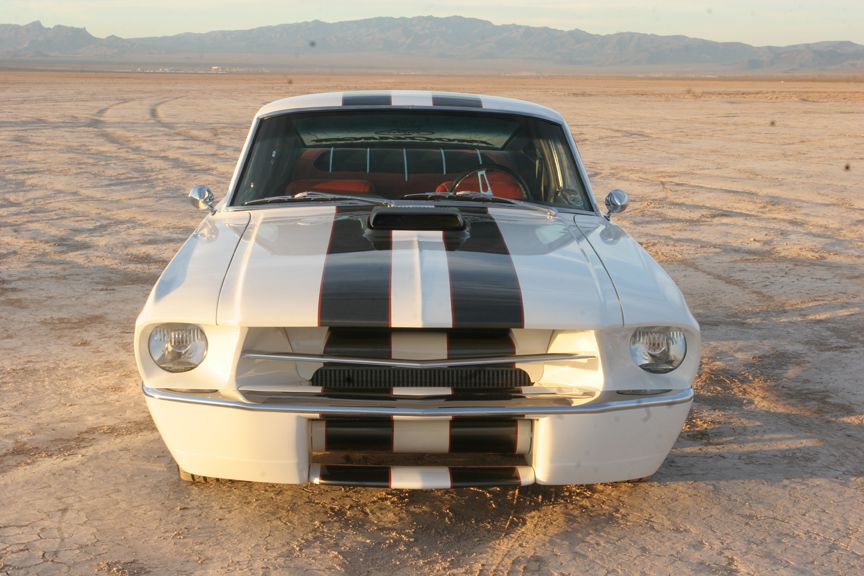 Stay tuned for the second part of this muscle car feature!