Throwing a Tire-Smokin' Tantrum in a Twin-Turbo Chevelle
Text and Photos by Steve Temple
Article
Nobody likes to feel ignored, least of all a muscle car. Even so, this awesome '70 Chevelle sat for seven long years neglected in somebody's garage. The previous owner took some half-hearted steps at restoration, but both the bodywork and engine needed some serious attention, so he basically threw up his hands.

Fittingly, Tom Sparrow knows a thing or two about mending broken wings. As part owner of MSI Speed shop with Mark Stein, he's used to working on Corvettes and early GM muscle cars. While searching for yet another personal project car (his eighth or ninth by last count), he came across an ad for the Chevelle in the local paper. Looking past the scratches from the lawnmower sitting next to it, he decided to take it on. But this wouldn't be a straight resto job. No, this big bird really needed to spread its wings with some modern-day performance, handling and comforts, all while keeping that '70s-style coat of feathers intact. The result is a silver-gray bird of prey with twin-turbo talons.
"If you had a way to build an old muscle car and make it new, that's what we did," Sparrow sums up. But there's more to this cherry Chevelle than that, as he put his personal stamp on it: "When you look at the car, you look at me."
For instance, even though Sparrow started with a fairly basic '98 5.7L LS1, he fitted it with a pair of intercooler Garrett turbochargers. And the turbines are fed hot exhaust gasses from headers that he personally fabricated. He also had to resection the radiator core support, moving it forward to make room for the turbos and intercooler.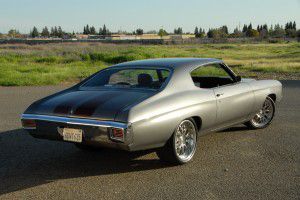 A JDM wastegate with a 50mm Tial blow-off valve from Edelbrock limits the pressure level to a healthy 9 pounds. Given the forced induction, he kept the COMP cam to fairly mild specs: valve lift intake .558, exhaust .563; advertised duration 265/271. Duration at .050 212/218 and lobe separation is 115.0. With the extra airflow, the factory computer required some custom fuel maps, finessed by GM tech expert Mark Romans. All told, the boosted block is good for 523 hp at 5,200 rpm and 533 lb-ft of torque, both measured at the rear wheels. "We've seen as much 560 hp, tops," Sparrow notes, "but we want to keep this car streetable."
To keep this high pressure mill from blowing its top, two Spal fans cool the Ron Davis aluminum radiator. Dressing up the engine bay is a Zoops cover with carbon fiber overlay, along with a set of Vibrant hoses, Specter Works elbows and XRP hoses and hose ends. As a finishing touch, the firewall was smoothed, as well.
That flood of power flows through a T56 trans, beefed up by Sparrow with performance upgrades and a Centerforce Clutch, and then into a 12-bolt, built by Randy's Ring & Pinion with a GM Posi. This driveline really spins those 19-inch Intro Billet aluminum rear rims—and we mean some serious tire smokin' here, as the photos attest—nobody'll ever ignore this Chevelle again!
Baer's 13-inch disc brakes haul it down from freeway speeds, while a contemporary suspension setup keeps it carving the corners. The chassis claws through the curves with SPC front upper control arms, AFCO tubular lower control arms, and Moog steering components. At the rear are Edelbrock control arms and an ADDCO anti-sway bar, and Eibach Sport Springs support all four corners.
Smoothing the feathers of this screaming eagle are Dynacorn replacement body panels on the front fender and bumpers and rear trunk lid. While the drip rails had been cut previously for cleaner body lines, they hadn't been properly welded up, which is important from a structural standpoint, since they act as a pinch-weld to secure the hardtop. So Sparrow, with some assembly help from Tim Tracy and Stephen Retter, rewelded the entire roof back to the upper framework and A-pillars. They also smoothed out the marker lights, giving this Chevelle a sleek, aerodynamic shape, ready for flight. "The hardest part of the build was definitely getting bodywork straight," he admits.
The dove gray color scheme came courtesy of SEM Titanium Metallic and Candy Apple Red rally stripes. Even the undercoating is color matched with SEM bedliner paint, all thanks to helpful input from Chris Silvera of SEM products and time in the paint booth donated by Jason Haskins.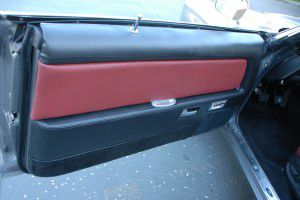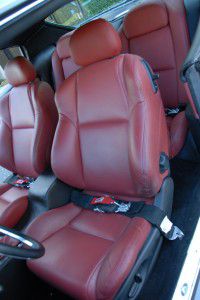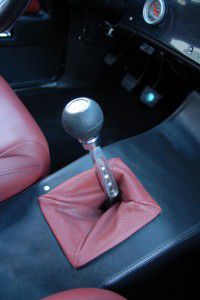 The cabin comforts are equally plush, starting with a 2005 Pontiac GTO color-matched Hyde, perforated and sectioned into the seatbacks by Bob's Upholstery. Marquez Designs' custom-formed the door panels.
The Covan's Classic dash is a molded insert, graced with Autometer ProComp gauges. Accenting the interior are a Zoops billet steering wheel and Longacre billet shifter. For a breath of cool, fresh air, there's Vintage Air Gen IV HVAC system. And for those thumpin' tunes, just crank up the Pioneer NAV/audio/video and speakers and Xtant subs, both powered by the MTX amp.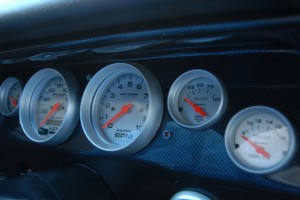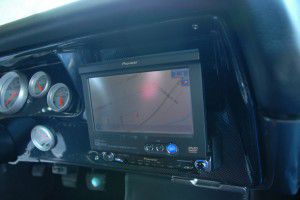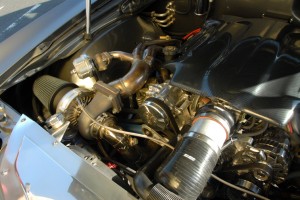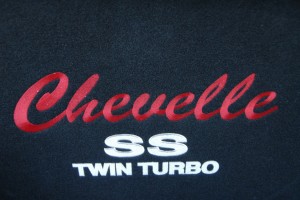 Overall the car has been well received, even by the hardcore muscle car contingent, probably because of the excess of twin-turbo power, along with the careful attention to details. "We built this Chevelle from the heart, the way we thought it should be," Sparrows says. And that's something worth crowing about!