The Road Runner Rides Again: A '69 survivor stashed in the Surf City Garage
Text by Harley Camilleri and Photos Courtesy of Surf City Garage
The Road Runner Rides Again: A '69 survivor stashed in the Surf City Garage
Opening up the book of cars reveals some very interesting stories to read over the decades. How cars became branded and named is an entire history of its own telling and merit. One of the stories that have been well known through the years is how the Plymouth Road Runner saw the light of day. Its namesake cartoon character emblazoned in many places on the car's body and interior easily identified Plymouth's Road Runner. The Plymouth Road Runner was introduced in '68 as a mid-priced, intermediate-bodied muscle car and even had a horn that went "beep, beep", just as the feathery cartoon character.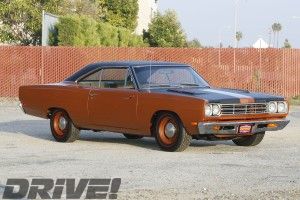 Surf City Garage may be a namesake manufacturer of well-known cleaning products for automobiles, but many people do not know the back warehouse is a veritable time capsule of cars, trucks, and motorcycles. Located behind the 10-foot high gates and walls in Huntington Beach, California, is a treasure trove of muscle cars that would make any collector envious and any enthusiast weak in the knees. This '69 Road Runner is one many rebuilt cars resting comfortably in the confines of the Surf City castle. A trip through the company's website allows viewers to click on parking spots in the garage and get info on nearly every vehicle in the collection.
This '69 Plymouth Road Runner is finished in beautiful Bronze Poly Fire and really fits into the increasing re-emergence of the earthly hues in popular rodding. Having received a full rotisserie restoration and stripped to its bare metal flesh, the Road Runner was found to be in surprisingly good condition and required nothing more than a thorough massage to get its sheetmetal back in order. The Road Runner was built for serious street work and is no fragile car, which might be why this example survived mostly unscathed all these years. Having paid Warner Brothers a reported $50,000 to use the namesake and likeness of one of its cartoon characters, the '69 model year was the second year of production, but the first year of full color decals and emblems. The Surf City's car did not require touching up any of the emblems. Now, that's a clean example.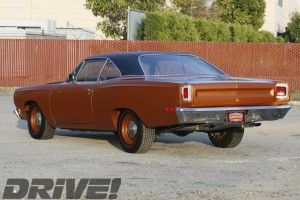 Finished in Bronze Fire Poly, this Plymouth carries it's heft and length pretty well. Built as a muscle car for the masses, the Road Runner sold many more units than others in its family. With plenty of horsepower and a low cost of ownership, Plymouth nailed it with these cars.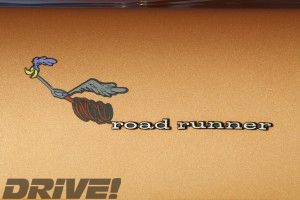 Inside, the Plymouth was equipped with a bench seat and deluxe interior. Covered in the era's known mutli-color blends, we'll just call it tan to keep it simple enough for the story. This muscle car has never been cut for any know maladies most survivors have seen like an aftermarket head unit or 6×9-inch door speakers. Actually, the original head unit in this prime example works just as well as the day it rolled off the assembly line. About the only thing that might set off the casual observer to the car's potential might be the 4-speed shifter lurking on the floor. The bench seat provides the shifter a bit of stealth. Maybe to gout an unsuspecting driver into a street race with this "granny" car with a bench seat.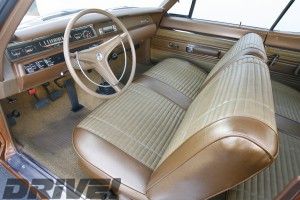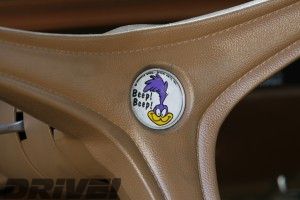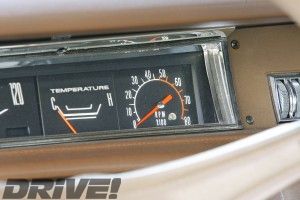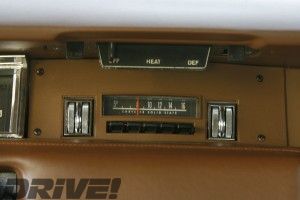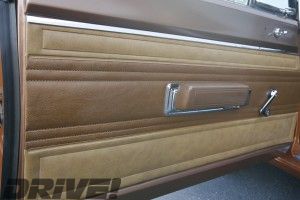 A pair of matte stripes run up the fiberglass pin-on hood and wear a pair of 383 badges so it comes as no surprise that popping the hood will reveal the deftly strategic placement of Wile E. Coyote covered in Road Runner dust painted on the oversized air cleaner lid. The 383 Magnum carries a 4-barrel and a dual snorkel air cleaner. Running 9.5:1 compression, it was rated at 325hp at 5200rpm with torque at 425 lb-ft at 3400rpm. Being fully rebuilt back to 100-percent original specifications, we're sure this Magnum makes that and probably a little more. A handy driver running moonshine in the South could probably get the big Plymouth to 60mph in less than 7 seconds while barking the red line Polyglass tires and running from Johnny Law.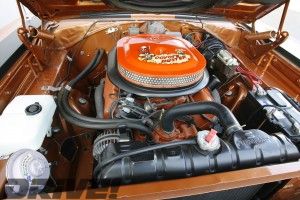 Opening the hood reveals a completely original 383 Magnum fit with a 4-barrel and air grabber. Having spent $50,000 on licensing the Road Runner name and likeness, Plymouth placed the characters everywhere they could, including the poor Coyote on the air cleaner lid.
Part of the allure of the Road Runner is the "beep, beep" horn. Surf City's '69 still has a fully functional unit that is probably worth a mint to someone.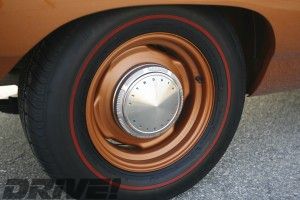 City's Road Surf Runner wears a set of Redline BF Goodrich tires as a throwback to the days this car originally roamed the strips. The Surf cars actually get driven once in awhile and the Polyglass tires would keep originality but be a bit of a handful on Southern California's roads.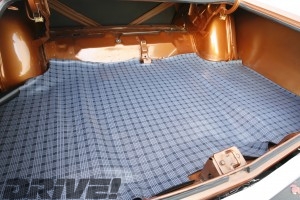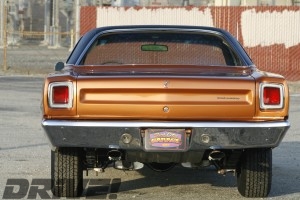 A total of 84,420 Plymouth Road Runners were sold in '69 proving that horsepower with a solid price point is what people wanted. The more nicely appointed GTX was less than a stellar seller that year as were the Road Runner's Dodge cousins. With a sticker price of $2,945, the Road Runner was horsepower for cheap, in a solid package that could run with the best of them. Heck, for a $175 more, this thing could have had a Hemi.