The Passion for Performance: An Inside Look at Lingenfelter Performance Engineering
Text and Photos by Bob Ryder
The Passion For Performance: An Inside Look at Lingenfelter Performance Engineering
For more than 30 years, high-performance engine tuning company Lingenfelter Performance Engineering (LPE) has provided engine assembly, cylinder head port development, dynometer testing and one-off custom builds to enthusiasts, aftermarket companies and OEMs worldwide. For customers who want added power, Lingenfelter's turnkey supercharged crate engine assemblies—delivering upwards of 600-700 hp to a vehicle—have been the brand of choice.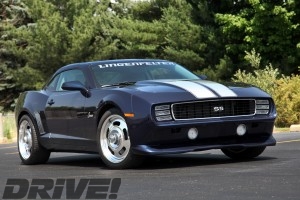 John Lingenfelter, a legend in the world of performance engineering and a passionate racer whose career spanned more than four decades, founded the company. As most race fans know, John raced everything from Super Stock and Comp door cars to Econo dragsters, Pro Stock Trucks and Sport Compact during his career. He was the first Comp driver to break the six-second quarter-mile barrier. He won 13 NHRA national event titles: nine in Comp, three in Super Stock and one in Pro Stock Truck.
In October 2002, at the Mazda NHRA Sport Compact World Finals in Pomona, California, John lost control of his vehicle and sustained serious injuries in the accident.  He passed away as a result of complications from subsequent surgeries on Dec. 25, 2003, at the age of 58. The passion and expertise that John cultivated at Lingenfelter Performance Engineering, however, continues at the company.
After staying off the radar for a couple of years, the company was purchased in 2008 by Ken Lingenfelter, a distant relative to John and a long time LPE customer, who was in the midst of selling his real-estate settlement company.
Born the son of a General Motors executive, Ken always had a passion cars, and can recall standing on the hump of a '55 Chevy at age 4, naming every car that drove by.
Through his father's work, Ken participated in a program called Craftsman's Guide where he could build future car models of existing GM cars. He's also loved Corvettes ever since seeing his first 1963 split-window model. All of this fueled Ken's interest in designing and owning high-performance cars, and he began assembling his own collection roughly 20 years ago.
Ken has continued to grow his personal car collection to include 200 of the most historically significant race cars, muscle cars, Corvettes and exotic cars from around the world. Dubbed The Lingenfelter Collection, Ken occasionally opens his private car collection for tours in support of automotive organizations, charitable institutions and LPE activities. And the ever-changing compilation, featuring everything from the historically significant '55 Duntov Corvette mule car to a Bugatti Veyron, an Enzo Ferrari and a Lamborghini Reventόn, is always evolving thanks to Ken's excitement during the search for something more unique or conceptual.
As CEO of LPE, Ken is committed to investing in the technology, research, design and testing necessary to target design excellence in engine packages and aftermarket components. Many Lingenfelter Performance Engineering products have been instrumental in establishing performance thresholds, and the company continues to bring innovative technology and high performance engine packages to the marketplace.
For example, Ken's love of automotive design led him to develop the Lingenfelter TA, a modified '10 Camaro that uses all of the styling and muscle from the past combined with the technology and elegance of today to improve upon the muscle-heavy Pontiac Trans Ams of the '70s.
LPE also offers component product development; services to manufacturers, aftermarket and original equipment suppliers; prototype and preparation of product development vehicles; late product life-cycle performance improvements; durability testing; and show and media event vehicles.
Lingenfelter Performance Engineering continues to lead the way as a globally recognized brand in the performance engineering industry. Since beginning as CEO, Ken has injected his entrepreneurial spirit into the company, determined to honor the tradition of passion and hard work that John Lingenfelter had instilled in the performance company from the very beginning.
The talented Lingenfelter team continually sets new milestones in the performance community, including powering their modified '12 Chevrolet Camaro ZL1 to become the first to exceed 200 mph and make a quarter-mile run in the 10s.
Recently, our staff had the opportunity to tour Lingenfelter's engine shop in Decatur, Indiana, to see the experts work firsthand on some of their latest projects. To learn more about LPE, visit Lingenfelter.com.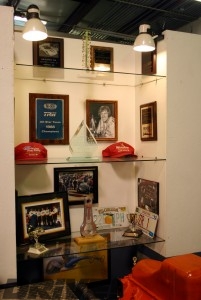 Several areas of the shop display a rich heritage of accolades from John Lingenfelter as well as past and present LPE customers.
After CNC porting, LPE veteran cylinder head specialist Al Keller hand rolls a set of LPE cylinder heads.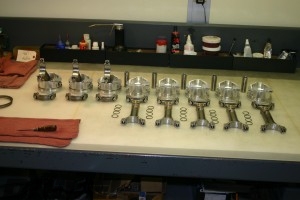 Cleanliness and organization are key ingredients to the consistency in Lingenfelter engine assemblies.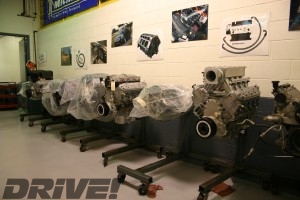 These lined-up engines are awaiting their new homes in some of the fastest, most durable and drivable street cars in the world.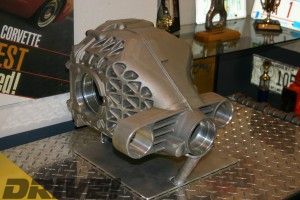 Lingenfelter developed this 241mm differential for the 2010-12 Camaro SS.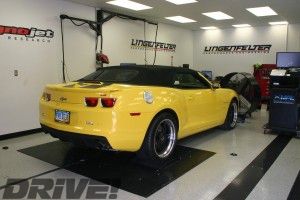 Lingenfelter baseline tests each vehicle package in-house on one of its two chassis dynamometers.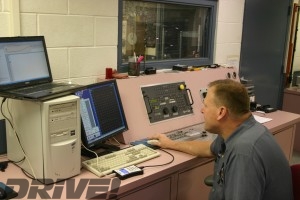 Research and development work continues on a daily basis. Lingenfelter engineers use the same equipment as the OEMs to engineer, develop and test their vehicles and components.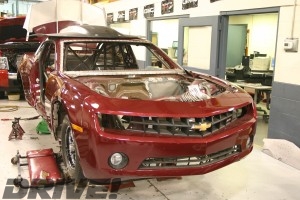 This Lingenfelter Real Street Camaro is in the beginning phases of its build.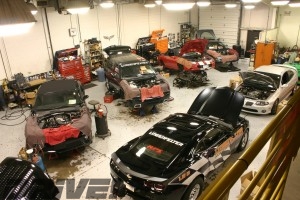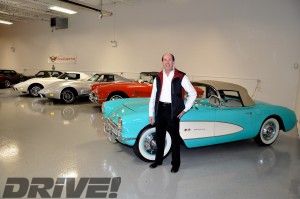 Owner of Lingenfelter Performance Engineering Ken Lingenfelter stands in front of a couple of his Corvettes.