THE INTERVIEW
Drive catches up with the prolific artist, Trosley. We ask a few questions, learn a few things, and find out what it's like behind the pen. 
It's an honor to interview the artist that has one of the most recognizable illustration styles. George Trosley has been a personal influence and inspiration since I was a kid. George has undoubtedly done the same for countless others.
By his mother's account, George started drawing at the age of five. Mostly on the walls at this time. Later, his fourth-grade teacher, who was an amateur artist, took notice and recommended private art lessons from a local painter. George and his brother, Harold, would spend time drawing their "dream machines". They also built model cars. George would come up with wild customizing ideas and used plastic wood to mold parts from one kit to another. Harold had the model body-working talent to turn them into prize-winning creations. They would be inspired by car magazines, devouring them for new ideas. The two began winning almost every hobby-shop model contest around. They were eventually banned from a few.
Soon they were old enough for real cars to fool around with. George's first car was a '47 Plymouth sedan. Followed by a '55 Ford Tudor with a 312ci T-Bird engine and trans, and a severe rake. George even painted "Village Vandal" on the trunk lid, much to his mother's displeasure.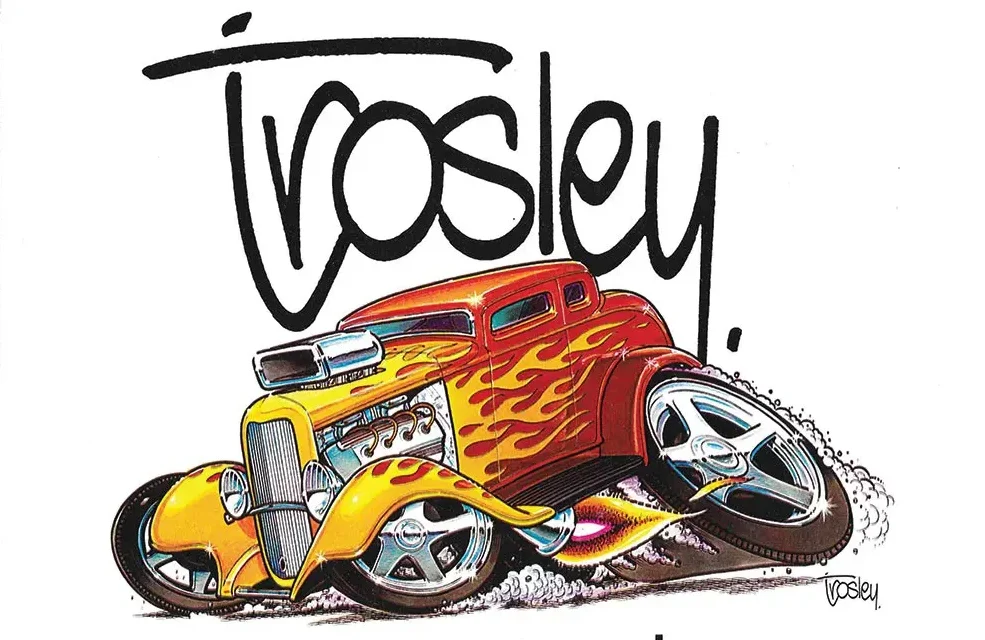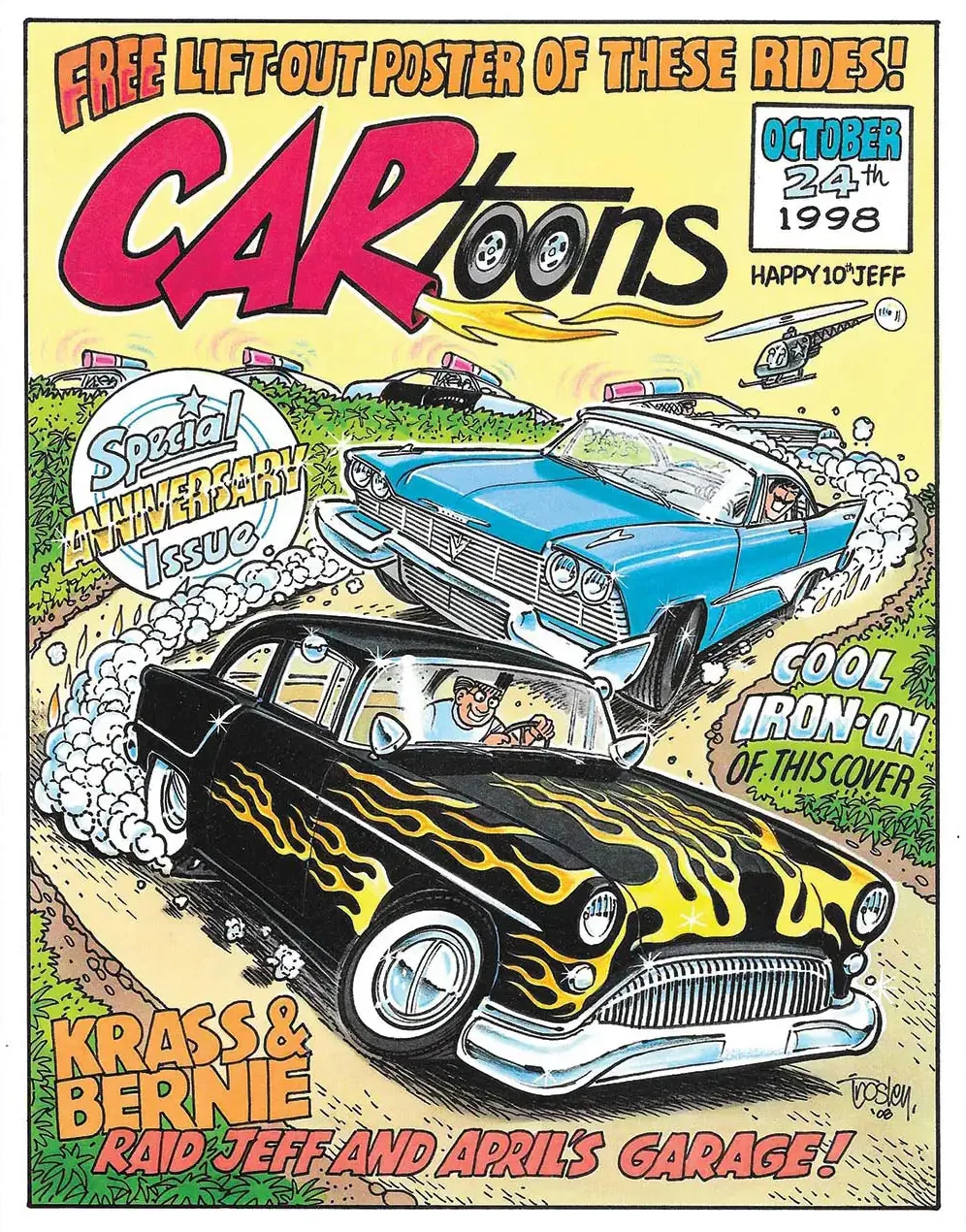 George was accepted to the Hussian School of Commercial Art in Philadelphia. He  commuted in his '39 Ford Deluxe Tudor sedan, spending the next four years learning about commercial art by day, and working on his prewar Ford by night. After art school, George set out on his own to give full-time freelance cartooning a try.
Trosley: "After art school, I landed jobs in various art studios in Philadelphia but found much of the work unrewarding and repetitious. in 1973, I jumped out on my own to give full-time freelance cartooning a try.
"I'd always been a major fan of Pete Millar and Petersen CARtoons, so I dropped it into gear. Eventually, editor Dennis Ellefson gave me the opportunity to do some of my reoccurring characters. I created Krass and Bernie, largely patterned after my brother and me. They ripped apart and rebuilt tons of wild rods for the next 20 years…and I loved it! During this period I also produced hundreds of cartoons and humorous illustrations for various other car magazines including Rod&Custom. My other work has been published in a variety of magazines such as the Saturday Evening Post, Saturday Review, National Enquirer, New Woman, and Hustler."
"Unfortunately, I sold the '39 when I began freelance cartooning. My long-time girlfriend, Susan, and I married in 1973, and after buying a house that needed a bit of work, bought a '40 Ford Deluxe Tudor sedan to work on too."
Trosley had early success as a freelance artist beginning with Krass & Bernie, a comic strip that ran continuously in CARtoons from 1975 until 1991. Trosley also produced many other features for CARtoons, including a regular "How To Draw" instructional series. In addition to  the many automotive cartoons, illustrations and commercial work published, Trosley has produced adult-themed, satirical gag cartoons and comic strips for Hustler magazine and its sister publications Hustler Humor and Chic.
Trosley continues to create a rendered connection to the world around us. His drawings make us laugh and sometimes wince.
Tell us a little about a typical work day in the life of artist, George Trosley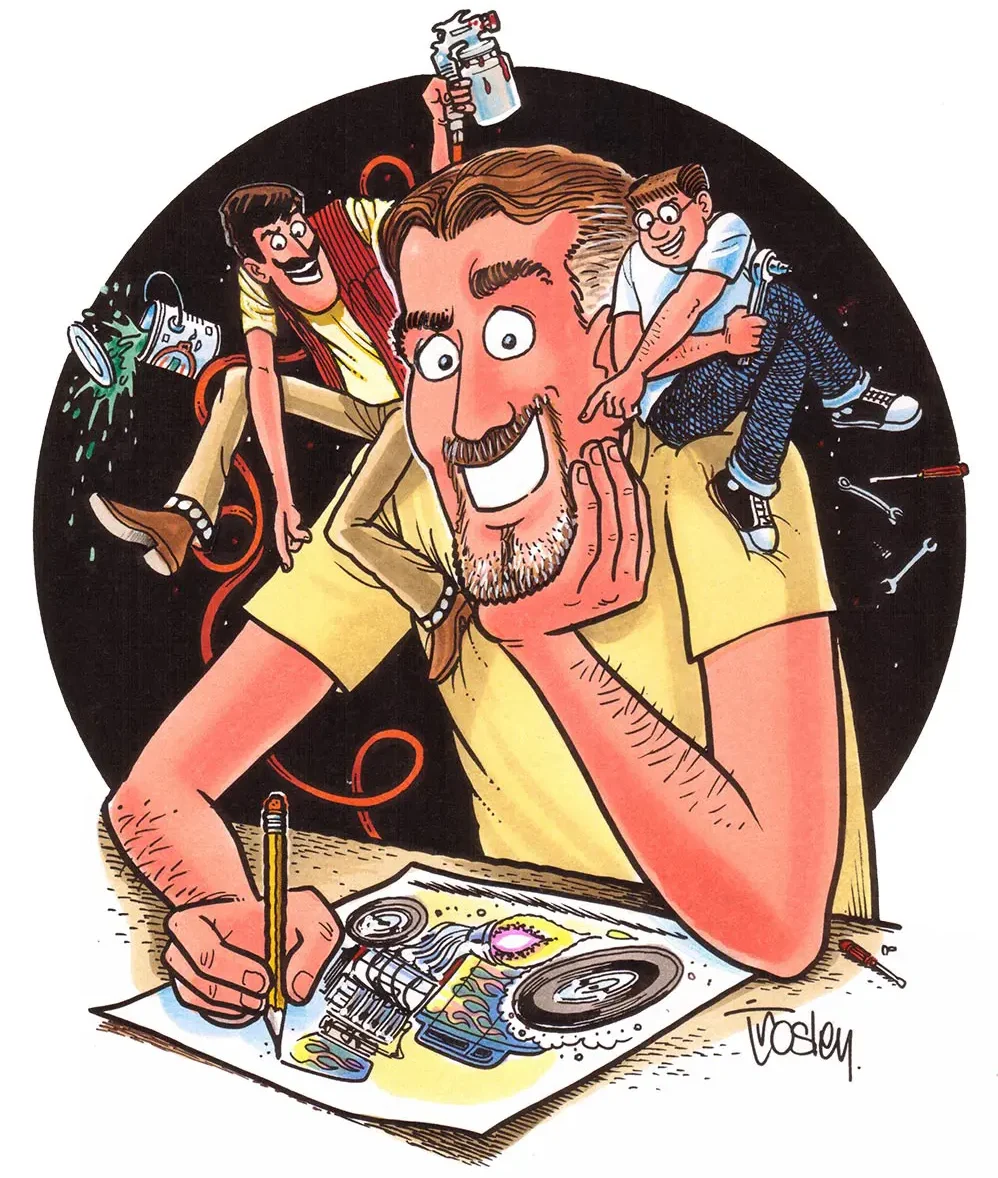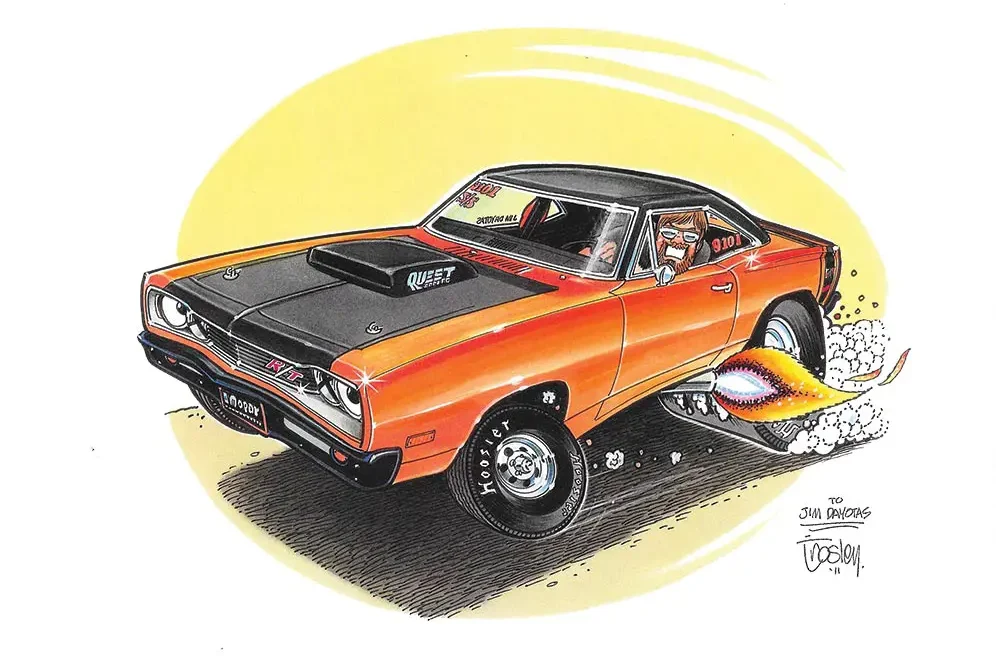 ---
D!       Tell us a little about a typical work day in the life of artist, George Trosley.
T:       I get up early, grab a glass of milk and hit the drawing board. I have the TV on all day to keep up with current events and to pick up on new catch phrases and trends. I write all my own stuff so I spend some time going through magazines and newspapers mustering up ideas that I then show to my wife. She always adds something to make them much better cartoons with me, of course, taking full credit for them. I'm usually at it until about eight in the evening.
D!       You grew up and spent a lot of time in Pennsylvania. I am astonished at how many car shows are in that state. You seem like a pretty serious car guy. Do you attend car shows?
T:       Oh yeah… I usually make the Street Rod Nationals in New York and The Wheels of Time Show in Macungie… and a lot of local shows. I hit the New Jersey Shore for the Boardwalk Shows and the Race of Gentlemen on the beach in Wildwood which has really grown and fills the island with all kinds of wild creations.
D!       Tell us about your experiences racing cars as a young man.
T:       I've only drag raced once. I'd gotten a rebuilt flathead short block through the local Ford dealership for my '39 Ford and had almost put on the thousand break-in miles when my brother and I decided we should put the last of those miles driving it to the Cecil County Dragaway in Maryland and race it. Being still stone stock at this point they put us in the N/Stock Class. Garlits was there that weekend and things built until he blew down the strip at close to 200 MPH. As everyone began to head to the snack bar they ran N/Stock. I actually won the class with a blistering 68.07 MPH with a 19.76 second ET. My brother said I looked like Gartlits' push truck following him down the strip. We drove home with a trophy and the decision to build it as a Street Rod. Although we never raced again… a few years later the '39 took third place at The Annual Philadelphia Convention Center Indoor Car Show.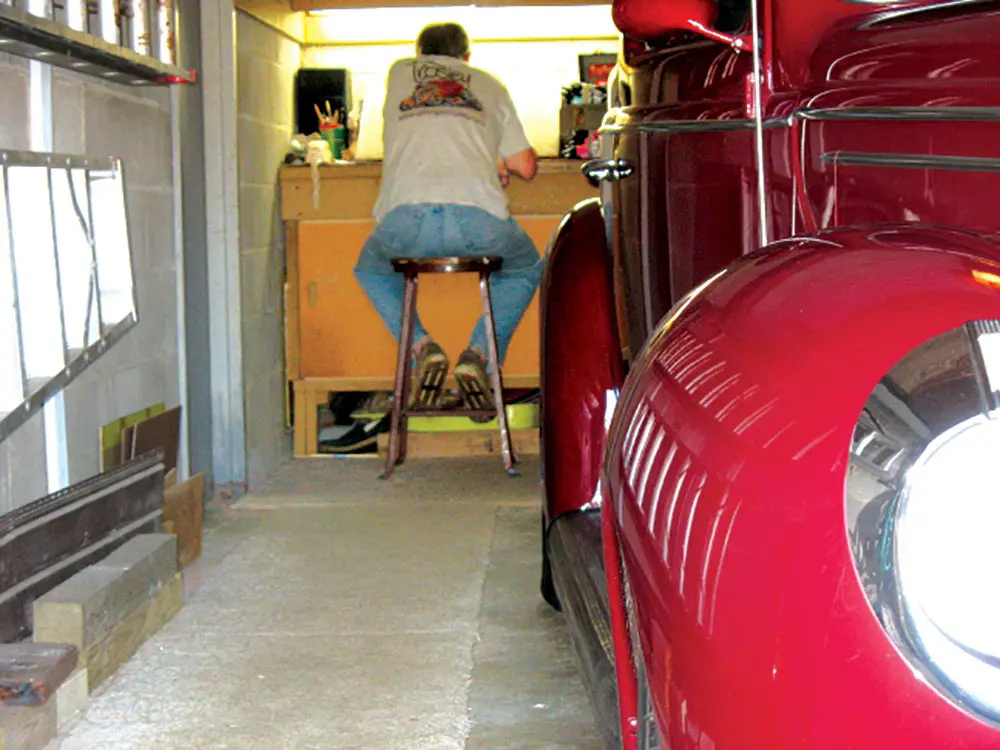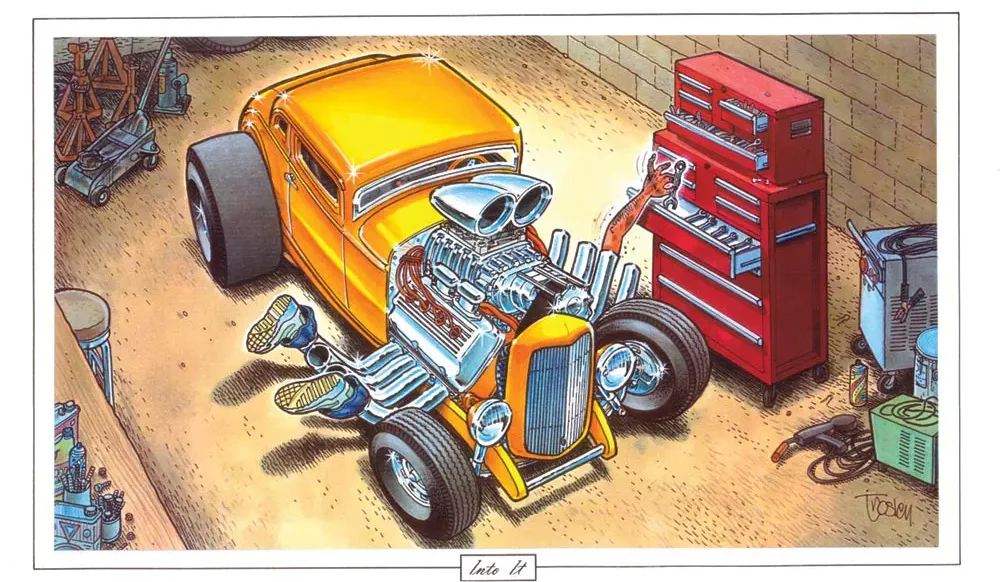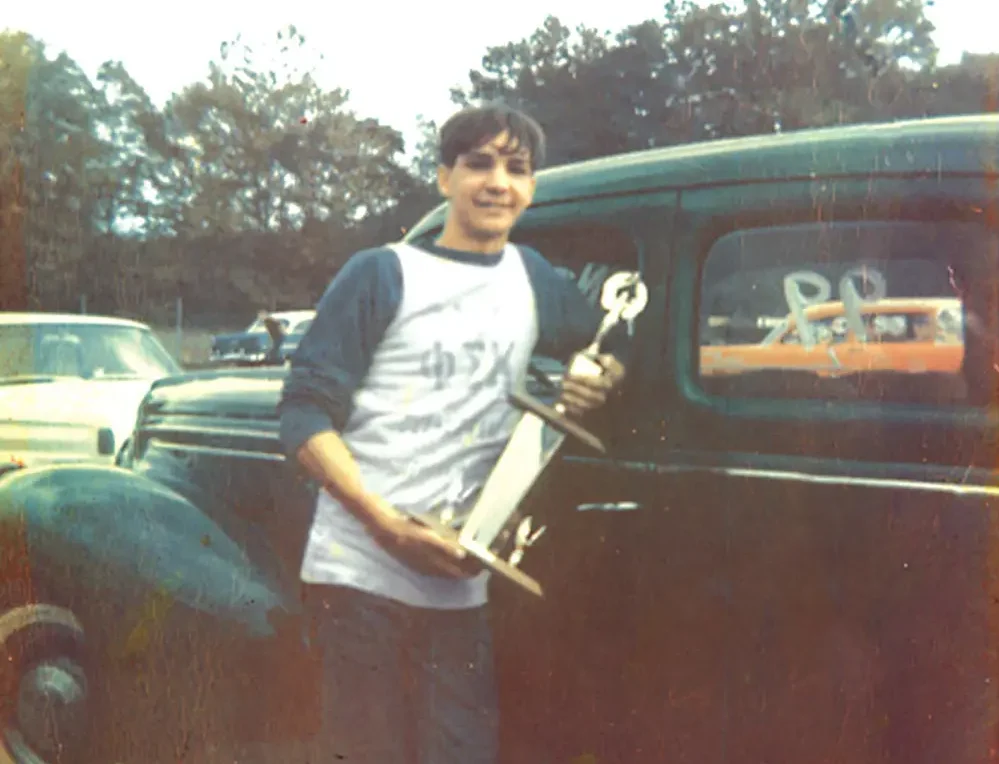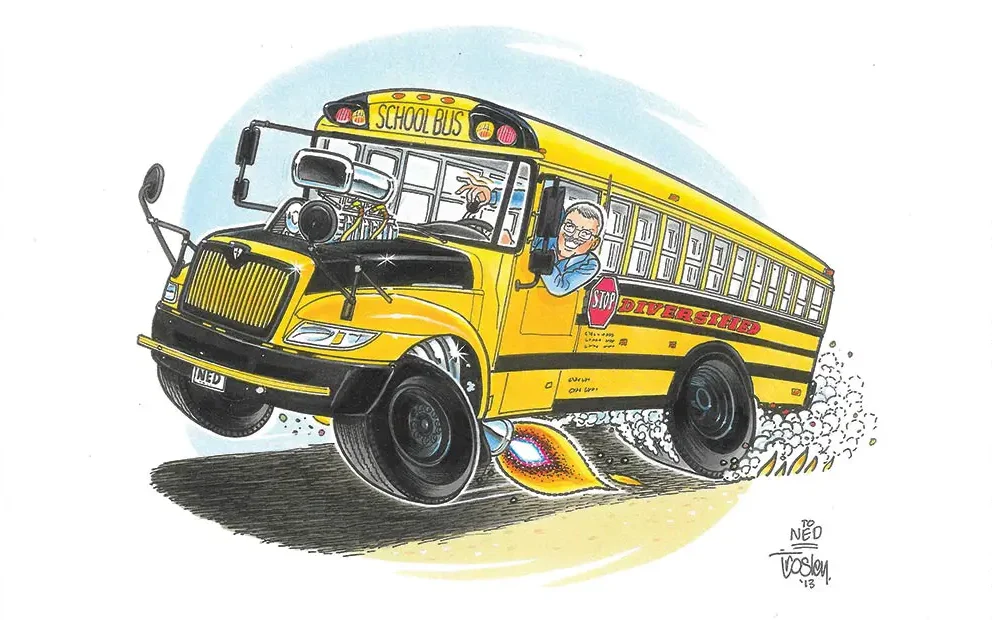 D!       I would guess you have a stable of radical rods. What do you drive these days?
T:       My taste in cars is kind of tame actually. I presently drive another '39 Ford Tudor, maroon with a 350 Chevy engine auto trans, Ford nine inch rear and Mustang II front suspension, chrome reversed rims with Merc dogdish hubcaps and blackwalls and a slight rake do it for me.
D!       Where do you find inspiration for the many forms of humor you illustrate?
T:       Most of my cartoons feature cars but the humor is usually about the people who own, build and love them. – A man is running out of a burning building carrying a load of precious car parts saying to the approaching firemen, "Quick….
My wife and kids are still inside!"
I've always loved drawing cars but…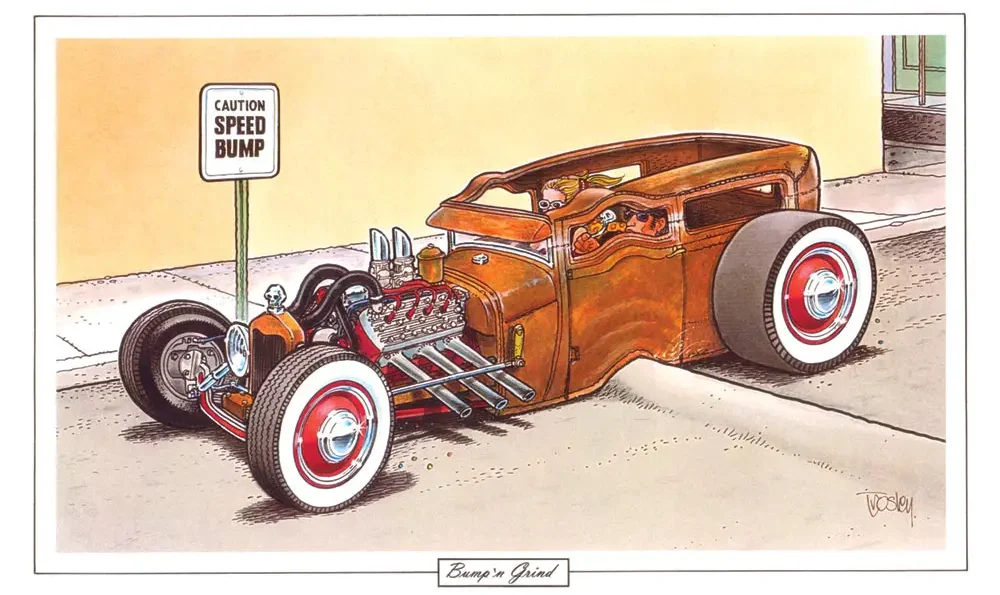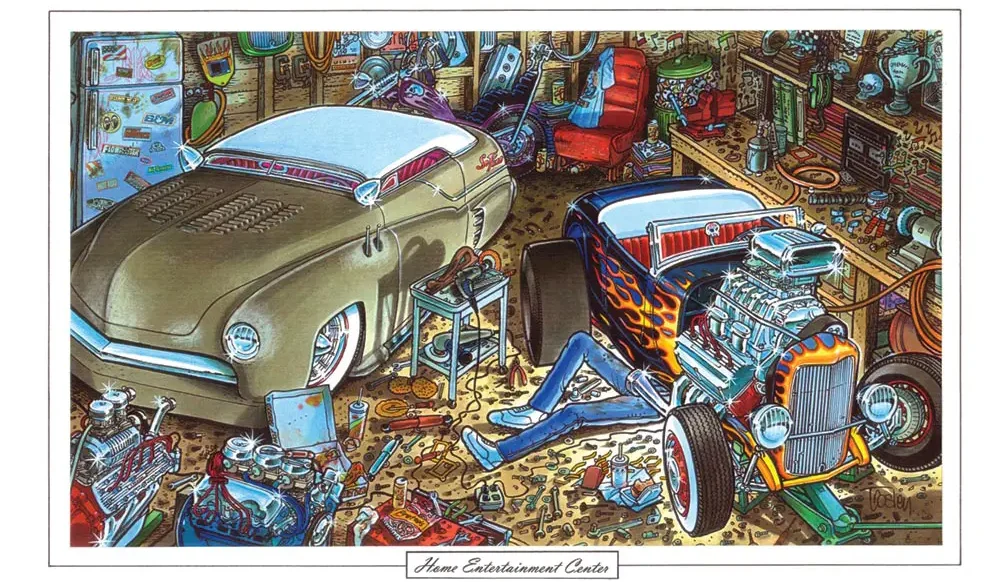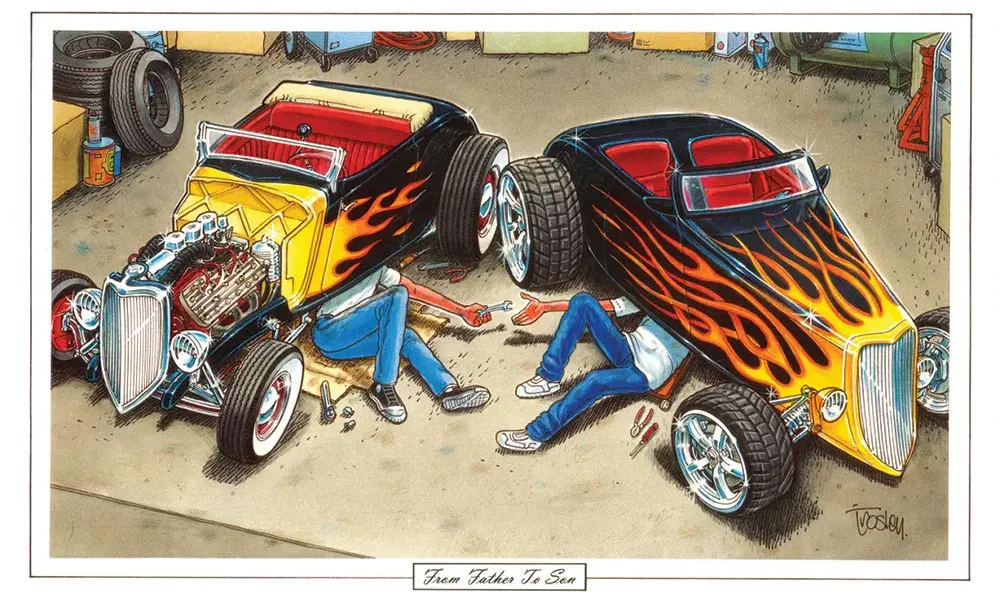 D!       Graphic art and illustration is in an interesting period in history. Computer design software has augmented the tools that some artists use to communicate with their viewers. Your art has always had a distinctive hand-rendered look. Take us through a typical Trosley project. And if you don't mind sharing one or two of your techniques.
T:       I usually start with a very rough sketch to establish a point of view… head on? Maybe a bird's eye view? Whatever will tell the story best is what I'm looking for. Then I put together a careful tracing paper drawing using a straight edge for tile floors, doors, furniture, everything. When that's worked out I use a lightboard to trace the sketch onto good 108 lb. bond paper using various size black felt tip pens. I do this freehand but conscientiously following my ruled sketch so it looks like I can draw really well.
I began using markers for colors and grays when I worked in a Philadelphia Commercial Art Studio and still do today. I also use colored pencils to give the marker a shaded air brushed effect when needed …. with white paint for highlights and sparkles.
D!       With all the cars, trucks, vans and motorcycles you have illustrated over your career, what vehicle do you find the most difficult to accurately render?
T:       Any vehicle I've never drawn is tough…. The first thing I do is get some good clear photos of the car. My studio is full of magazines and files but now I usually Google the car and get a variety of images. Boxing out the car with important guide lines help me keep the perspective right and everything lined up. Other than that it's mostly observing the basic shapes of the details and getting them right.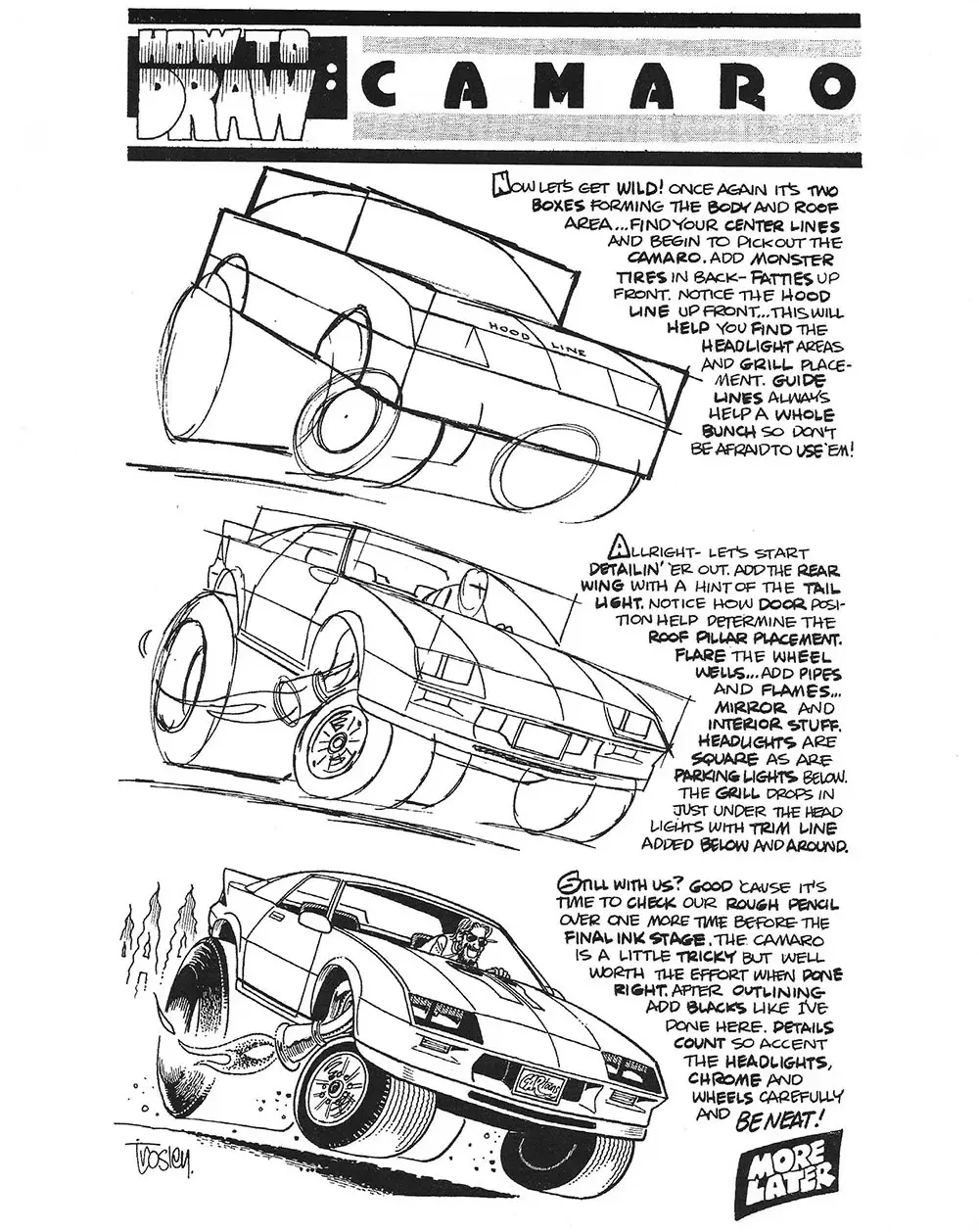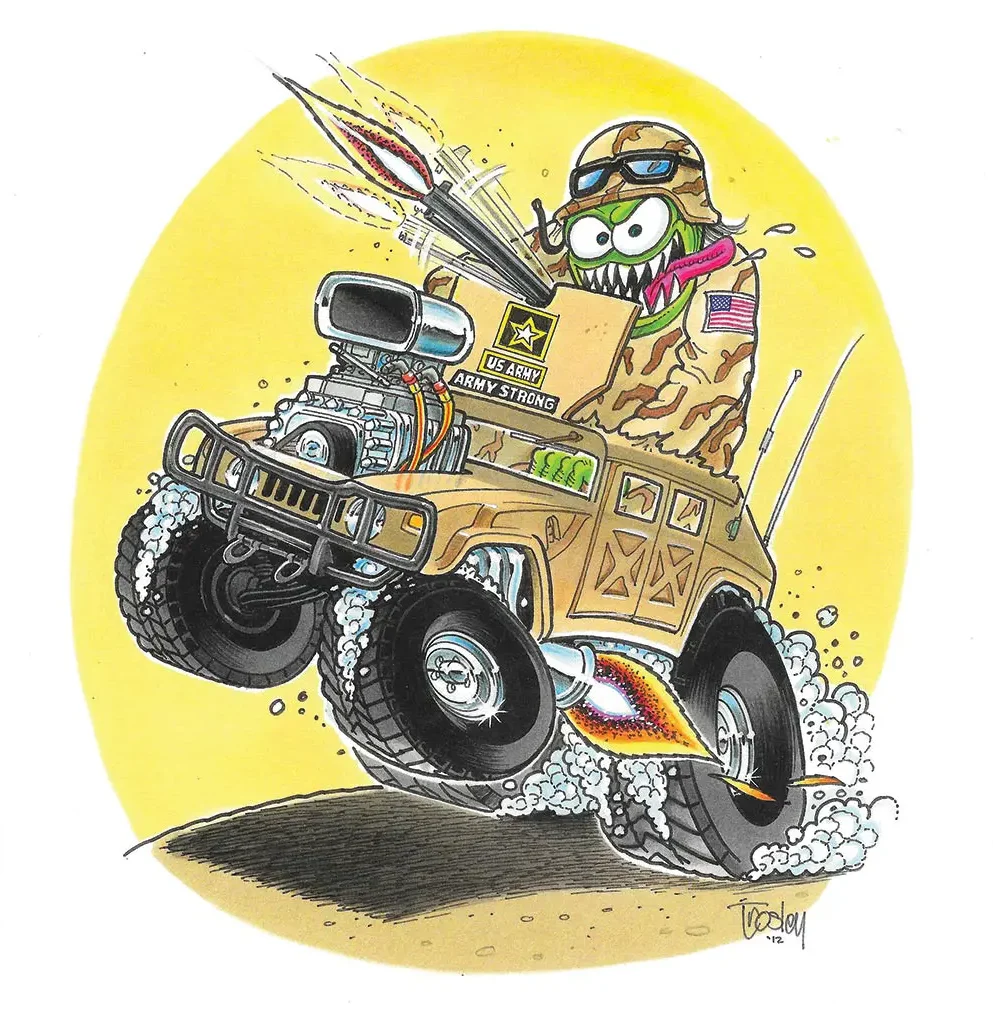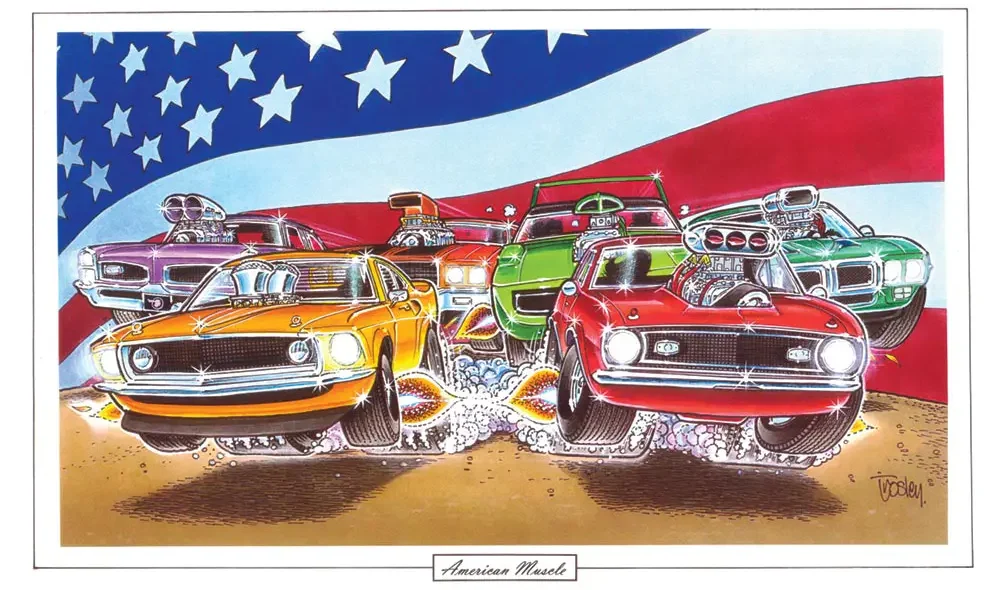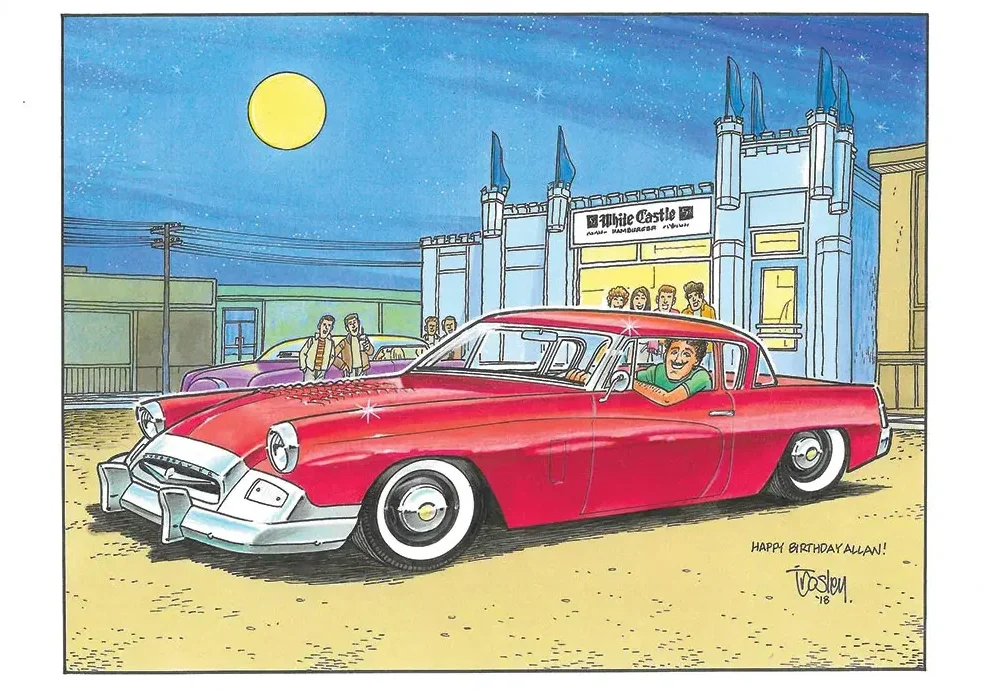 D!       What's your personal favorite subject to draw?
T:       I've always loved drawing cars but after that I like drawing cartoon characters and exaggerating their movements… running… jumping… expressions… again it's the human condition that's fun.
D!       You also offer personal commissions of fan's own cars. Tell us more about this unique opportunity.
T:       It's so cool to receive a bent up photo of somebody's Dad's High School ride and graduation picture and then putting together a drawing of him in front of a hamburger joint where he hung out as a teen. We often get a note from the dad who gets it as a gift telling us how much he digs it.
Another really popular request is the Custom CARtoons Covers featuring your car and your special blurbs… or the drag race that never happened between you and your buddy with you winning by half a car! We also do Car Club logos as well as Car Show T-shirt art.
Often I'll get a Custom Car Portrait request from someone who has just acquired his dream ride or one from someone who let his get away. I also did quite a few car portraits of the cars destroyed in the recent fires of California. It's great to be able to preserve memories … new and old for someone.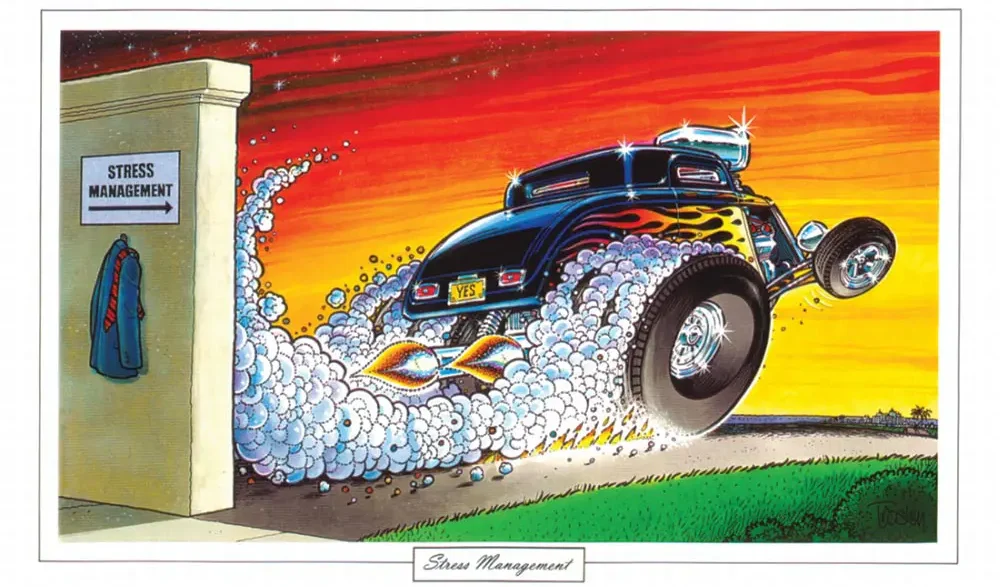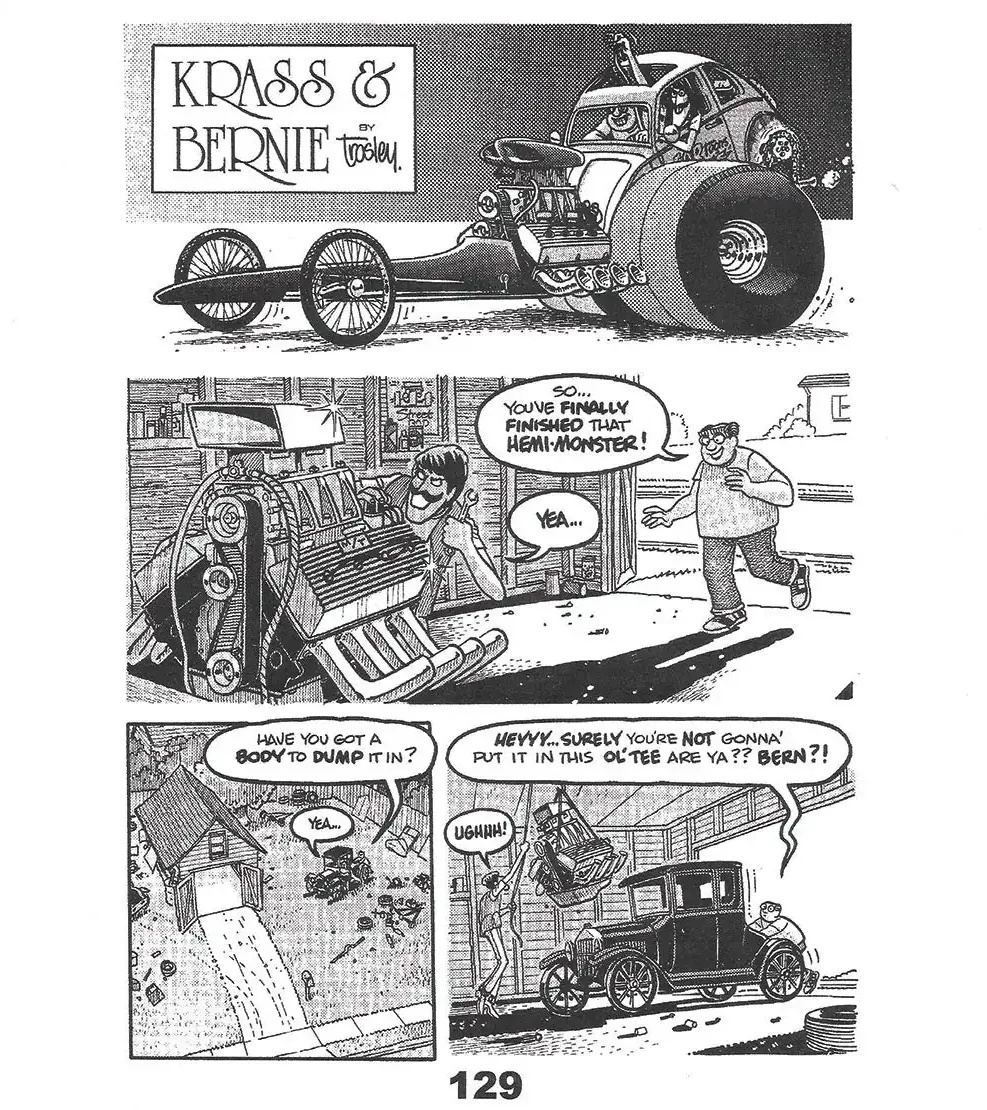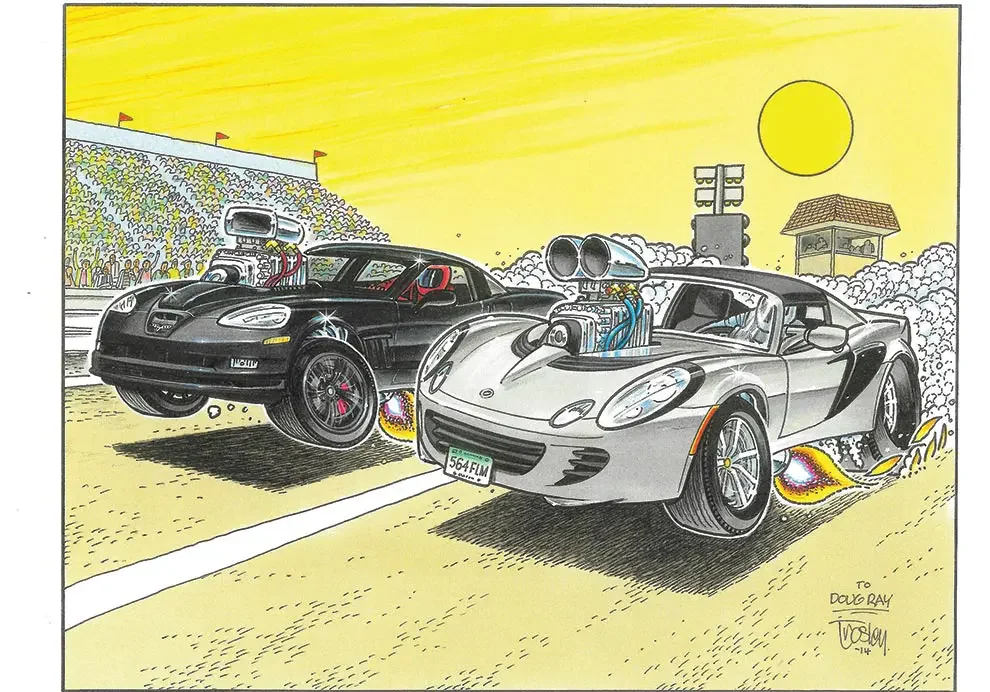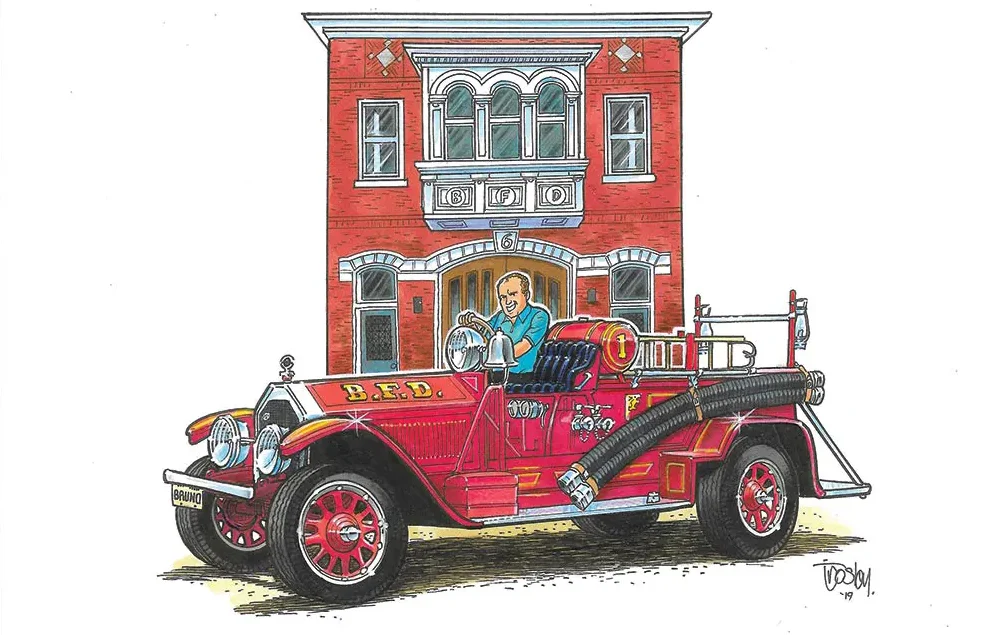 D!       You are so crazy-busy. In addition to the personal commissions, give our readers a sense of the other types of projects you accomplish.
T:       I presently produce a full page-color cartoon for STREET TRUCKS magazine, a two page 'KRASS & BERNIE' feature every month for CAR CRAFT magazine, and an episode of 'DEUCE & PINSTRIPE' and a how-to drawing lesson 'TROSLEY'S SKETCHBOOK' for the all-new CARtoons Magazine.
D!       What's next?
T:       We just put together Book Two of our continuing KRASS and BERNIE Series 1980 – 1985 and have few new T-shirts coming. More of the same, of course! Keep your eye on georgetrosley.com for our Limited Edition prints, t-shirts, books and other cool stuff!
D!       Super-cool. Thank you!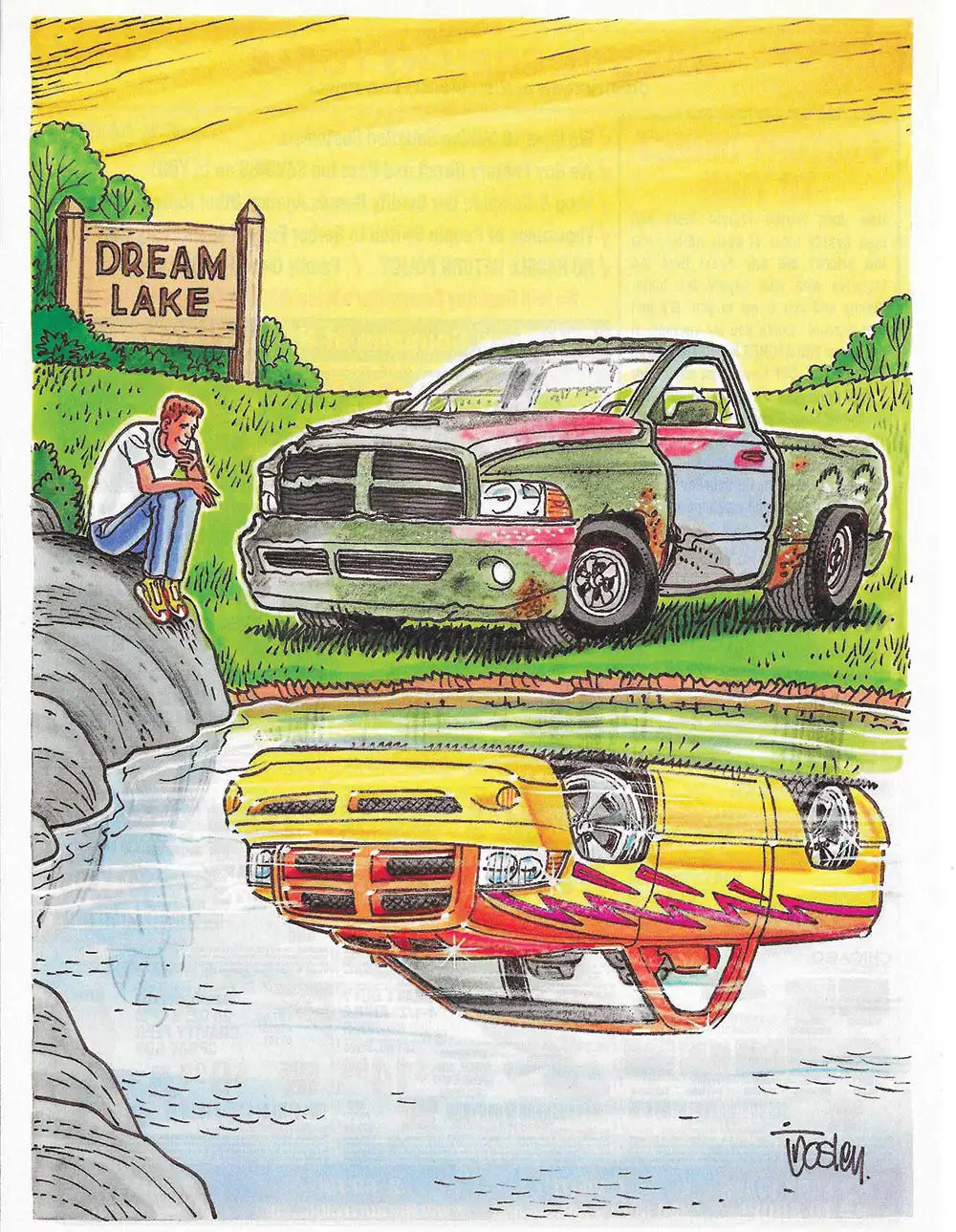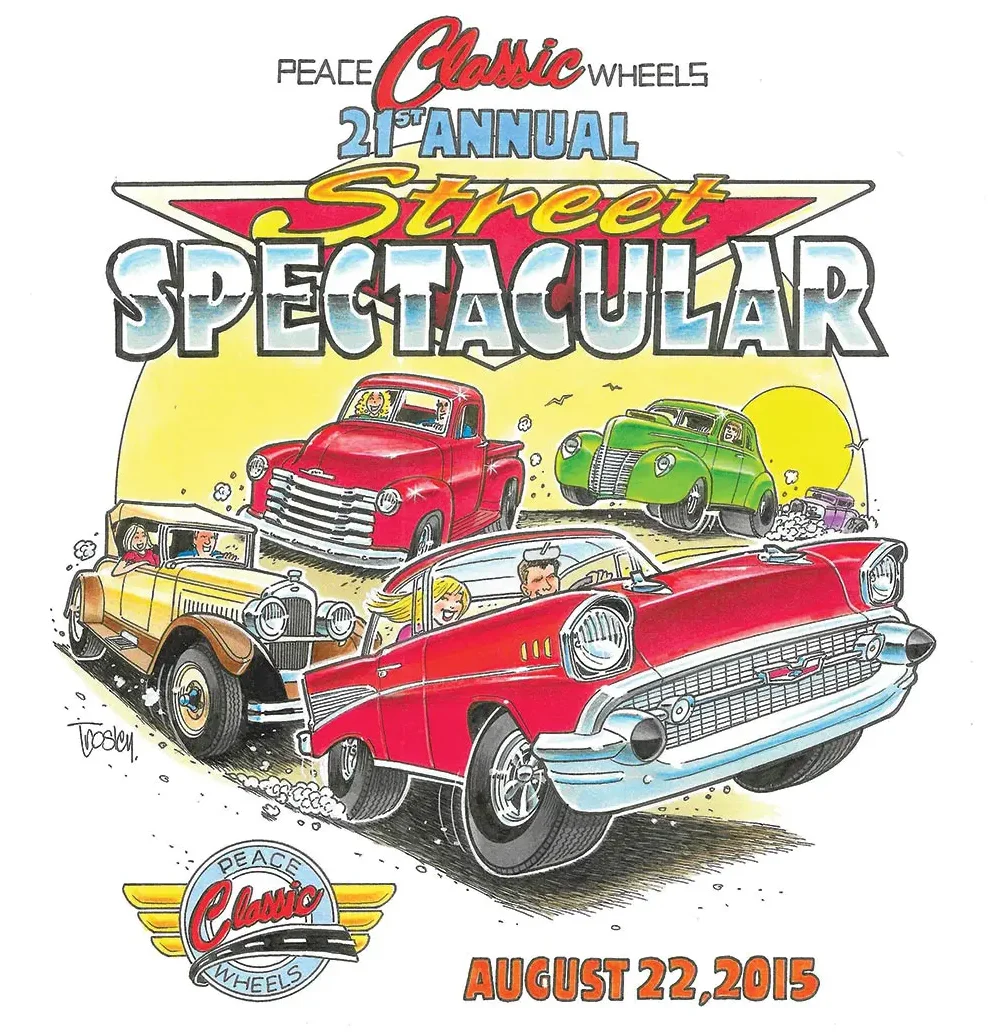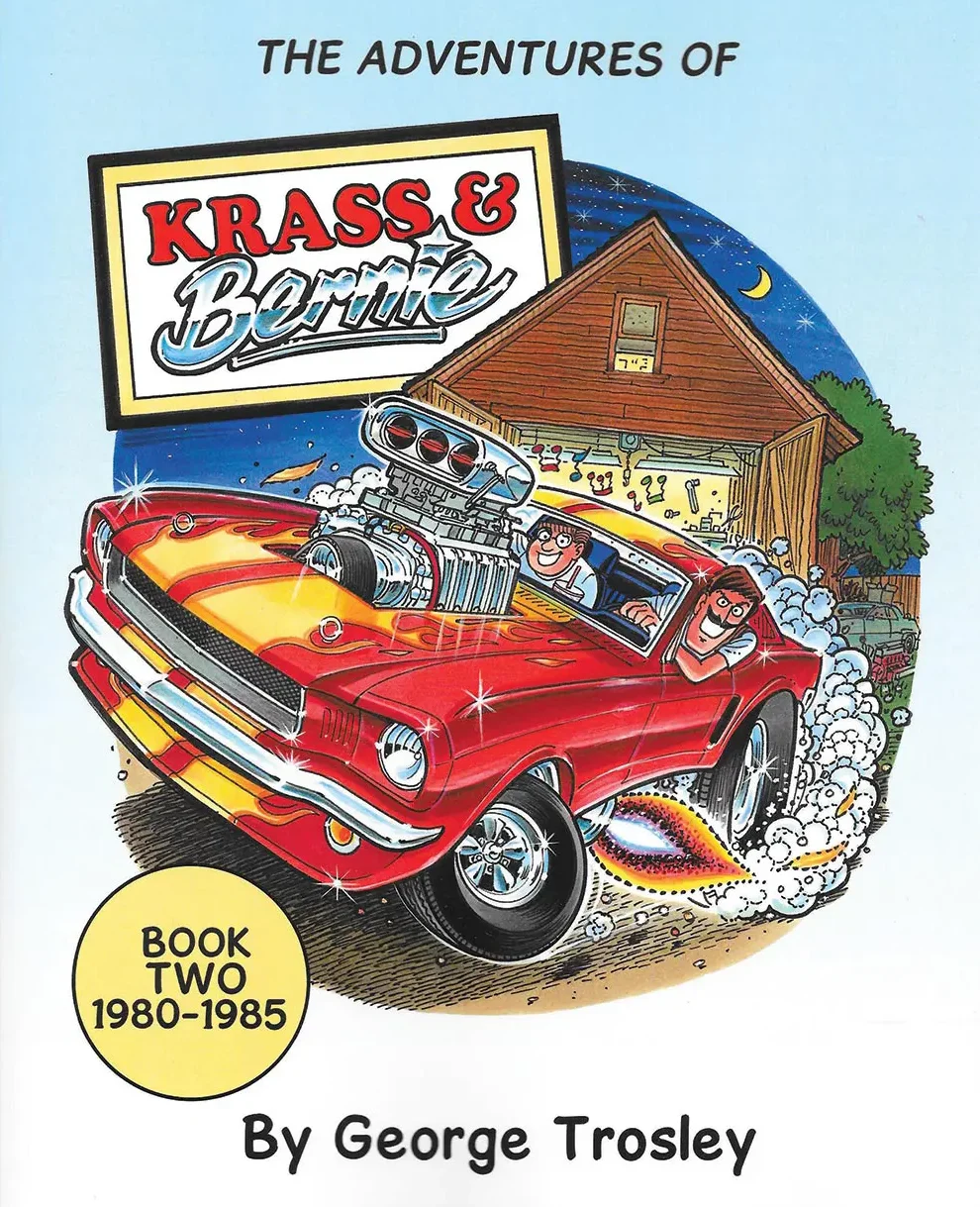 ---