Shop Feature: The Ring Brothers
Text by Matt Emery
Photos by John Jackson
Article
Most of the features that appear in Drive! Magazine are about vehicles that we have seen at a show. You know, we walk by, see a real nice car and then track down the owner to learn the particulars of the car and whether or not the owner is interested in letting us shoot the car. Not this one. We first saw this Ford Fairlane at the annual SEMA show, and we were blown away by it. The shop that built it is out of Spring Green, Wisconsin, and goes by the name of Ring Brothers.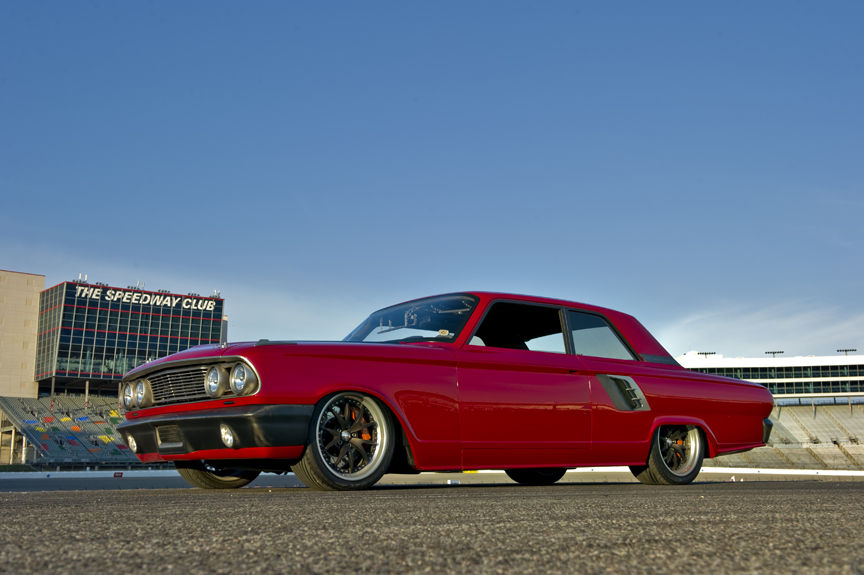 The brothers have been building cars since they were young and found a Briggs and Stratton behind their father's service station. They spent their "pre-legal to drive" youth trying to keep one project or another from their mother. Now of fully legal driving age, it seems that they can't keep their mechanical and design prowess from anyone as they have been named Goodguys Street Machine of the Year winners back to back, and have been named to Top 5 or Street Machine of the Year winner six times with six cars. An amazing record considering the talent out there, and in many cases they were actually competing against themselves for top honors.
As stated, when we saw the Fairlane, which was built for Ken Smith, at the SEMA show, we wanted to bring it to you. So without further ado, here's the scoop.
Power is never a question when a ride comes from the Ring Bros. This Fairlane is nicknamed "Afterburner" and that is not only due to the paint but also becuase it has been equipped with a 42-ci ROUSH engine. Producing 560 head-snapping horsepower, the engine is fed with a cool ROUSH 8 Stack injection system that has the appearance of a vintage Weber setup. It is set, of course, on a ROUSH intake manifold that feeds into ROUSH CNC-ported heads (205cc runners, 2.08/1.6 valves). Once inside the bored, stroked and balanced block, the fuel is met by Wiseco forged pistons mounted on Eagle H-beams rods that in turn connect to an Eagle 4340 forged crankshaft. A special ROUSH cam has been added and although they won't say what the lift or duration is, the end result is that the compression ratio is a respectable 10.25:1.
A ROUSH electronic ignition fires things up, while a set of stainless steel JBA headers points that fire towards the back of the car with stainless steel tubing and Flowmaster mufflers. Putting the final touches on is done with a ROUSH Tru-Trac pulley system and ROUSH valve covers. The Fuel Safe fuel tank makes sure that everything is, well, safe. The crew at Bowler Transmission has made sure that the Ford AODE transmission is up to the task of getting the power to the rearend.
Speaking of rearends and frame related things in general, the chassis is a custom Ring Brothers unit that features a Johns Industries rearend that is equipped with a Posi and a 3.73 gear ratio. It is held aloft with Penske shocks. A set of Baer +12 disc brakes is used and 18 x 10-inch Forgeline EV3 wheels and Goodyear F1 tiers (275/40r18) complete the back half. A Fatman Fabrications front end has been mated to the RB frame with custom RB control arms and again Penske shocks, Forgeline EV3 wheels (18 x 8-inch) and Goodyear F1 tires (245/40r18) are used, but this time the Baer brakes are +13 units. DSE anti-sway bars are also part of the handling mix. Speaking of that handling mix, the front suspension struts are tied together in front with a beautiful lattice-work affair that even features a water temp gauge. We'll get to what's under the hood later.
We used to have a Fairlane, but the interior didn't look like this. The Ring Brothers have taken a very bland interior scheme and transformed it into something elegant. They did this by incorporating elements from the stock interior, such as using the stock seat, and then worked it, their way. This philosophy can be seen in their custom dash, where they used a seemingly stock instrument cluster (It's not. It's a collection of CI gauges), and then added a large video monitor and an even larger Classic Instruments tach before wrapping it all in leather. Other cool touches are the start button and the custom fixture where the controls are for the Vintage Air gen four a/c system, switches for the lights and Laser Radar head unit. An Alpine/MTX system provides the sounds and sights as well. The seats are stock, but the front one has been turned into a split bench featuring an elevated center console. Everything has been covered with leather by the crew at Upholstery Unlimited in Clinton, Iowa, who also did the dash and the rest of the upholstery.
All we have to say about the steering wheel, is that it's a work of art.
The last thing to discuss is the bodywork and paint. The attention to detail and the invention that the Ring Brothers have showed with this car is amazing. We'll begin in the engine bay and work back, shall we? Beneath the hood of the Fairlane is as clean as it gets. Items like the suspension strut assembly really glow, in the way that only satin finish can. All that was topped off with a carbon fiber hood, which opens with a set of Ring Brothers air frame billet hood hinges, yet it can be locked down with RB's billet aluminum round hood pin kit.
The Bros did a great job of taking the Fairlane and giving it an air of speed and style. Yes, we're talking about a Fairlane! They did this by chopping an inch out of the roof, reworking door lines, adding custom rockers and flush mounting the glass. But they didn't stop there and carbon fiber plays a big part of it. We've talked about the custom carbon fiber hood, but there are also carbon fiber bumpers, and a custom carbon fiber spoiler. The billet tail lamps mimic the openings for the exhaust tips and a full belly pan has been fitted. Ring Brothers billet and fasteners are used throughout.
Adding to Afterburner's fiery motif is the BASF Afterburner Red paint that was applied by Ring Brothers themselves.
There is a long history of brothers doing big things in customization (the Barris Bros comes to mind). This Fairlane is just one of the killer vehicles that the Ring Brothers have completed in the past few years. All of their vehicles have things in common. They all have a stylized elegance about them that takes them to a level above their competition. We have seen the last few offerings, and we can't wait to see what they have at SEMA next year.