Road Testing the Hurst Performance Series 4 2010 Camaro
Text and Photos by Travis Noack
Article
"Intense." This is the first word that came to mind when describing the Hurst Performance Series 4 Camaro. The car packs a wallop from the moment your eyes take a mental snapshot to the time you climb behind the wheel, crank the key and hear all 600 hp/580 ft-lb of torque (at the crank) of supercharged muscle rumble to life. As we sank into the Hurst embossed leather interior the Hurst Hard-Drive shifter begged to be beat on as we dumped the clutch and rowed through the high performance potential of this late-model tire shredder.

The Hurst Performance Series 4 Camaro is a well balanced ensemble of high performance and luxury. The car plays nicely on city streets and is a comfortable cruiser on the highway, but when the urge to stuff the throttle and pull the fun lever creeps up, the Camaro delivers with wicked power that quickly lights the rear BFGs and gets your heart pumping. The Hurst/Magnaflow stainless steel cat-back exhaust system shouts the supercharged beast's best tune, while an Eibach coil-over adjustable suspension and performance sway bar provide a smooth ride for freeway flogging and track dicing.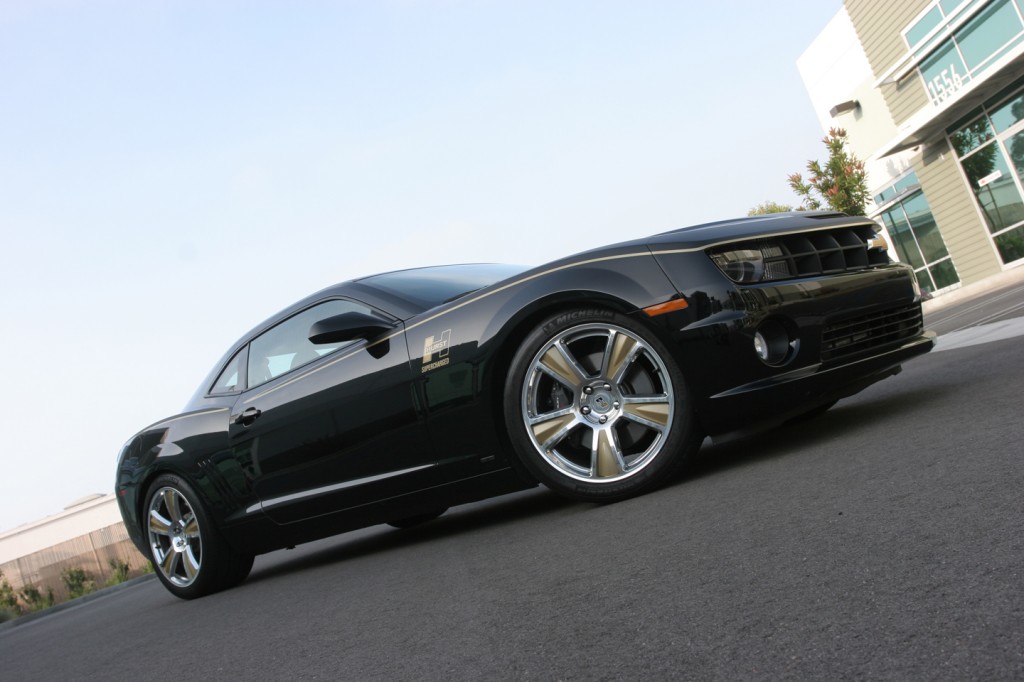 Not only were we impressed with the Hurst Performance Series 4's horsepower and handling traits, but the car is a shocker on the surface, as well, successfully joining the cues of past and present performance machines. The sinister black paint is topped with flat black accent stripes pinned in gold to commemorate Hurst heritage. A Hurst Air Speed rear spoiler ties the trunk into the rear quarters and tastefully placed Hurst badges let others know this late-model powerhouse means business. Setting off the pavement-attacking stance are Hurst 20 x 9-inch front and 20 x 11-inch rear polished wheels with painted spoke inserts bringing the gold in the graphics down to the asphalt playground. The wheels are protected by BF Goodrich KDW performance tires delivering driver input.
The Hurst Performance Series 4 Camaro is available with three different graphics packages, including black with matte black/gloss gold pinstripes (test car), white with gloss black/gloss gold pinstripes and silver with gloss black/gloss red pinstripes. If you are looking for late-model muscle that will amaze you every time you get behind the wheel and performs in a variety of high performance situations, the Hurst Performance Series 4 Camaro should be on your list. Tame enough for date night but aggressive enough to line up on the drag strip or road course and kick some serious tail. For more information on Hurst Performance Vehicles, go to www.hurstperfor-mancevehicles.com.