Road School: Homeschooling on the Road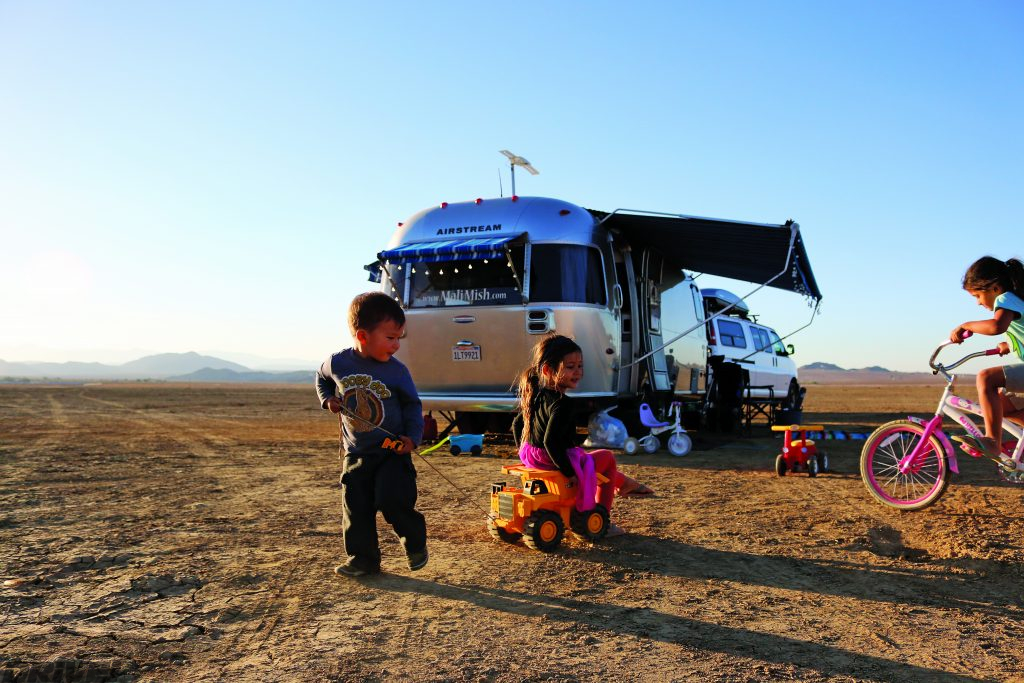 What This Family of Five Learned About Homeschooling on the Road
Imagine, as a kid, learning about geography by taking a ferry ride from Spain to Morocco. As the wind whips through your hair, you suddenly spot the now-familiar Rock of Gibraltar. Several days ago you visited the Rock where you caught a glimpse of the only wild monkey troupe left in Europe, the Barbary macaques, freely roaming the area. You also learned about history while visiting L'Anse aux Meadows, a 1,000-year-old Viking village in Canada. Your language arts skills flourished while learning Spanish in Mexico. An enlightening trip to Arches National Park in Utah taught you about kangaroo rats, and the sounds sandstone arches make while cracking, sending broken pieces tumbling to the desert floor. They sound like a clap of thunder.
"We wanted to show our kids the world. So, we started in our backyard and went from there." —Marlene, Mali Mish
For Ava, Mila, and Luka, this type of experiential-based education is a reality. Known collectively as Mali Mish, Dan and Marlene Lin, along with their kids Ava (age 13), Mila (age 10), and Luka (age 8), are a family of five traveling full time on the road. Not only have they been living this nomadic lifestyle since 2008, but Dan and Marlene have been homeschooling (or "road school") Ava, Mila, and Luka since their kindergarten years.
We got the chance to catch up through video chat with Dan and Marlene who are currently in Croatia. We were eager to learn more about how and why they implemented a road school program, and what they've learned as a family about educating their kids while traveling long term. Marlene explains, "The number one thing we realized is that we want to be together–together as a family, as a couple, the kids growing together and bonding as siblings. We also wanted to show our kids the world. So, we started in our backyard and went from there."
Hitting the Road
Back in 2008, Dan and Marlene's backyard was Ventura, California. The couple took a leap and purchased an '07 Airstream International 25FB Ocean Breeze. They hit the road with their baby girl Ava and cat Yoda. Mila was born in 2009 and Luka in 2012. For seven years, they traveled across the United States as a family, exploring all of the lower 48 states before heading north to Alaska. In 2016, the family swapped out their Airstream trailer for a '16 Ford F-250 and Four-Wheel Campers truck camper. Next, they toured Baja, mainland Mexico, the Canadian Maritimes, Newfoundland, and Labrador.
Always keen for a new adventure, in 2018 the family built out a '17 Sprinter 4×4 van and shipped it to Europe. They've since traveled through 29 countries on the continent, plus Turkey and Morocco. Dan and Marlene are active in the online community, providing insight into their daily life on the road through their YouTube channel, Mali Mish Travels The World, podcasts, and blog posts on their websites (malimish.com and freelyroaming.com). From epic wild camping sites to shipping their vehicle to Europe to educating their kids while traveling long term, their website and online platforms are an invaluable source for all things overlanding.
Dan and Marlene shared the most profound lessons they've learned while educating their three kids and traveling the world.
Charter Schooling Boosted Their Confidence
A fruitful Internet search back in 2012 revealed a charter school within the family's county school district that offered an online education program. The program was publicly funded and included an assigned teacher, up to $500 per year toward school supplies, and a teacher check-in via Skype every 20 days. Dan and Marlene enrolled Ava, their eldest, and learned a lot about homeschooling over the next several years. Dan credits their charter school experience with the "hand holding" and confidence-building they needed to start their own road school program, including insight into which workbooks to use, where to source learning materials, how their children learned best, and which areas they naturally excelled in. The charter school materials became difficult to obtain on the road, so the couple declared themselves a private school in the state of California in 2015. (It is important to note that homeschooling regulations differ in each state.)
Great Educational Tools are Easy to Find
Dan and Marlene use a wide variety of educational tools and resources that they know work well for their kids. Each child uses grade-appropriate language arts, math, science, and history workbooks. Dan searches Amazon for the ISBN on the back of grade-level workbooks and has had great success ordering the books in both the United States and Europe. As space is limited in the Sprinter van, prioritizing learning and reading materials is a must. Laminated maps and an atlas help enhance the kids' geography knowledge while simultaneously traveling through various countries or regions. Each child also has an art, writing, and memory journal, along with a phone or tablet with age-specific learning apps. Their favorites include Kahn Academy, Brain Pop, Reading Eggs, and Stack the Countries.
The Lin kids also enjoy podcasts and audiobooks, which Dan and Marlene play on long driving days, pausing at various points throughout to discuss certain topics or points as a family. Libraries are a fantastic resource as they often offer Wi-Fi and free downloadable e-books through the Libby or Overdrive apps.
"A typical road school day in the Lin family includes math, reading, language arts, and one other discipline, usually science or history. There is also an emphasis placed on geography."
Museums also offer a wealth of learning opportunities. "Most years we buy a yearly museum pass, either for a science museum or a children's museum. The cool thing is they have a reciprocal program. You can visit other museums in their network for a discount or for free," Marlene notes. Dan adds that location-specific learning opportunities are a dime a dozen and don't require much planning. "As you're driving through a location, ask yourself if there are any National Parks or museums nearby."
A Strict Schedule Isn't Necessary, But Repetition IS Essential
A typical road school day in the Lin family includes math, reading, language arts, and one other discipline, usually science or history. They also emphasize geography. Although these subjects are covered daily, there is no strict schedule, per se. As there is typically no assigned homework in homeschool programs, Dan and Marlene emphasize repetition. The kids review the previous day's material at the beginning of their study time before moving onto the next road school lesson. Dan explained the importance of being as involved in his children's education as much as possible. "Really try to be as engaged as you can. Be in there with them. Just because you're teaching doesn't just mean watch this video or do this workbook and then we're done for the day." The couple also emphasized the benefits of watching videos with their children on learning apps like Kahn Academy and Brain Pop. Dan explains, "It's important for parents to sit with the kid and watch because the kid can't ask anyone a question. You might have to pause the video if they don't understand something. You also want to know what the teaching method is. This helps us as teachers to reinforce those techniques."
The National Park Junior Ranger Program is a Great Way to Dictate Travel Plans
The U.S. National Park Service Junior Ranger program is an activity-based educational program designed to engage children (and adults!) in the wonders of nature. After completing a series of workbook activities during the park visit, the child shares their answers with a park ranger, undergoes a quick induction oath and receives a Junior Ranger patch and certificate. The National Park Service website offers a plethora of resources for aspiring Junior Rangers, including downloadable and printable booklets, links to each of the parks' Junior Ranger programs, and online trips for those who can't visit in person. Some state offices of the Bureau of Land Management (BLM) have also released Junior Explorer Handbooks and patches. If you're heading north, Parks Canada offers an Xplorers program, which is included in the park fee.
The National Park's Junior Ranger program primarily dictated the Lin family's travels throughout the United States. They also made a surprising discovery: the lesser-known parks were the hidden jewels. Dan explains, "The smaller parks had hardly any other visitors. We had private tours from park rangers and topics were much more specific. Plus, the more parks we visited the more we understood the relationships and connections between them all." As there are over 400 national parks in the United States, the NPS Parks mobile app proves a handy tool. This app notifies the user when a park is nearby and indicates which offer a Junior Ranger Program.
Embrace Change and the Unknown
Every 6 to 12 months Dan, Marlene, Ava, Mila, and Luka sit down together as a family and re-evaluate. Is life on the road still what they want? Is homeschooling still the most beneficial form of education for their kids? Plans change yearly based on the kids' ages, interests, and progress. "We know our way of life, the way we live, and travel now isn't going to be the same forever," Marlene says. But, this family of five is well-equipped to handle change and the unknown. In fact, they flourish in it. "When we go from one place to another, we're used to the unknown. It's actually the fun part for us."
Editor's Note: A version of this article first appeared in the July/August 2020 print issue of Tread Magazine.