Rat-Powered Ragtop: 1966 Chevelle Build
Text and Photos by Jason Mulligan
Article
Most of us can trace our love of cars back to our fathers tinkering in the driveway. The tinkering was usually accompanied by lots of cussing with us acting as a delivery service, grabbing wrenches and beers for dad. Bryan Beekman of Fresno, California, remembers this well. He and his father restored a '34 Ford hot rod when Bryan was 12 years old. Bryan has since passed this love on to his own kids, and their combined efforts have come to fruition in the form of this clean convertible '66 Chevelle. His goal was to teach his two sons and daughter how to use tools and be mechanically inclined; he also thought it would be nice to build a cool car while he was at it, too.

Bryan has always enjoyed driving fast and he used to race. He'd tinkered with a few different cars in his years before getting his hands on his dream muscle car, the Chevelle.
The build took a few years, but like they say, Rome wasn't built in a day—quality takes time. The suspension was set up by Custom Concepts to be as low as possible without the need for airbags. A Ford 9-inch Posi rearend with 3.83 gears was used, while the front utilizes 3-inch lowering coil springs and a set of 2 ½-inch drop spindles. Stopping power was increased with 12-inch rotors and a custom polished master cylinder and brake booster. All of the brake lines were done by hand and polished. A quick ratio steering box and ididit steering column rounded out the steering updates. Finishing off the rolling chassis is a set of 17 x 8-inch front and 18 x 10-inch rear Billet Specialties Chicayne wheels.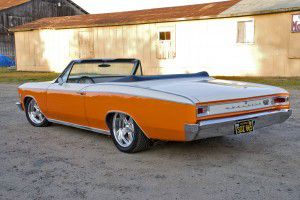 As we mentioned before, Bryan likes to go fast and this build would see to it that he got to do what he likes. A 1969 Chevrolet 427 motor was pulled and brought to AMS Machine Shop in Fresno in order to put out nearly 750 horses! The motor was outfitted with a full Vintage Air front-runner kit, a 1969 cross ram Offenhauser manifold, AFR heads and dual Demon 625 carburetors. Doug's Headers and a full MagnaFlow exhaust system round out the power aspects of the Chevelle. Rare finned Mickey Thompson 427 valve covers were sourced and used to complete the retro style under the hood. John Betencourt modified a M21 four-speed transmission with a Gear Vendors overdrive and 11-inch aluminum clutch from Centerforce. The next step was bodywork.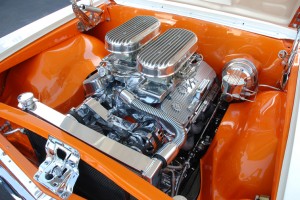 The Chevelle body was kept fairly stock after being restored and smoothed out. A custom all-steel cowl hood was produced to house the massive motor that sits in front of a shaved firewall with custom inner fenders. Custom Concepts then laid down a split basecoat of House of Kolor Sunset Pearl Orange and Cadillac Pearl White. Faux trim was airbrushed in silver, and ghost flames were added for an extra custom touch.
The interior was the final build step. Lexus 1993 bucket seats were sourced and rewrapped in dark blue leather by Craig Renn. The custom dash was created and painted to match the exterior, and Abel Lopez machined a custom billet bezel to house the Vintage Air vents and head unit. The full power convertible top hides beneath a custom-made rear deck lid panel wrapped to match the rest of the interior, which was custom wired by Snow White. The trunk matches the rest of the custom interior as well and houses the entertainment goodies, including two JBL 12-inch subwoofers and an amplifier that was also installed by Snow White.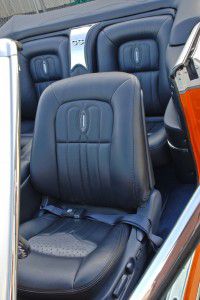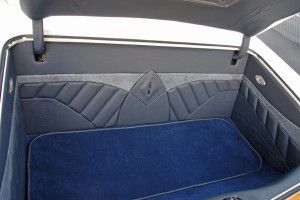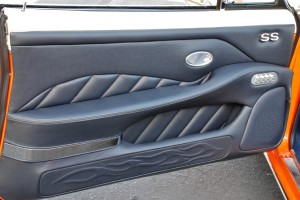 When all was said and done, Bryan had an award-winning Chevelle that also gave the custom car bug to his kids just as he had once been schooled decades earlier by his father on everything hot rod. He hopes that his grandkids will also see custom metal in their future.