Plymouth '70 Duster & '72 Barracuda-History in Motion
Text and Photos by Guest
Plymouth Duster and Barracuda-History in Motion
Our connection to hot rods and classic cars goes beyond steel or horsepower. The stories behind different cars are snapshots of history. Mass car production and urban migration were fueled by the iconic Model T. The Camaro and Mustang are rivals that benefit from each other's success. Corvette lovers can thank Zora Arkus-Duntov. Who? To boost slumping sales, the GM worker suggested gearing ads to a younger crowd. The bold move made Chevy's Corvette a pop culture hit. The Plymouth Barracuda and Duster are muscle cars valued by hot rods enthusiasts, but perhaps for reasons that overlook the impact these cars had on America. In particular, a yellow 1970 Plymouth Barracuda and red 1972 Plymouth Duster that battled on dusty So Cal tracks almost 40 years ago. This is the premise of 'Snake and Mongoo$e', an independent film from Director Wayne Holloway and Executive Producer Elliott Broidy . The story helps explain how these cars were prized at the Barrett Jackson Car Auction in January, along with other classic car events.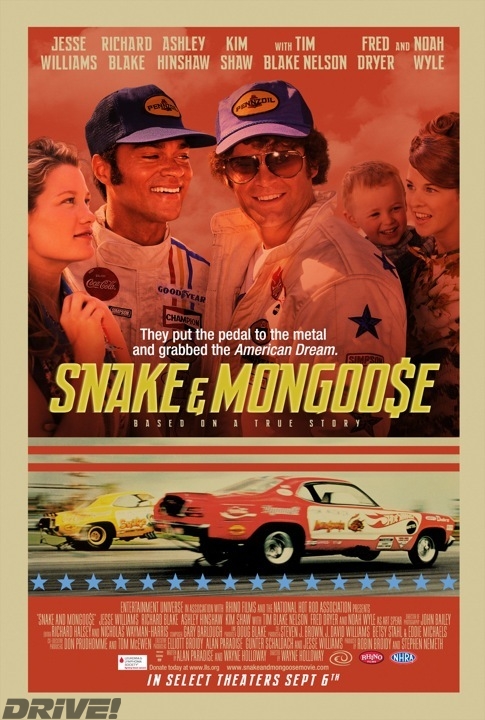 Birth of a Multibillion Dollar Industry: NHRA drag racing was an unknown sport in the 1970's. However, the foresight of Mattel Executive Art Spear would bring racing into homes across America. How? Mattel's famous Hot Wheels series is based off the 'Cuda' (Snake) and 'Duster' (Mongoo$e) cars raced in a heated rivalry. For nearly 10 years, Don 'The Snake' Prudhomme and Tom 'The Mongoo$e' McEwen helped popularize NHRA drag racing with an unlikely friendship among rivals. Mattel's corporate sponsorship helped birth the multibillion industry of sports marketing. Naming rights, sponsors and more all have roots in the Mattel deal.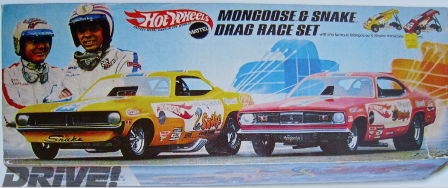 Credit: www.autfocus.ca

Growing Fame almost 40 years later: Prudhomme and McEwen remain close friends. The pair was swarmed at film premieres and autograph signings. Their 'Cuda' and 'Duster' funny cars also caused frenzy. Instead of recreating racing scenes, grainy footage from NHRA archives was used in the film. Much like the Hot Wheels deal 4 decades earlier, these clips gained social media buzz to attract a wide range of fans. Noah Wyle (from TV drama ER), commented that his fond memories of Hot Wheels inspired him to take the role of Art Spear, despite little interest in racing.
Telling a Story: Much like Hot Wheels, 'Snake and Mongoo$e' has broad appeal. There is suspense off the race track, as Prudhomme and McEwen struggle to balance their careers with young families. Coupled with a lesson in history, the film is much more than a racing drama.
Overview of the Duster and Barracuda: From 1970 to 1976, the Plymouth Duster helped spur American street cruising. Much like many car concepts, the Duster was conceived in competition. In this case, the smaller Ford Maverick compact that was introduced that same year. Each car came on the heels of Chevy's Nova, a larger car that began in 1968. Dusters were 2 door coupe alternatives to the 4 door Plymouth Valiant. Valiant based concepts such as the Dodge Dart helped Chrysler release affordable muscle cars for over a decade. The smaller A-platform Duster was also created to fill a void left by Barracuda's move to the larger E-body platform. This twist links the cars in ways beyond racing duels between McEwen and Prudhomme.
Cudas' built on momentum created by cars such as the Pontiac GTO. Ironically, whether the 340 V8 (70-74') or other engine options were ever brought to full life often did not matter. Cruising slowly along your favorite boulevard with the rumble of horsepower was preferred. Of course, a stop light challenge was rarely refused. Manufactured from 1964 to 1974, the first generation of Barracudas (64-66') had striking wraparound glass.
Mopar Restoration: A passionate following and accessible parts make Mopar restoration easier. The result is affordable restorations with OE or custom parts.