Lucky 13th Annual Cruisin' for a Cure – Cruisin' to Save Lives
Text by Rodger Rohrdanz, Photos Rodger Rohrdanz and Bob Ryder
Article
If you could save just one person's life, wouldn't that be special? What if you could help save the lives of 1,000-plus men in just 12 days. That accomplishment alone means this event Cruisin' for a Cure (CFAC) is miraculous!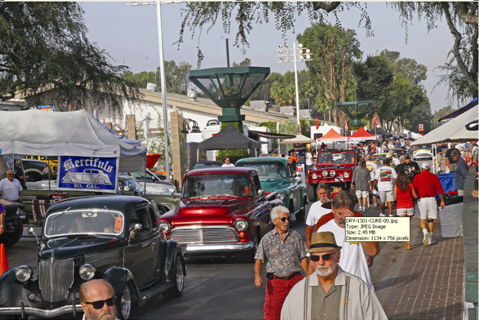 This was Debbie Baker's vision after her late husband Jim was diagnosed with prostate cancer in 1998. She and Jim had always been car enthusiasts, and they decided to do something to make car guys aware of the disease. The inaugural Cruisin' for a Cure took place in March 2000 at the Verizon Amphitheatre in Irvine, California. Unfortunately, Jim lost his fight with prostate cancer in March 2009, but his concern for others lives on through the continued success of Cruisin' for a Cure, which is now the largest single-day charity car show and cruise in the United States.
This year's event opened its gates at 4:30 a.m. at the Orange County Fairgrounds in Costa Mesa, California, and more than 3,200 custom vehicles rolled through to participate. At 7:30 a.m., the Drive Against Prostate Cancer Van opened for free PSA screenings for prostate cancer. This year alone more than 900 men were tested. Throughout the 13 years the event has existed more than 250,000 spectators have contributed to its success. Year after year hundreds of vendors have supported Cruisin' for a Cure while displaying their latest products for all to check out, ask questions about and admire.
During the show, many celebrities and icons of the automotive world were seen strolling through the show or just hanging out, like Ed "The Camfather" Iskenderian, Shirley Muldowney, Dave McClelland (master of ceremonies), Kenny Youngblood, Barry Meguiar, George Barris and Bruce Meyer. Oldies rock 'n' roll could be heard throughout the show as played onstage by The Answer, The Ravelers and Casey Simpson. Mark Jones from ScaleMasters sponsored an incredible, colorful miniature model car contest. There was also a cars and trucks for sale corral that received plenty of foot traffic. Later in the afternoon the prestigious Cruisin' for a Cure awards ceremony took place, where 60 winning vehicles received their due.
In 13 years this wonderful event has not only raised prostate cancer awareness, but it's also drummed up $1,200,000 for a cure! The City of Hope was the beneficiary this year. The success of this event has spawned similar shows in New York, Texas, Utah, St. Louis, Oklahoma City, Las Vegas and Ontario, Canada.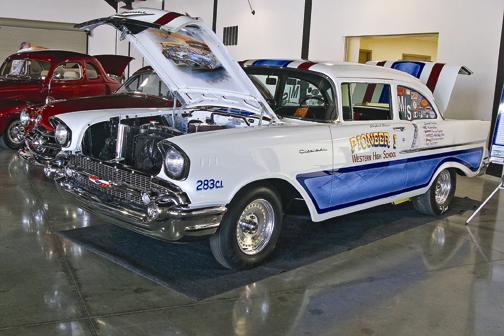 Back in the day, this restored Western High School auto shop drag race project, a '57 Chevy, was originally built in '69 and raced in a high school drag racing league from 1970-72 at Orange County International Raceway, known as OCIR to racers and fans!
A special thanks to President and Founder Debbie Baker, Vice President Ross Kroenert and all of the Cruisin' for a Cure volunteers. See you at the Cruisin' for a Cure event later this year, Sept. 28, 2013; call 714.803.9216 to learn more.