Long, Low and Shiny: Tommy Carver's '49 Cadillac Was Six Years in the Making
Text by Courtney Halowell and Photos by John Jackson
Long, Low and Shiny: Tommy Carver's '49 Cadillac Was Six Years in the Making
Being in this business, we get to see a lot of really nice cars. But every once in a while a car really sort of comes out of the blue and makes a huge impression on the whole staff. Recently, we received an unassuming package in the mail from John Jackson and inside were a couple of discs with features he had shot at the Goodguys Show in Columbus. They were all really nice cars, but Tommy Carver's '49 Cadillac was a grand slam homerun.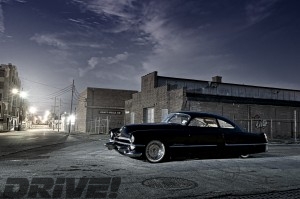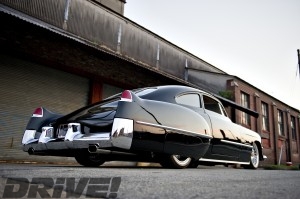 At first you might think that this is just another mild custom with a subtle chop and a really slick paint job, but there is something different about this car. It isn't until you really look at it that you notice the 1955 Chevy eyebrows that have been grafted into the front fenders, or the really low position of the modified 1955 Cadillac front bumper. Then you notice the modified 1949 Cadillac grille and the 1955 Chevy parking lights and you realize that this isn't just another mild custom Cadillac. Take a closer look at the profile of the car and it becomes obvious that the chop is slight at the front, 1 1/2 inches, and pretty sizable at the rear, 4 inches. And it's not just the front bumper that sits 3 inches lower, it is the entire car from front to rear that has been stretched 3 inches to be a little closer to the ground, and then a set of custom fender skirts has been built to cover most of the rear wheels and tires. Out back, a one-off rear bumper constructed and mounted 3 inches lower than the stock bumper was created and the body was extended to fill the gap seamlessly. The exterior of the car was block sanded to laser straight perfection, and PPG two-stage paint was laid on by the folks at Reflection Body Shop.
The chassis is just as stunning as the exterior of the car. Out back, they replaced the stock Cadillac rearend with a Ford 9-inch that is located with a four-bar system and is suspended by a pair of airbags. Up front, the whole Cadillac suspension system was scrapped and replaced with a custom IFS from Fatman Fabrications with rack-and-pinion steering and rides on another pair of airbags.
To power a car this big down the highway, there is no replacement for torque. That's why Tommy went with a 472-ci Cadillac engine and then had it rebuilt by Kenny Belk. Kenny filled the engine with all of the good stuff and topped it off with a pair of heads from Maximum Torque Specialties, Edelbrock intake, Edelbrock 750-cfm carburetor and MSD ignition system. The new power plant is backed by a TH400 transmission from TCI and is topped with a host of color-matched sheet metal.
Then there is the inside of the Cadillac. The crew from Hotrod Interiors built custom kick, door and quarter panels, as well as four bucket seat frames and a custom center console before they wrapped everything in camel leather and butter cup crocodile hide. Other tricks on the interior include an ididit steering column, vintage air system, Clayton interior door handles and a custom 1949 Cadillac steering wheel by Quality Restorations. It was all topped off with a JVC and Kicker system that features GPS and XM satellite radio. Hotrod Interiors also built custom panels and upholstered the trunk to match the interior of the car.
It took the better part of six years for Tommy's '49 Cadillac to go from an idea to reality. But if it weren't for the amazing effort put forth by the crew from Rod Crafters, Hotrod Interiors, Quality Restorations, Reflection Body Shop, Kenny Belk and the crew from Fatman Fabrications, it would still just be an idea bouncing around in Carver's head.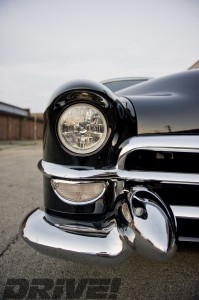 A pair of 1955 Chevy parking lights and headlight eyebrows gives Tommy's Cadillac a unique look.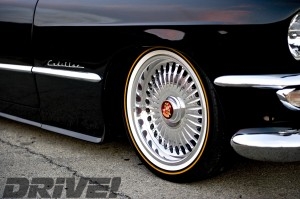 A set of 20 x 7 front and 20 x 8 rear Intro wheels wrapped in Diamond Back tires can be found at the corners of Carver's Caddy.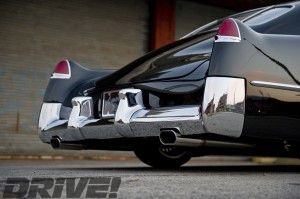 A custom-built rear bumper was installed 3 inches lower than the stock rear bumper, and the body was extended to meet its new position.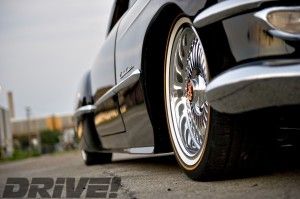 From this angle you can kind of tell how the bottom of the body has been extended to lower the car without actually making the car any lower.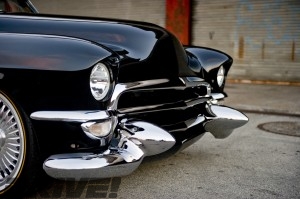 The stock 1949 Cadillac grille has been modified and a 1955 Cadillac front bumper had been sliced-n-diced to fit the nose of the car.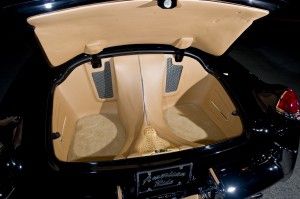 It's not often that you find a trunk full of camel leather with butter cup croc skin accents.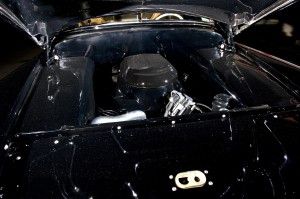 They have done a pretty good job of hiding it, but under all of that painted and polished sheet metal lives a 1978 472-ci Cadillac mill.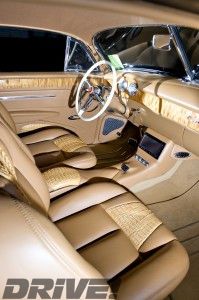 The folks at Hotrod Interiors are responsible for all of the cool stuff between the doors from building the custom seats and custom center console to stretching all of the camel leather and butter cup crocodile hide over the panels.
Chassis
Frame/Manufacturer: 1949 Cadillac
Wheelbase: Stock
Rearend: Ford 9-inch
Rear Suspension: Air Ride with 4-link
Front Suspension: Fatman Fabrications Air Ride IFS
Rear Brakes: Wilwood disc
Front Brakes: Wilwood disc
Master Cylinder: Wilwood
Steering Box: Fatman rack
Steering Linkage: Fatman Fabrications
Steering Column: ididit GM-style tilt
Front Wheels: 20×7 Intro
Front Tires: Diamond Back
Rear Wheels: 20×8 Intro
Rear Tires: Diamond Back
Engine
Make/Displacement: 1978 472-ci Cadillac
Machining/Assembly: Kenny Belk
Heads: Maximum Torque Specialties/Steel
Alternator: 100-amp
Manifold/Induction: Edelbrock
Valve Covers: Maximum Torque Specialties
Ignition: MSD
Exhaust: Sanderson/Flowmaster
Transmission: TCI TH400
Converter: TCI
Shifter: On column
Body
Body style/Manufacturer: 1949 Cadillac
Hood: De-chromed
Grille: Modified 1949 Cadillac
Bodywork By: Reflection Body Shop
Paint Type/Color: PPG Two Stage
Painted By: Reflection Body Shop
Headlights: 1955 Chevrolet eyebrows grafted into fenders
Taillights: 1949 Cadillac
Other Body Modifications: Slant chop (1 ½ inches front and 4 inches rear), 1955 Cadillac front bumper, 1955 Chevy parking lights and headlight eyebrows, lowered front and rear bumpers, custom fender skirts, custom-built rear bumper, B-pillars leaned forward, and the front fenders, doors and quarters were extended to be 3 inches lower
Interior
Dash: Custom
Gauges: Classic
Stereo: JVC/Kicker
Wiring: Rod Crafters
Steering Wheel: Quality Restorations
Upholstery By: Hotrod Interiors
Fabric/leather Color: Camel leather with butter cup croc skin
Seat Manufacturer: Custom by Hotrod Interiors