Lady in Red: Tempie's '50 Fleetline
Text And Photos by Bob Ryder
Lady in Red: Tempie's '50 Fleetline
Tempie Abate from Orange, California, has been a custom and hot rod gal for most of her colorful life. At Ben Lomand High School in Ben Lomand, California, during the late '60s, she learned to drive by wheelin' a '56 Chevy wagon with 3-on-the-tree. During her junior and senior years of high school, she worked at a mechanic's garage in town. She gained a reputation for squealing the rear tires while grabbing gears in her '67 Camaro, beating all the boys. Later she cruised the boulevards in her bitchin' '65 Impala. Since then she's owned a variety of cool rides. They ranged from a '61 Cadillac to a '62 Nova convertible with a 383 stroker, to a '66 Corvette with a Keith Black 427, to a '72 Challenger, to a '39 ford Cabriolet with a ZZ4 and a pair of '63 Bel Air wagons. Currently she and her husband Rick are the owners of Classic Car Marketing, Inc. in Orange. It has become a very successful business, as the only "automotive concierge" marketing company on the West Coast. They bring buyers and sellers together to find the perfect ride. Her personal addiction to cool cars just won't stop. Let's check out her latest pride and joy.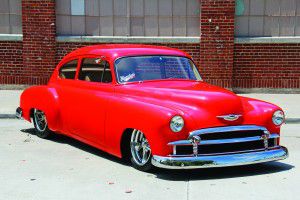 Tempie discovered her '50 Chevy Fleetline in Montana. The car was purchased 3 1/2 years ago. It was about 50 percent complete. After the car was delivered to their home, it was time for Tempie to manage the final build. She was busy ordering parts and scheduling time with her network of shops. She started by adding a Heidts front clip with Mustang II A-arms, 2-inch-dropped spindle, power steering rack and Heidts front disc brakes with 12-inch rotors and dual piston calipers. Out back a narrowed Ford 9-inch rearend was stuffed with 4.10 gears, an Eaton posi unit and drum brakes. Anchoring the rearend was a custom 4-link with panhard bar rear suspension that was fabricated and installed by Ponch and his crew at Bag Man Suspension Specialists in Anaheim, California. Ponch and the boys installed an Air Ride Technologies AKA Ride Tech pneumatic 'bagged suspension system with a Votar 500 compressor, an Air Ride Technologies manifold and valves were linked to a 5-gallon supply tank and airbags through 3/8-inch hardlines. Tempie's red rod rolled on a set of Boyd Coddington Junkyard Dog polished aluminum front wheels 17 x 9 that were consumed in Toyo Tourevo LS 205/50R-17 tires. A pair of Boyd Coddington Junkyard Dog polished aluminum rear wheels, 20 x 16, were wrapped in Mickey Thompson Drag Radials, 31x18R20LT, chubbies.
Under the hood of the Fleetline pro street beast, was a 454-cid big-block that was bored .030-inch over making it a 462-ci screamer. A set of Clevite bearings was pressed into the 454-cid crankshaft journals. The factory 454-ci steel crankshaft was turned .020 and then laid onto the Clevite .020 crankshaft journal bearings. A set of TRW forged aluminum pistons with Seal Power rings, were linked to the crank with a set of Manley 4340 forged H-beam connecting rods. Comp Cams cam bearings were carefully inserted into the camshaft bearing bores, followed by a lumpy Comp Cams 280H (280 dur/520 lift) camshaft. To keep the camshaft and crankshaft in sync, a Cloyes double roller timing gear set and chain were pressed to the ends of the cam and crank. A set of Comp Cams hydraulic lifters was lubed then dropped into the lifter bores, 3/8 Molly pushrods link the Comp Cams 1.8 roller rockers. A pair of GM Performance 110cc cast iron cylinder heads were ported and polished with 2.18 intake and 1.88 exhaust ports. A set of Comp Cams intake and exhaust valves, with Comp Cams springs and retainers, control the air/fuel and exhaust flow of the combustion chambers. A pair of 2-inch ceramic-coated Doug Thorley headers exhaust the engine's burnt gasses. The headers collect into a 2 ½-inch stainless steel exhaust system that flows into a pair of Magnaflow polished stainless steel mufflers exiting through 3-inch exhaust tips.
After the final assembly of the 462 cid, the compression was calculated at 9.5:1. The GM cast iron heads were covered with a pair of Billet Specialties polished aluminum valve covers. The air/fuel mixture was maintained with an Edelbrock RPM Air-Gap polished aluminum air intake manifold capped with a pair of Edelbrock dual quad 550-cfm carburetors nourished by an Edelbock HV fuel pump. Before entering the carburetors, the air is filtered by a K&N Custom 66 polished billet aluminum oval dual quad air cleaner and filter. An HEI MSD ignition system, with a MSD Mini Super distributor, Taylor 8.8mm plug wires and a PowerMaster 150-amp alternator keep the electronic juices flowing. An 18-gallon stainless steel aluminum fuel tank was located between the rear frame rails. To guarantee the engine internals were well lubricated, a Milling M77 HV oil pump was installed. An Edelbrock HV aluminum water pump circulates the coolant that's chilled by a Walker polished aluminum Baker four-row HD radiator and Cool Flex hoses. While cruising, the engine is cooled by a Spal electric fan from The Fan Man. The 535-hp and 545 lb-ft of torque is backed up with a Turbo 400 automatic transmission equipped with a 2,300-rpm stall converter and B&M ratchet shifter. Inland Empire Driveshaft was responsible for linking the horsepower to the Ford 9-inch rearend.
The Fleetline's body and PPG Torch Red paint was already completed when the car was purchased. However, Little John in San Bernardino, California, laid out some awesome wispy ghost flames painted with House of Kolors Gold Metallic Pearl, then buried under six coats of clear. After giving the clear time to cure, it was cut, buffed and polished to an endless depth and glistening finish.
Opening the doors exposed us to the immaculate tan interior, featuring a custom Australian tan leather dash, seats, center console, door/kick panels and headliner. Plush Rolls Royce low-pile tan carpet was laid down. The headrests were removed from the Lexus bucket seats, and then the rear seat was covered in tan leather. Custom door panels maintain the mild appearance with manual window cranks and door handles. The factory dash was covered in leather with an Auto Meter Sport comp speedometer in the factory location. A custom gauge panel was recessed into the center of the dash featuring Auto Meter Sport Comp black face gauges, fuel, volts, tachometer, water temp and oil pressure. Separating the bucket seats is a custom leather-covered waterfall center console that houses the stereo head unit and universal multi-CD changer. A pair of handy cup holders is convenient not only for holding liquid refreshments, but also hand-held remotes. An Air Ride Technologies pressure gauge displays the rear airbags' pressures. A B&M T-handled ratchet shifter with reverse lockout allows Tempie to select precise shift points. A classy Lokar pedal assembly makes for smooth throttle and braking. An Ididit leather-wrapped tilt steering column is capped with a Billet Specialties 15.5-inch Classic leather-wrapped steering wheel.
Cruising tunes are presented by a Pioneer AM/FM CD iPod MP3-compatible head unit powered by a Memphis four-channel 600-watt amplifier. A pair of 6 x 9 Nitro speakers along with two 6-inch Nitro mids and tweeters located in the kick panels deliver the mid-tones. A pair of Memphis 12-inch subwoofers, located behind the rear seat, bust out the hard-hitting bass. You must have road tunes when you're cruising; it sets the tone of the journey.
Tempie's '50 Fleetline is definitely a show-stopper with its lowered stance, wheels and tires, vivid Torch Red paint and massive 462-ci big-block under the hood. It's one sweet pro street machine. When she is behind the wheel, Tempie's definitely the lady in red.
Checkout the song,
Lady In Red by: Eric Clapton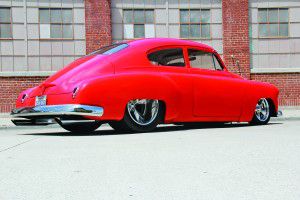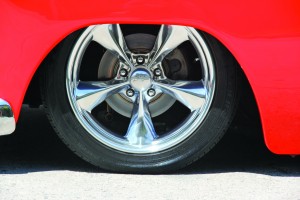 Front-end grip and direction are produced by Billet Specialties Junkyard Dog polished billet aluminum wheels in Toyo Tourevo rubber.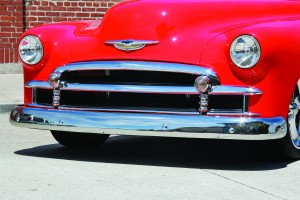 The all-new factory '50 Fleetline grille is flanked by a pair of halogen headlights. A '50 Fleetline front bumper was included in the complete front-end makeover.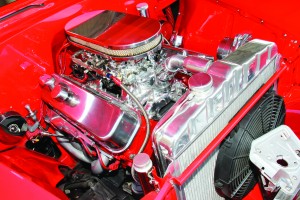 The GM big-block was machined to 462 cid, and a pair of GM Performance 110cc cast iron heads are exhausted by a pair of ceramic-coated Doug Thorley two-inch bock-hugger headers capped with a pair of Billet Specialties aluminum valve covers.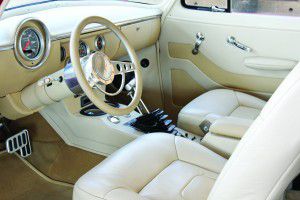 The plush interior is covered with Australian tan leather and plus Rolls Royce tan carpet.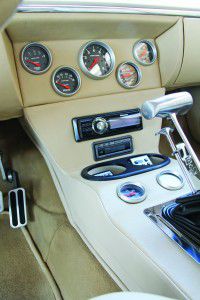 The dash was recessed to accommodate the Auto Meter Sport Comp black face gauges. A custom waterfall center console houses the Pioneer stereo AM-FM-CD-IPOD-MP3 head unit and a Pioneer Graphic EQ unit.