Kolor of Money- '58 Chevy Fleetside
Text and Photos by Bob Ryder
Article
It's amazing how the custom car and truck scenes evolve in cycles. Retro customs have become a popular style. They're timeless with their candy, pearl, metallic and metal flake colors, and they're highlighted with flames, scallops and pinstripes. Retro customs have a lowered stance and roll on simple wheels and tires, with wide whites optional.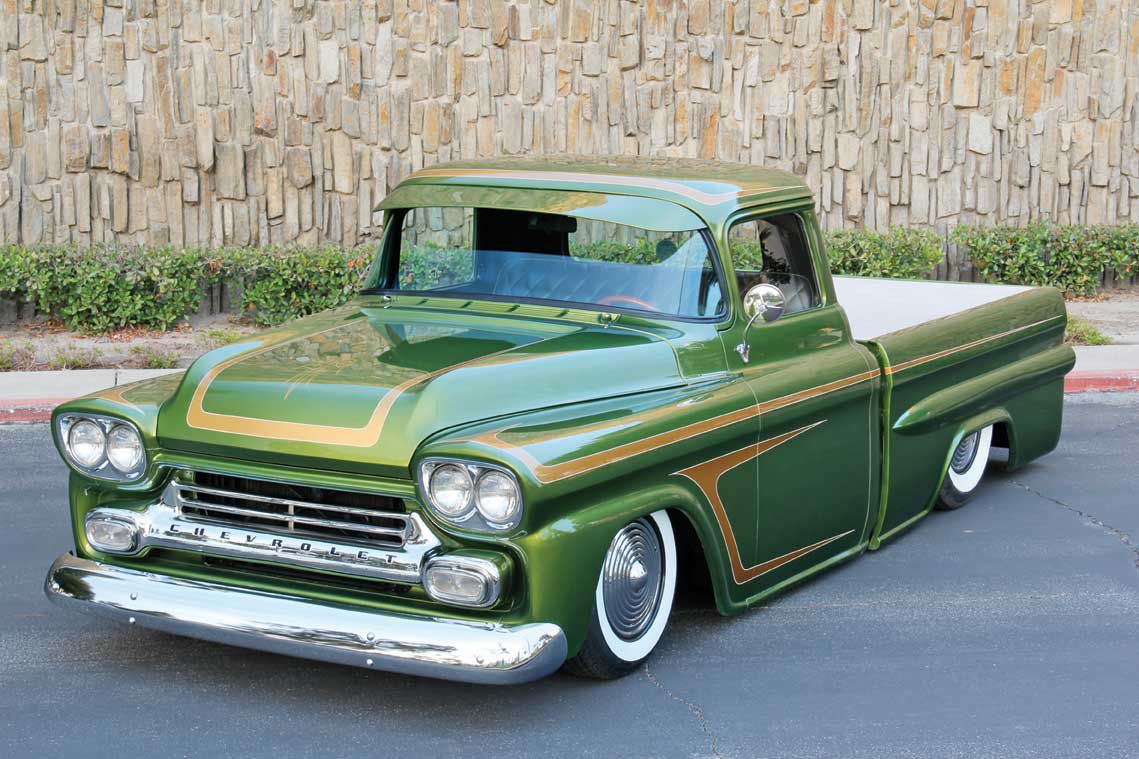 Most custom car and truck enthusiasts acquire their vehicular passion during their high school years, which is what happened to Pete Wittenberg. After moving with his parents from Boston to SoCal, he attended Canyon High School in Anaheim Hills. Pete had always had an interest in cool cars and trucks, so his senior year in high school he enrolled in the school's Regional Occupational Program (ROP) auto shop and interned at C.W. Hot Rods for Chuck Holton in Orange, California. After a couple of years at C.W. Hot Rods, he moved on to Goodies Customs. While working at Goodies he was inspired by a customer to move on and start his own gig. That same customer helped Pete start his own business, Pete's Rod & Custom in Anaheim, California. Pete's been hammering, welding and painting vintage metal for his customers for 13 years now. At 34, he has matured along with his successful business. He is also into quarter-mile nostalgia drag racing as a crew chief for Circuit Breaker, the Top Fuel Nostalgia Dragster owned by Bob Richardson and driven by John Rasmussen.
After years of building cool custom rides for his customers, he thought he should build one to promote his business. Going back to his hot rod roots, he called on old friend and former boss Chuck Holton at C.W. Hot Rods. He acquired this '58 Chevy Apache pickup, which at the time had a rusted step side bed, but the cab, doors, fenders and hood were in pretty good shape. Pete traded his rust bucket step side bed for a fleetside short bed. Once he had all of the essential parts and pieces, he got down to business on the project.
Pete has always had a passion for cool nostalgia customs and rock 'n' roll. Besides building very cool rides, Pete also enjoys rocking with some insane riffs on his Fender guitar. Yeah, Pete considers himself a rockstar.
To accomplish the agile suspension, Pete started by eliminating the straight front axle by cutting the frame rails in front of the firewall. A 1974 Oldsmobile front clip with independent suspension and power disc brakes was stubbed and welded into the front frame rails. The entire frame was painted satin black. A pair of Firestone 2600 pneumatic 'bags was connected to the lower control arms and upper mounting brackets. Doetcsh shocks were used to dampen the front suspension and lower the nose. The rear frame rails were step notched for ample rear suspension compression. To achieve the lowered rear suspension, the leaf spring perches were removed from their stock location and relocated. The leaf spring packs were disassembled. Three springs (every other one) were removed from each pack to soften their spring rates. They were reassembled and then de-arched 3 inches. The rear leaf springs were dampened by a pair of Doetcsh gas-filled shocks. A pair of Firestone 2600 airbags was located in the rear. The suspension was "air-ticulated" by a pair of MAC springs, 150-psi compressors, eight valves (two per wheel), and 3/8-inch hard lines that continue to the two 5-gallon air supply tanks. Then they were linked to the individual Firestone airbags. A 1974 Camaro rearend was stuffed with 3.20 gears and posi-unit. A set of Wheel Smith Steelie 15 x 7-inch front and 15 x 8 rear wheels were powder coated black then capped with Mooneyes Starburst 15-inch wheel covers. The Steelie wheels were wrapped with Diamond Back American Classic 2.75-inch white wall (195/75-15) tires. The Firestone pneumatic 'bag system was controlled by a MAC hand-held remote that allows the front and rear suspension to be lowered or raised independently with the push of a button. When Pete deflates the 'bags, the truck lays out hard, tucking the tires deep into the wheel wells.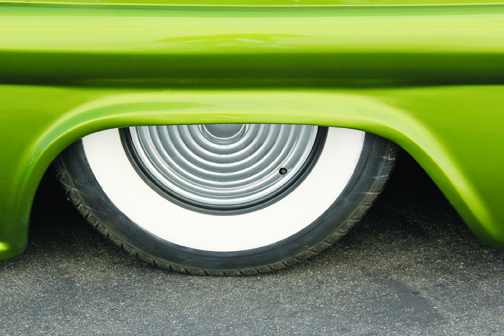 A set of Wheel Smith 15 x 7 (front) and 15 x 8 (rear) steelies were powder coated black and capped with Mooneyes Sunburst wheel covers. Diamond Back American Classic 195/75-15 tires give Pete's '58 traction and grip. 
A '74 Chevy 350-ci V-8 with a busted crankshaft was yanked out of a massive C-30 1-ton fleetside. The block was striped down, and the crank was replaced with a remachined .030-.030 crank, new seals and bearings. The stock cast iron cylinder heads and combustion chambers were cleaned along with the valves. A pair of Edelbrock finned valve covers was bolted onto the heads. A 1969 Z28 aluminum intake manifold with front breather tube was mated with a 600-cfm Edelbrock carburetor, keeping the engine's air/fuel mixture consistent. The fresh air was filtered by a K&N filter and Cadillac air cleaner that was painted and pinstriped. A pair of stock exhaust manifolds collects into a 2.5 exhaust system that flows into two 30-inch-long Blue Streak glasspacks. Ron Walsak disassembled the GM 350 automatic transmission then inspected and replaced all the worn-out parts with new hardware, a mild shift kit and seals. A 23-inch Genie swan neck shifter allows Pete to select his shifts. O.C. Driveline in Placentia, California, cut a new driveshaft to size and capped it with new uni-joints to link the 350 trans to the rearend.
The small window cab was tapper chopped 2 ½ inches at the A-pillars and 2 inches at the B-pillar. The cab corners were chopped 2 inches underneath the rear window to maintain its stock height. All-new, custom-cut glass and rubber was installed. The emblems were removed and the door handles were shaved smooth. A pair of electric solenoids and new Bear Claw strikers and latches were installed to secure the doors. The cab's firewall was smoothed to match the cab bodylines. After all of the body mods were completed, the entire sheet metal cab, doors, fenders, hood, fleetside bed and tailgate were straightened and filled. All of the parts were given multiple coats of DuPont sanding primer and block-sanded smooth.
One unique episode of the build was that Pete was given a 22-hour window to use Boyd Coddington's paint booth while the shop was closed for the crew's annual trip to Bonneville. Pete got the truck rolled into the booth, masked, prepped and wiped down. And then an oh-crap moment occurred when Pete was mixing the DuPont Green base color and adding the pearl. He accidently poured the entire bottle of gold pearl into the pot. Not knowing what was going to happen he went ahead and started spraying. To his surprise, the color and pearl came out bitchin'. Pete laid out the scallops on the hood, roof, fenders, doors and bed's fleetside. He applied the DuPont Solid Gold basecoat. Using a cream color, Dennis Rickless pinstriped around the scallops. Pete then buried the pearl green basecoat in six coats of clear. Eian Hatley pinstriped the gold Cadillac air cleaner and dash.
Pete kept interior with black pile carpet and black door panels, dash and headliner. He took the stock bench seat over to L's Auto Upholstery in Anaheim, where the crew covered it in old skool black leather diamond tuck with green stitch and piping. A 1972 Chevy van tilt steering column was capped with a Mooneyes 14-inch red and silver metal-flaked steering wheel.  The '60s rock 'n'roll and blues plays through an Alpine CD/radio/MP3 head unit that purges tunes through two Alpine speakers located in the kick panels. The only thing missing is a pair of white fuzzy dice hangin' from the rearview mirror.
When Pete isn't building cool rides he can be heard shredding on either his Fender Stratocaster or Fender Elite guitar. Look out Billy Gibbons!