It's Howdy Doody Time! Ron Segal's '47 Ford Delivery
Text And Photos by Bob Ryder
It's Howdy Doody Time! Ron Segal's '47 Ford Delivery
Ron Segal from Santa Clarita, California, is a retired custom homebuilder, Vietnam vet and cowboy. His real passion, though, has long been custom cars and trucks. Ever since he attended Palos Verdes High School in '60s, Ron has been a custom car enthusiast and builder. Over the years he's enjoyed a long run of incredible street rods, hot rods, customs, classics, muscle cars and even a few custom motorcycles. Many of his cool rides have been featured in numerous publications, and he has collected a forest of trophies.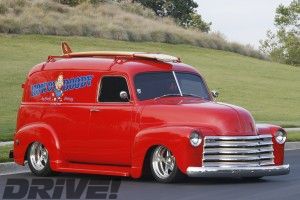 Ron's latest creation was built as a tribute to one of his earlier street rod's, Howdy Doody, an all-steel '29 Ford delivery that was chopped and dropped with a 302-ci V-8 wedged between the frame rails. Howdy Doody was featured in Street Rod Action Magazine April 1989. To commemorate Howdy Doody, Ron decided to build Howdy Doody II, the'47 Chevy panel splashed across these pages. He got together with his longtime buddy, RC Lindly, who owned RC Classics in Palm Desert, California. RC had helped Ron with many of his award-winning customs. With help from Dan Condon, the two spent the next 1 ½ years building the panel. They began by boxing the 1947 frame rails and fused a Mustang II front clip to them with 2 ½-inch dropped spindles, sandwiched between the upper and lower control arms. The whoa power is produced by Corvette front disc brakes. Howdy Doody's lateral direction comes from a Mustang II power steering rack, while the corners are flattened out by a 1 ½-inch sway bar. The front suspension is equipped with a pair of Ride Tech pneumatic 'bags to lower the nose. A pair of lowering blocks drops the GM 12-bolt rearend that is stuffed with 3.73 gears and a Truetrac unit. The rear frame rails were notched to allow ample negative vertical travel of the rear suspension. A pair of Corvette disc brakes was installed to slow the rear's rotating mass. Howdy Doody II rolls on a set of Boyd Coddington Genesis polished aluminum wheels—17 x 8 front, and 17 x 9 rear—that were wrapped with Nitto NT450 235/40ZR-17 front and 275/50ZR-17 rear rubber. Under the hood we discovered a healthy Chevy 350-ci small-block that was built with all of the right components, starting with a Scat forged 4340 steel crankshaft. Manley I-beam connecting rods and J&E pistons fit with Clevite bearings and Total Seal rings followed up the crankshaft. For both performance and the wow factor, a Comp Cams Mother Thumper bump stick was inserted with lifter and push rods. The crank and camshaft are synced with a Jackson gear-drive. An Edelbrock high volume water pump circulates the engine coolant. A pair of aluminum Edelbrock Performer RPM cylinder heads with valves, springs and roller rockers are encased with Billet Specialties polished aluminum finned valve covers. The fuel delivery system is regulated by an Edelbock mechanical fuel pump that delivers fuel to a pair of Holley 450-cfm carburetors mounted on an Edelbrock RPM Air Gap dual-quad aluminum intake manifold with a pair of Edelbrock Thunder AVS 500-cfm carburetors, capped with a Speedway Motors Shot Gun Bill's Double Barrel Air Scoop. A PowerMaster 150-amp alternator supplies the electrical juices to the MSD ignition system. The interior's creature comforts are controlled by a Hot Rod Air unit. A set of Billet Specialties polished aluminum pulleys and power steering pump finishes off the engine's clean appearance. The throaty voice of Howdy Doody II is drawn by a pair of Hedman block-hugger headers that collect into a 2 ½-inch exhaust that flows into a pair of Flowmaster dual chamber mufflers. The engine is kept cool via an aluminum radiator. The engine is backed up to a GM 700R4 automatic transmission that received a B&M shift kit to produce firm shifts. Ron delivered Howdy Doody II to his longtime friend, Stan Howton of Howton's Customs in Beaumont, California. Coincidentally, Stan painted Ron's Howdy Doody I nearly 24 years ago. Stan dedicated many hours preparing Howdy Doody II's exterior skin by pancaking the roof 2 inches, removing the hood emblem and center molding, and then shaving everything smooth. The front fenders received frenched headlights and flushed turn indicators. A set of Baer Claw hinges keeps the door gaps tight. With the body mods complete, Stan sprayed multiple coats of primer then block sanded the entire body smooth. After prepping the sheet metal, he then applied four coats of PPG Corvette Red. Before laying the clear Stan gave Ron's '47 its identity by hand-airbrushing Howdy Doody and a bust of the famous marionette. After some time to cure, the basecoat and artwork were buried in eight coats of clear. The grille and front and rear bumpers were sent out to be rechromed. The flat glass was tinted to keep the interior cool. Speaking of interior… Eddie Ledesma Jr. at American Auto Upholstery in Corona, California, was responsible for the amazing leather craftsmanship. Eddie first encased the entire interior with DynaMat before laying down the light gray pile carpet. The door, side panels and headliner were covered with dark charcoal leather. The rear side panel inserts were embroidered with Howdy Doody lettering and puppet motifs. The Suburban bucket seats, with headrests removed, were covered in dark gray leather with light gray pleated inserts. Eddie built the custom center console then covered in light gray leather. The dash received a pair of TPI Tech Classic Quad white face gauges. An Ididit tilt steering column was capped with a custom-made, banjo-style steering wheel that was covered in dark gray leather. A very cool Howdy Doody puppet head tops the long Lokar shifter. Well, it looks like Ron has come full circle building cool custom rides with his latest Howdy Doody II. All that's missin' is Buffalo Bob and Clarabell.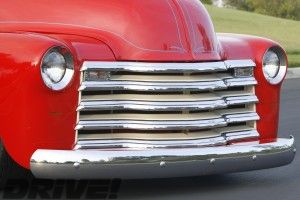 Frenched headlights flank the rechromed 1947 grille and bumper.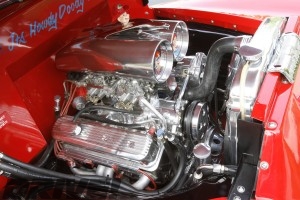 Under the hood we found a Chevy 350-ci small-block equipped with an Edelbrock dual-quad aluminum intake manifold with a pair of Edelbrock Thunder AVS 500-cfm carbs capped with a Speedway Motors Shot Gun Bill's Double Barrel Air Scoop. Notice the hand-painted Howdy Dowdy figures on the butterflies and HD head with cowboy cap on top.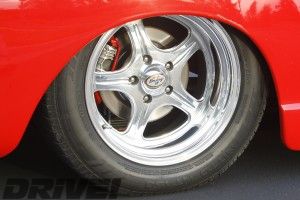 Boyd Coddington 17-inch Genisis polished aluminum wheels are wrapped in Nitto rubber.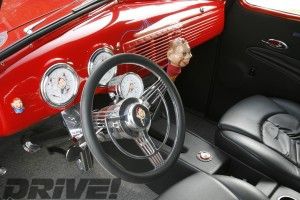 A custom one-off Billet Specialties banjo-style, leather-wrapped steering wheel caps the Ididit tilt steering column. The dash was filled with TPI Classic Quad white face gauges.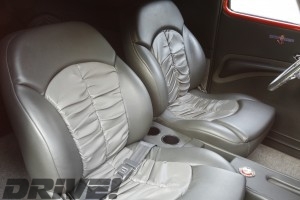 The headrests were removed from the Suburban bucket seats, and then the seats were covered in dark gray leather with light gray pleated inserts.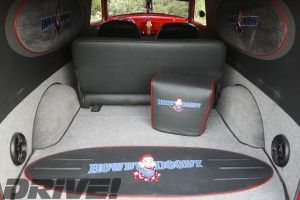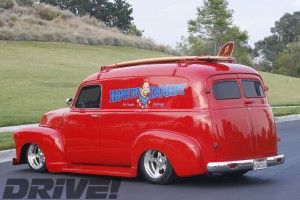 Howdy Doody II rolls with a classic Jacobs 9-foot, 6-inch balsawood surfboard.