IRENE A DECIDEDLY DIFFERENT C10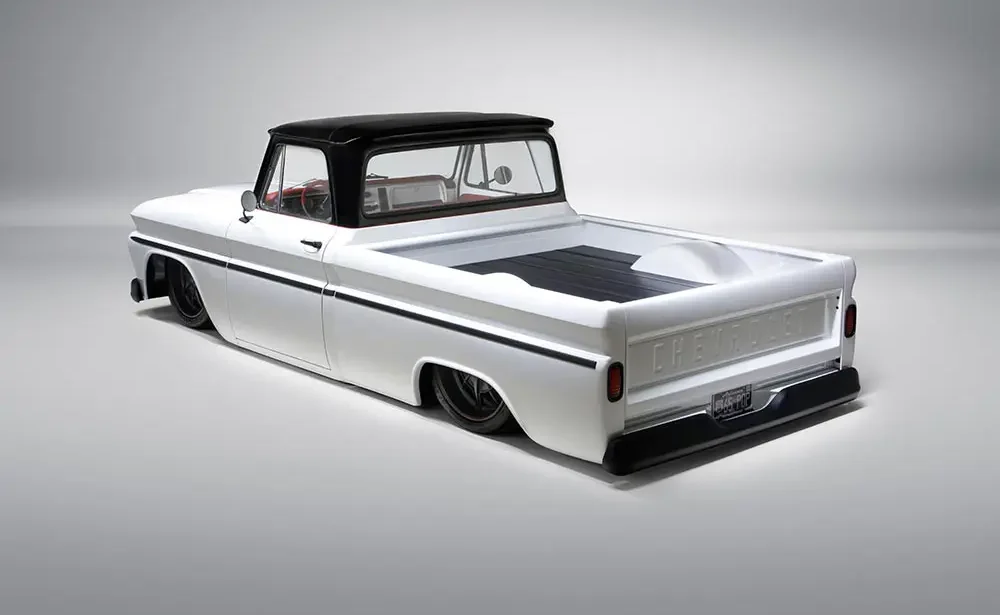 1965 Chevrolet C10 bagged on a Porterbuilt chassis
If there's one thing the truck world is susceptible to, it's trends. Whether it's the hot new wheel that everyone wants or the latest billet accessory, it doesn't take long for something to become popular in custom truck world. It's by no means a detriment to roll with what's tried and true, but standing out can be downright challenging at times.
Jack Brand wasn't interested in following trends, but he was interested in having the raddest custom truck possible without following in everyone else's footsteps. After seeing a truck named Elaine at a local show and falling in love with it, Jack asked the owner about it and the shop that built it. It didn't take long for him to seek out Jason Noel and his talented crew at Fat Fender Garage to commission their work.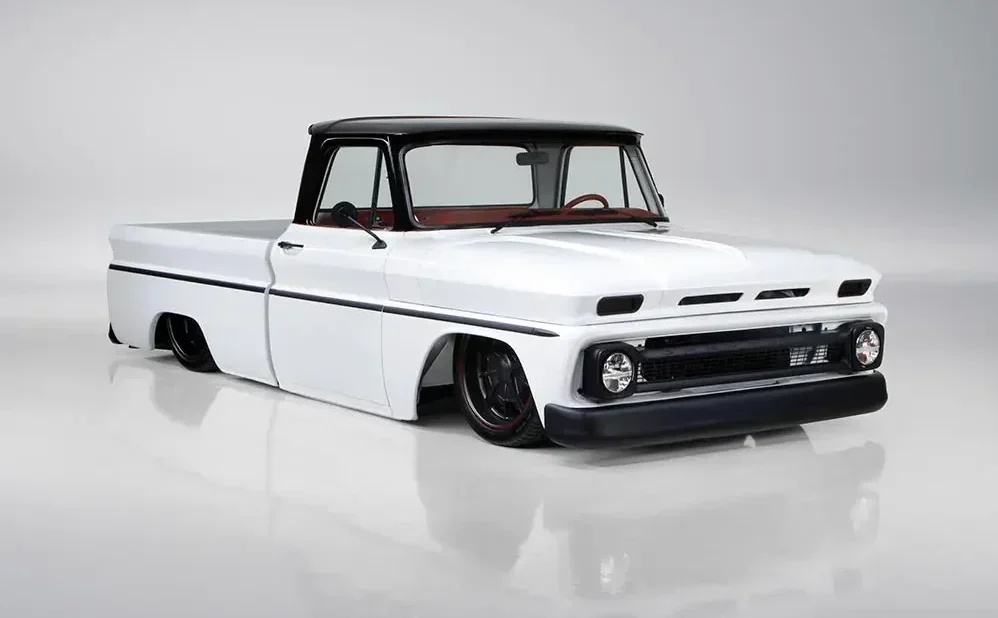 Unique & Unmistakable 
At the time, Jack didn't even have a truck to build, but luckily for him Jason had a solid candidate already sitting in his shop, a '65 C10. Jack was ready to rock, and he asked the FFG crew to turn the truck into a distinctive custom ride that wouldn't soon be forgotten or, possibly worse, mistaken for anyone else's truck.
And while the '65 C10 isn't the first to wear a black and white theme, some of the processes involved in the build are unique compared to more traditional methods. For example, the use of Cerakote on a lot of the surfaces that would typically be chrome-plated or painted was definitely a venture into the unknown since, well, when's the last time you've seen Cerakote-covered bumpers and trim work?



Perfect Foundation
The full custom Porterbuilt chassis certainly isn't something you see every day, but it was the perfect foundation on which to start the build. With Air Lift Performance Dominator 'bags, a FLO Airride supply tank, Viair compressors, and Ridetech shocks, the truck was being set up with the best right from the very start. A Boyd Welding fuel tank and 14-inch Wilwood brakes all around finished off the undercarriage to perfection and allowed the truck to be put back on the ground.
Jack didn't even have a truck to build, but luckily for him Jason had a solid candidate  already sitting in his shop, a '65 C10.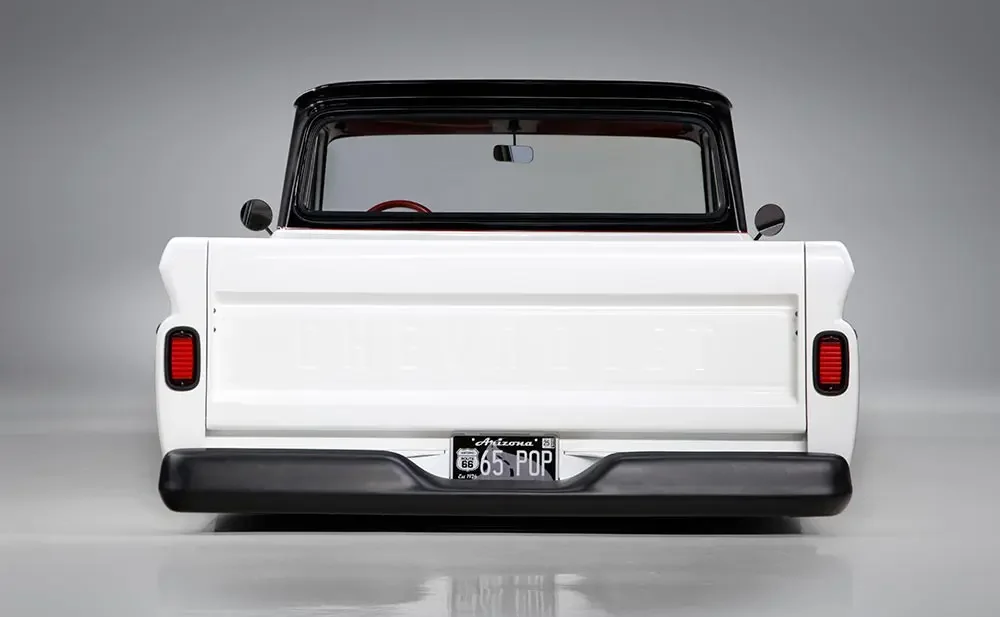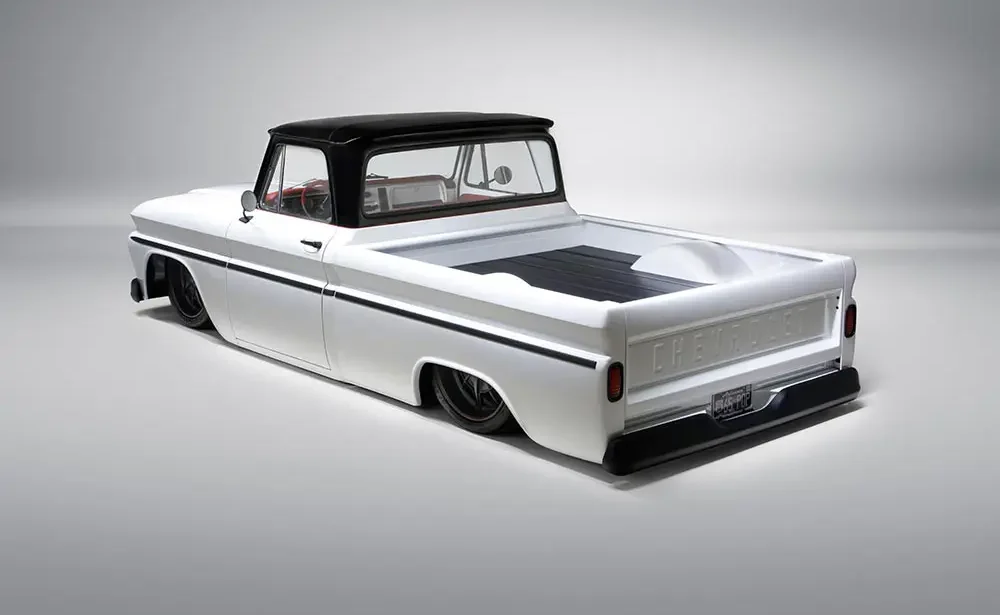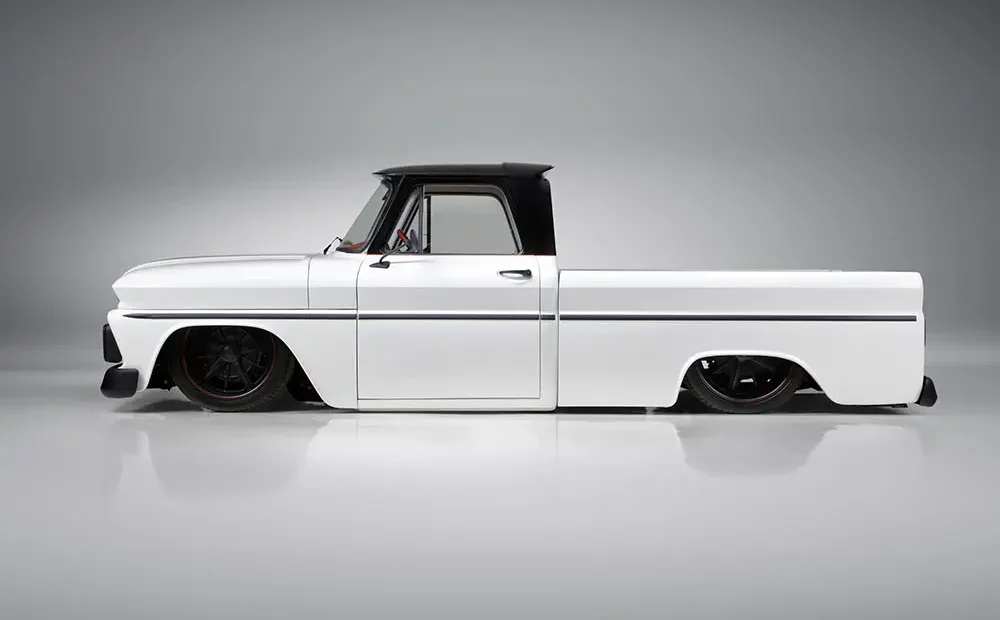 Well, almost. Jack's C10 would first need a proper set of rollers. There was no skimping when it came to the wheels and tires, and no expense was spared to secure the right combo. Lurking in the shadows of the wheel wells are 22-inch Schott Split Window billet wheels and Michelin Pilot Sport tires measuring 285/35R22.
Between the frame rails, a new crate 6.2L LS3 was matched up to a 6L80 transmission, with Speedtech Performance headers and a custom Borla-based 3-inch exhaust leading away from the cylinder heads and on to the rear of the bed. With 430 horses on tap, the '65 would now have no problems getting out of its own way, with the added bonus of starting right up each and every time the key is turned.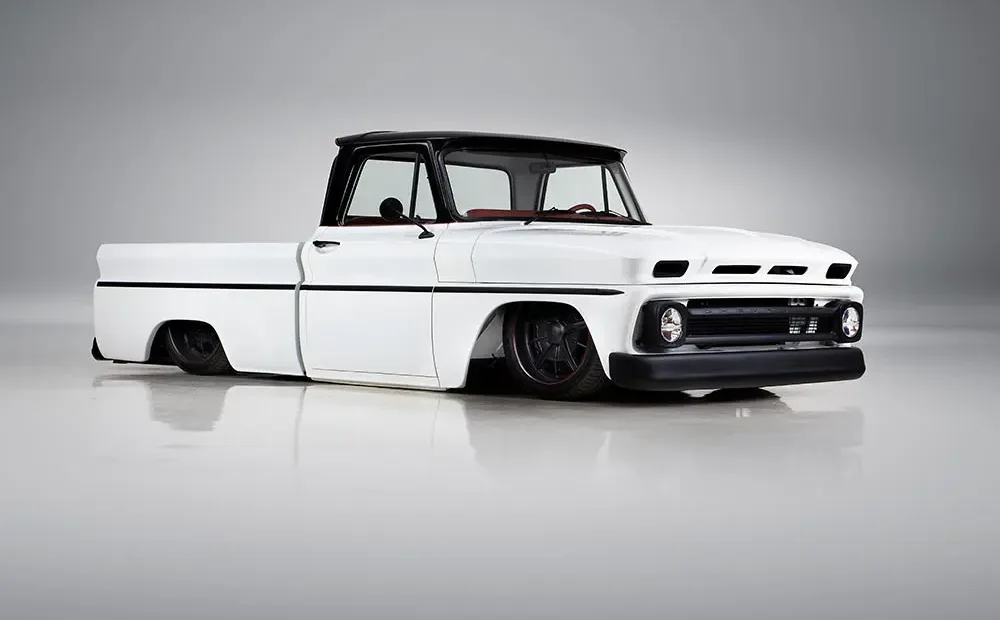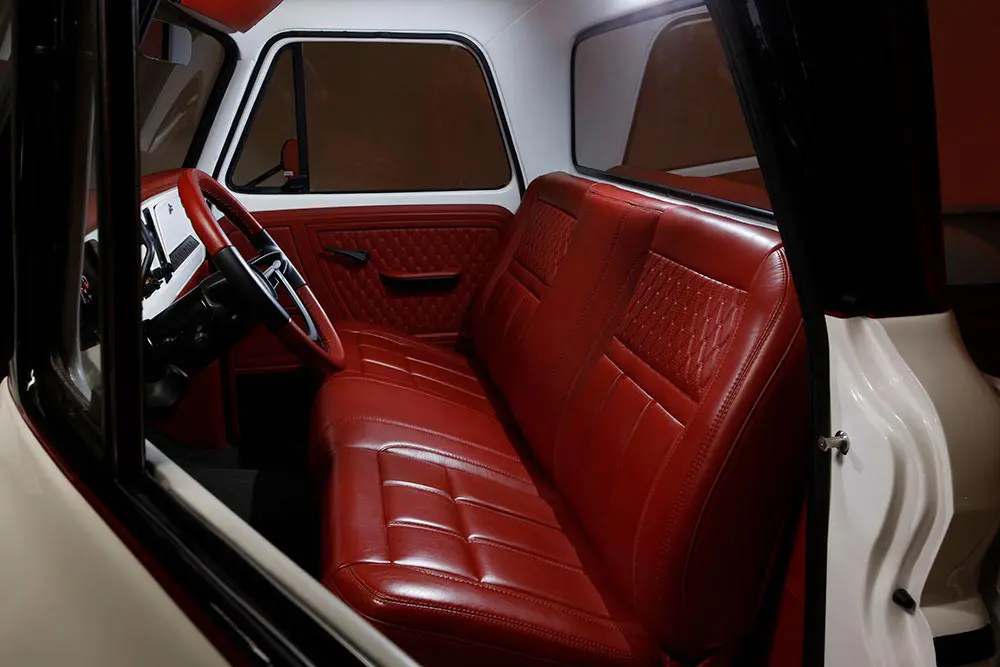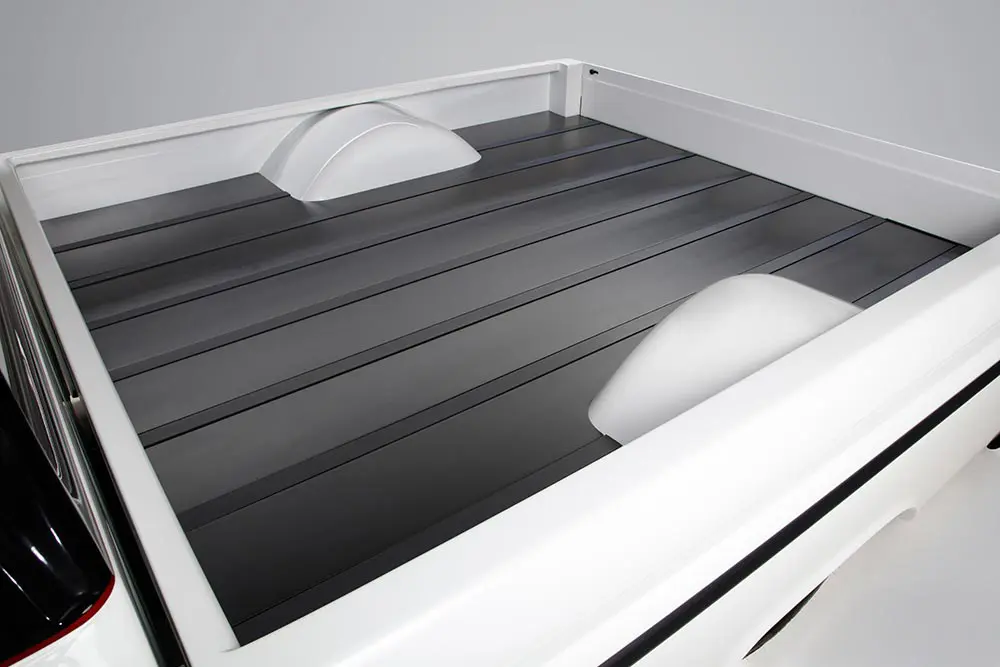 Cerakote Special
The body is mostly original as far as the sheetmetal goes (aside from some subtle finessing), but it went through extensive restoration in the capable hands at Fat Fender Garage. Not only was the perfectly prepped sheetmetal given generous coats of BASF's finest Diamont paint, but the grille, bumpers, trim, and other miscellaneous pieces were coated in Cerakote for ultimate durability and a unique look. New inner fenderwells and tubs were fabbed up and painted to match the rest of the color scheme.
Inside, the main attraction is the original bench seat, which was reshaped and upholstered in-house at Fat Fender Garage in red Relicate leather. A matching dash pad was also constructed and fixed into place, and a Sparc Industries steering wheel was wrapped in even more leather by Adrian at Steering Wheel Art. A set of Dakota Digital HDX gauges replaced the original instruments, offering reliable and instant feedback on the truck's vitals.
The stunning 1965 C10 dubbed "Irene", in honor of the owner's mother.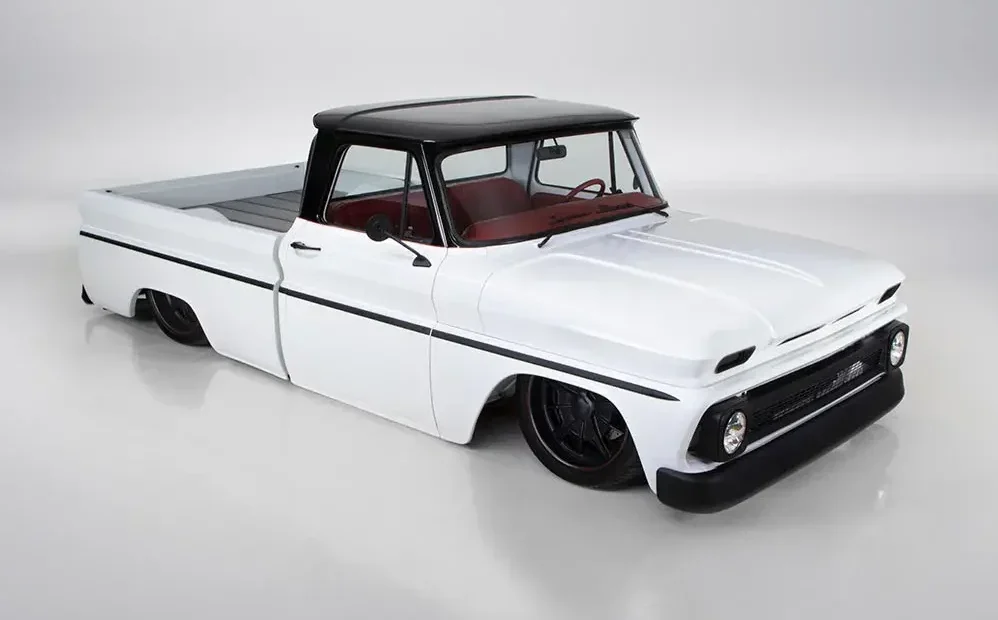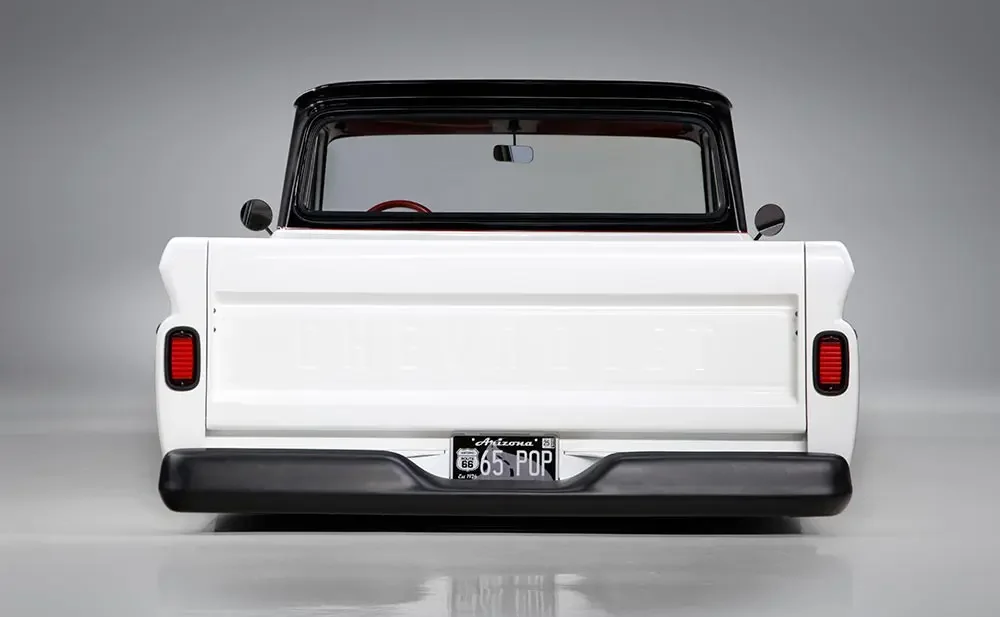 Reaping the Rewards
From excavating work to opening his own coffee shop, Jack has put in some long hours in his life, and this C10 is just one of the rewards— the fruits of his labor—that he has allowed himself to enjoy with his wife Becca 100% on board and, as the kids say, "Here for it."
With Jack hitting every show possible since the truck's completion, we're sure it will be inspiring others to build the truck of their dreams as well!
---
What is Cerakote?
Cerekote, a division of NIC Industries, Inc., is the maker of Cerakote, a ceramic thin-film coating that can be applied to metals, plastics, polymers, and wood. Used on firearms, automotive parts, electronics, sports and fitness equipment, and more, it's designed to improve durability and resist corrosion. Learn more at cerakote.com.
---
IRENE: 1965 CHEVY C10
by Fat Fender Garage
OWNER:
Jack Brand
Scottsdale, AZ
Chassis/Suspension:
Custom FFG Porterbuilt chassis
Air Lift Performance Dominator 'Bags
Air Lift Performance 3H Management
FLO Airride billet tank – custom Cerakote by FFG
Ridetech shocks
Fully detailed and coated chassis and suspension by FFG
Engine/Trans:
GM LS3 6.2L crate
Modern vintage LS harness
6L80 trans
Derale trans cooler
MSD Atomic intake
Speedtech headers
3-inch stainless exhaust with Borla mufflers
Boyd fuel cell
3.73 rear w/ TruTac posi
Wheels/Tires/Brakes:
Schott Split Window 22-inch billet wheels
Michelin Pilot Sport tires 285/35ZR22
Wilwood 14-inch brakes
Wilwood billet master cylinder
Body/Paint:
BASF Diamont Paint
All exterior trim/grille/bumpers/badges custom FFG Cerakote finish
United Pacific LED lights
Raised bed floor and custom bedwood kit
FFG raised-bed actuator kit
Interior/Stereo:
Original Bench seat custom shaped and covered with Red Relicate Leather
Custom dash pad
Sparc Industries billet steering wheel
Restomod A/C
Dakota Digital HDX gauges
Retro Sound headunit
Focal Amp and speakers
Interior done in-house at FFG
---