Howdy Doody II, a '47 Ford Delivery, Part 2
Text and Photos by Matt Emery
Howdy Doody II, a '47 Ford Deliver, Part 2
Last week, we got a glimpse of Ron Segal's red '47 Ford Delivery stunner, Howdy Doody II. We peeked under the hood and kicked the tires a bit. This week we'll a look inside.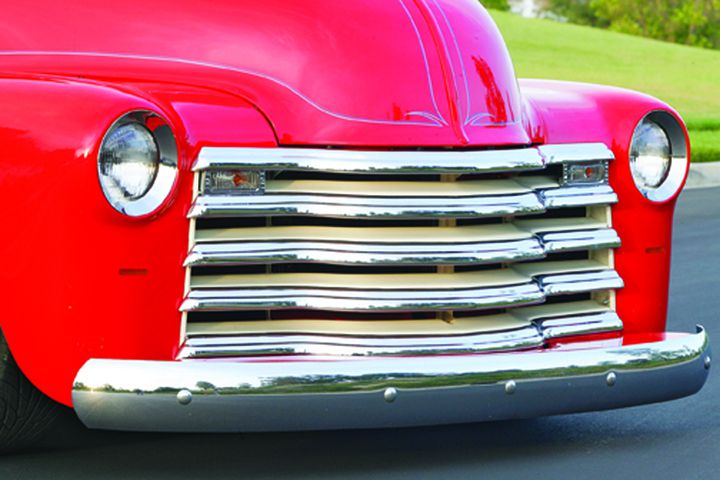 Frenched headlights flank the rechromed 1947 grille and bumper.
Ron delivered Howdy Doody II to his longtime friend, Stan Howton of Howton's Customs in Beaumont, California, to receive its nostalgic paint job. Coincidentally, Stan painted Ron's Howdy Doody I nearly 24 years ago. Stan dedicated many hours to preparing Howdy Doody II's exterior skin, pancaking the roof 2 inches, removing the hood emblem and center molding, and then shaving everything smooth. The front fenders received frenched headlights and flushed turn indicators. A set of Baer Claw hinges keeps the door gaps tight.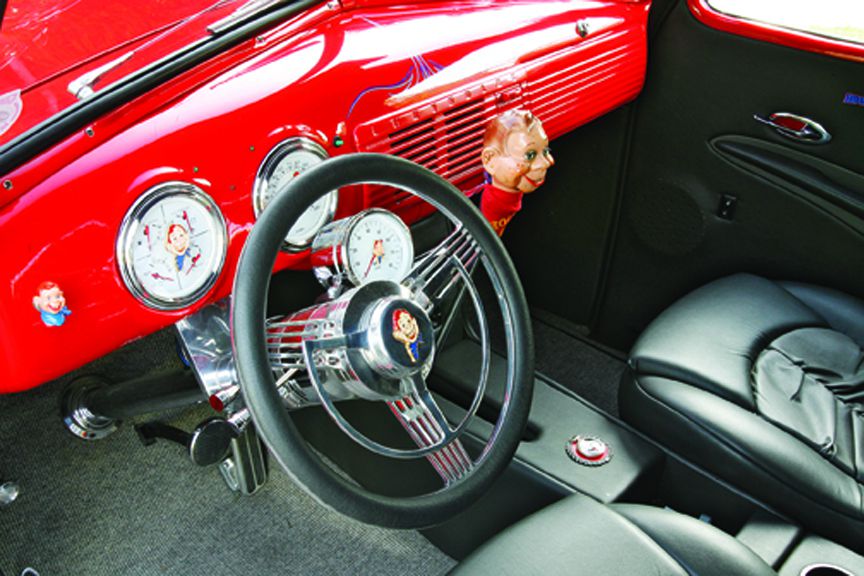 A custom one-off Billet Specialties banjo-style, leather-wrapped steering wheel caps the Ididit tilt steering column. The dash was filled with TPI Classic Quad white face gauges.
With the body mods complete, Stan sprayed multiple coats of primer then block sanded the entire body smooth. After prepping the sheet metal, he applied four coats of PPG Corvette Red. Before laying the clear Stan gave Ron's '47 its identity by hand-airbrushing "Howdy Doody" and a bust of the famous marionette. After some time to cure, the basecoat and artwork were buried in eight coats of clear. The grille and front and rear bumpers were sent out to be rechromed, and the flat glass was tinted to keep the interior cool. Speaking of interior…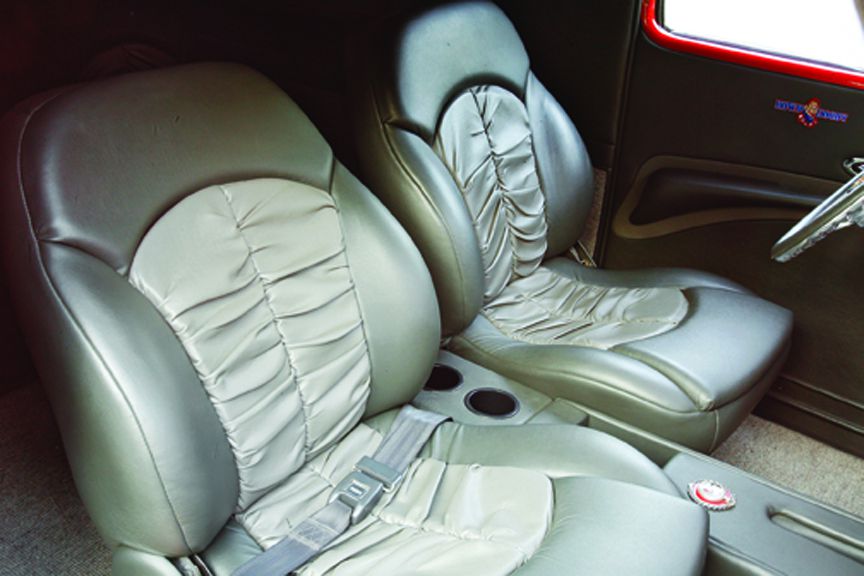 The headrests were removed from the Suburban bucket seats, and then the seats were covered in dark gray leather with light gray pleated inserts.
Eddie Ledesma Jr., at American Auto Upholstery in Corona, California, was responsible for the amazing leather craftsmanship. Eddie encased the entire interior with DynaMat before laying down the light gray pile carpet. The door, side panels and headliner were covered with dark charcoal leather. The rear side panel inserts were embroidered with Howdy Doody lettering and puppet motifs. The Suburban bucket seats, with headrests removed, were covered in dark gray leather with light gray pleated inserts. Eddie built the custom center console then covered it in light gray leather. The dash received a pair of TPI Tech Classic Quad white face gauges. An ididit tilt steering column was capped with a custom-made, banjo-style steering wheel that was covered in dark gray leather. A very cool Howdy Doody puppet head tops the long Lokar shifter.
It looks like Ron has come full circle building cool custom rides with his latest, Howdy Doody II. All that's missin' is Buffalo Bob and Clarabell.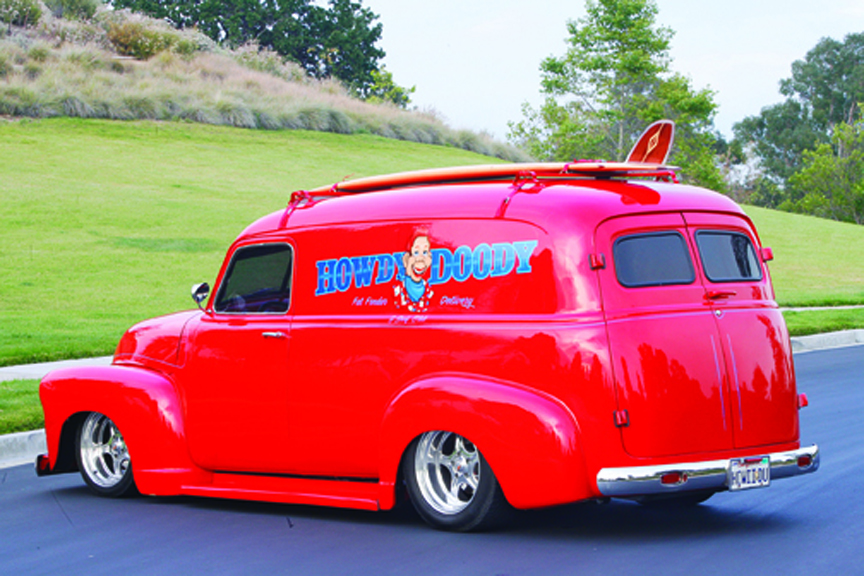 Howdy Doody II rolls with a classic Jacobs 9-foot, 6-inch balsawood surfboard.