How To Set Up a New Lincoln MIG Welder
Text and Photos by Courtney Halowell
Article
You've saved up some money and now you're ready to invest in a new MIG welder. First, you did your homework to figure out how much power you need, and you found out whether or not your garage is wired to support a 220 circuit—just like we did. We decided to go with a new Lincoln Electric 255XT MIG machine, mainly because so many useful options are included with that model for free, like trigger lock, a spot weld timer, run-in adjustment and burn-back adjustment.

The four-step trigger interlock comes in handy when running a really long bead, or welding in a tight area where you have to modify your grip on the gun and can't really hold in the trigger. The spot weld timer's function is self-explanatory, and the device really comes in handy when working with sheet metal. The run-in adjustment allows the operator to adjust the run-in speed of the wire to make for the smoothest arc start possible. And the burn-back time adjustment allows the burn-back of the wire to be adjusted, preventing the end of the wire from getting stuck in the puddle once the trigger is released.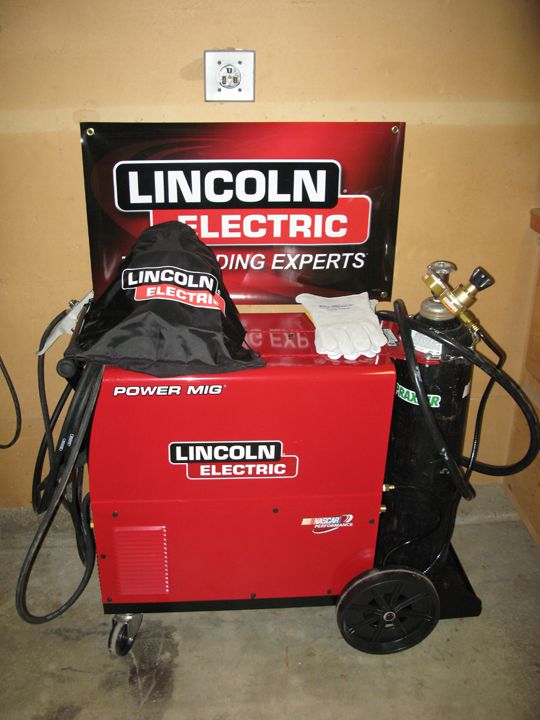 The 225XT is also ready for the optional addition of a spool gun for welding aluminum. It uses aluminum filler wire and requires that you switch the shielding gas to pure argon. We haven't picked up a spool gun yet, but it's next on our list.
Initially, we are going to set up our new welder to weld steel because that's the material we are primarily going to work with. Once we assessed the thickness of most of the steel we were going to weld using the new Lincoln welder, we made a list of items we needed to pick up from our local Praxair shop (there are locations everywhere). We headed out to finish outfitting our welder so we could put it to work.