How to Repair Bodywork Flaws with a Little Paint
Text and Photos by Tommy Lee Byrd
Article
If you've dealt with bodywork or any sort of painting, then you know the trials of doing this work on a regular basis. Problems are common for even the best painters, but knowing how to repair those flaws is the difference between success and failure. Whether it's something that happens before, during or after the painting process, the man holding the spray gun is usually responsible for fixing it, no matter the severity. In this case, Danny Parton is the painter, and we followed along as he repaired the quarter panel on a '72 Plymouth Barracuda.
The car is being restored at Specialty Collision Center in Dayton, Tennessee, where a portion of the shop is devoted to restorations and custom work. Danny was in charge of applying the Lemon Twist Yellow, while the author handled the color sanding and buffing duties. When all the panels were painted, we started sanding the materials with 1,200-grit sandpaper, eventually finishing it with 2,000-grit before buffing it to a shine. As it turned out, we cut through the clearcoat in a couple of areas, which is relatively common when you're planning to make a car super slick.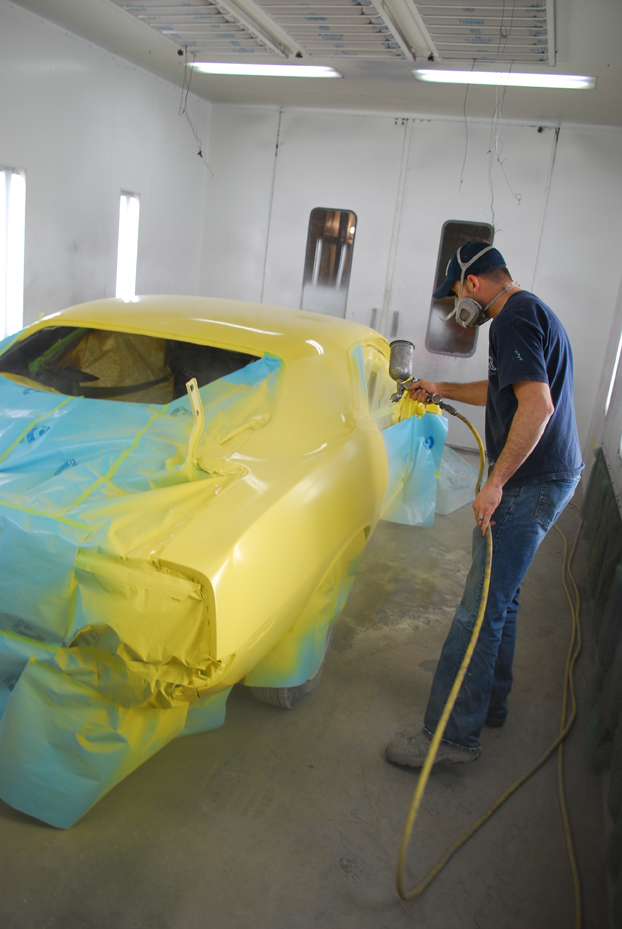 There's no way around repainting the panel if you've cut through, so we faced facts and sanded the entire quarter panel in preparation for a spot-in. With this car, and most muscle cars, there aren't many breaking points, especially where the quarter panel meets the roof skin. Luckily, this car will be receiving a vinyl top, so "burning in" the edge isn't so important. Burning in the clear means spraying urethane reducer over the area where you want the new clear to blend in with the existing clearcoat. This will give the burned-in area a "dry spray" look, but sanding and buffing usually take care of it.
When spotting in a quarter panel, it's a good idea to have a roll of 3M 2-inch tape handy, because it's used to create a soft edge, rather than a hard tape line. To do this, fold the tape in half with the sticky side out, making sure not to actually crease the tape. This rolled edge will allow the materials to flow out a little more, leaving behind a much smaller tape line. Some areas can be taped off normally, like the wheel openings, since stainless steel moldings will be installed later.
If you plan to tackle any sort of bodywork or paint repair at home, be sure to wear the correct attire and keep a respirator handy at all times. Bear in mind that anything can happen with paint work, and be prepared to repair a mistake somewhere along the way, if you plan on doing this work frequently. Check out the photos as we repair a mistake of our own and make the most of this Hemi Cuda.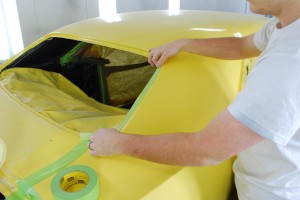 Source
Specialty Collision Center
Dept. MCP
2547 Rhea County Hwy.
Dayton, TN 37321
423.570.2349