Hot Rod Highlight: Steve Allen's 1967 Galaxie 500
Text by Weldon Steele
Photos by Mike Slade
Article
Steve Allen had been searching for the better part of two years for a solid '67 Galaxie 500 to use as the foundation for his next hot rod project. He had found quite a few cars, but they all had rust issues, or had been in a wreck, or were in a million pieces. Then one day while driving past a really clean car parked at the local gas station he had been passing for years, he noticed something different—a for sale sign. He made a U-turn and went back to the gas station to take a closer look at the car. It looked really solid and was pretty much completely stock. He popped his head in the station and much to his surprise learned that the car belonged to an old friend. After some good old Southern haggling, a deal was struck, and Steve finally had the car he had been looking for.

The car disappeared into Steve's shop for the next two and a half years only to emerge a totally different beast all together. Starting with the chassis, the stock springs were replaced with a custom air ride setup, the factory brakes were upgraded with a set of big Baer disc brakes, and dropped spindles were added into the mix. It was all blown back apart so that all of the major components could be sent to Vanguard Powdercoating in Anderson, South Carolina, including the frame. Then everything was reassembled and shod with a set of 18-inch front and 20-inch rear polished American Racing Torque Thrust wheels wrapped in BF Goodrich tires.
The engine that powers this slick, blue rocket is a 1967 428-ci power plant that features a set of Ross pistons, Egge rods, COMP cam, lifters and roller rockers, Edelbrock heads and intake, Demon carburetor and a host of Ford Racing's cast aluminum Cobra covers. Backing up the new motor is a 1967 C6 automatic tranny that has been rebuilt by Mike Cain at Cain's Transmissions and features a 2,000-rpm stall converter and a B&M ratchet shifter.
All of the unnecessary emblems, trim and handles were shaved off the car's exterior and the sheet metal was block sanded to perfection. The outside of the car was treated to a basecoat of Spice Hecker Midnight Blue, and then a pair of white GT stripes was added over the top before a generous coat of clear was applied by Street Metal Fabrication.
Inside, a custom dash replaces the stock Ford unit. A set of Auto Meter gauges, Vintage Air controller and a Kenwood head unit have been cut into the one-off dash. The front seats are out of a 1965 Thunderbird and the rear seat was custom-built before the car was shipped off to Atkins Interior to have gray leather stretched over all of the interior panels.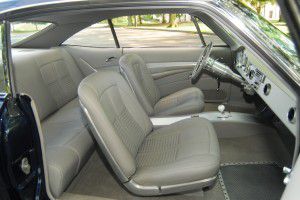 All in all it took Steve almost five years to find and build this '67 Galaxie, but we think you'll agree that the finished product was well worth the wait, and all of the trouble that he went through to find the right foundation for this project.