Hill's Hot Rods Builds a Game-Changing Mopar
Text and Photos by Travis Noack
Article
In the tire-smoking and camshaft-thumping world of high performance muscle car art there are all sorts of ways in which enthusiasts choose to enjoy their cars. Some like to take a Sunday drive and grin from ear to ear when the loud pedal is mashed and their spine is forced back against the seat. Others build them to roll to a cruise night and turn heads, while some just hold the fabrication pedal all the way down and don't lift it until they have the baddest (insert Chevy, Ford or Mopar here) on the planet.

For Bob Brandt of Lubbock, Texas, his fascination with pavement-pounding performance cars was ignited at a young age when he saw factory-fast performance cars roll off the showroom floor new and to do battle at the local drags in stock trim. In high school Bob was fortunate enough to drive a purple '70 Challenger R/T. This power and speed freak has been hooked ever since! His brother also owned a Mopar restoration shop in Lubbock, and Bob would spend his spare time rebuilding engines and turning wrenches to fuel his passion. Fast-forward through years of professional and family life and Bob is still enjoying playing with high performance '60s and '70s Detroit machinery.
The radically restyled '70 Challenger radiating off of these pages is proof of just how serious this tire-smoking junkie is about his high performance hardware. Bob also has two other classic muscle cars in his Lubbock stable. The first is a factory-correct '70 Challenger 440 six-pack with a four-speed (restored by Hill's Hot Rods). It's one of seven red-on-red beauties that rolled off the assembly line that year, making it one rare bird. Make no mistake, Mr. Brandt does not just play in the Mopar camp; a numbers-matching butternut yellow with black stripe '69 Z-28 Camaro (also restored by Hill's) represents the Bow Tie boys. For the street machine-style Challenger smacking us in the face here, Bob decided it was finally time to build a full throttle custom muscle car, and delivered the car to Hill's Hot Rods and JD Glassworks to pull it off.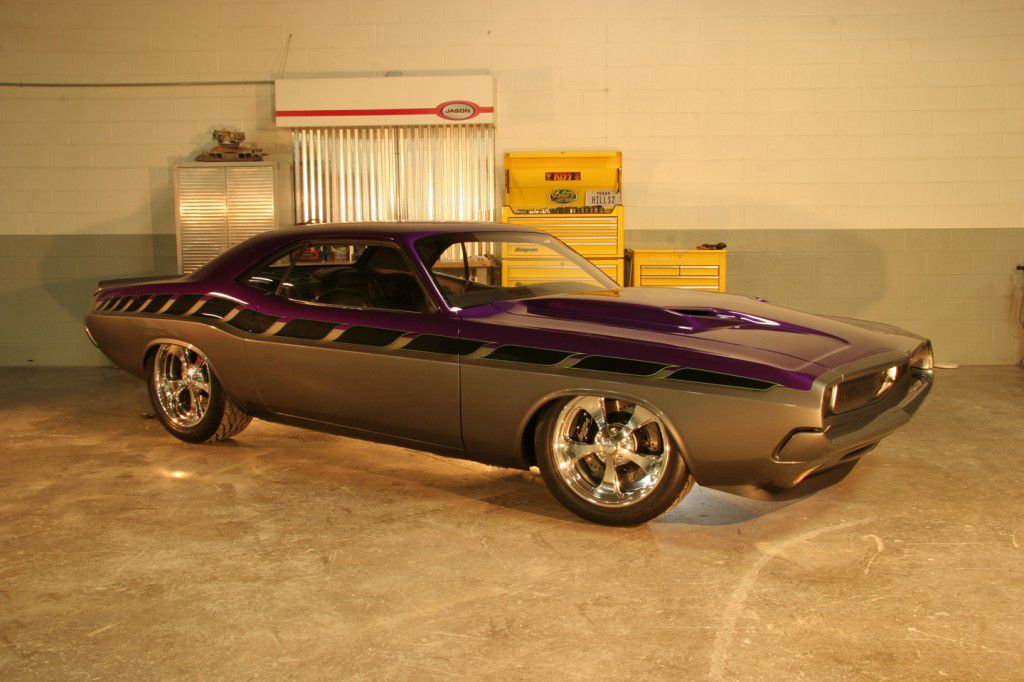 The first order of business was to set the stance of this showstopper. The crew at Hill's installed a RideTech triangulated 4-link with Shockwaves all based off of a rebuilt Mopar 8 3/4 rearend with 3.73 gears assembled by Jacky's Automotive.  The front fell to the earth with a C.A.P. tubular K-member with tubular A-arms and Ridetech shockwaves adjusting the Challenger's game face up a notch to snatch pink slips, and down in the weeds to collect trophies. A Flaming River rack-and-pinion steering system hooked to an ididit steering column provides modern control, while Wilwood 13-inch rotors with six-piston calipers up front and four-piston calipers in the rear slows the staggered 18/20-inch Billet Specialties Hiboy Profile series billet rollers and BF Goodrich G-Force rubber.
Of course, you can't have a pavement-blistering muscle car without some heavy artillery under the hood. For "Purple Haze" Bob busted out the big guns with a 426 Hemi punched out to 535 big inch cubes. Featuring a 4.15 stroke and 4.53 bore, the fire-breathing Hemi thumps with a custom-ground COMP Cams solid roller camshaft, and breathes through Mopar Performance ported aluminum heads fit with COMP Cams springs and titanium retainers topped with Dick Landy roller rockers. Ross lightweight 10.5:1 pistons pinned to Eagle H-beam rods make up the stout rotating assembly. Total Engine Service in Lubbock performed all of the machine work on the powerhouse Hemi, while Dubose Automotive handled the balancing. Topping the Hemi is a Hilborn electronic fuel injection with all eight polished stacks sucking octane cocktails down. Then, fumes are shown the door through TTI headers and a ceramic-coated 3-inch custom exhaust with Flowmaster mufflers built by Joe Flynn at A&B Muffler. Lighting off this ground-shaking Hemi is a MSD Pro Billet distributor sending juice down to all eight candles. Jason Hill modified the slash cut TTI exhaust tips to fit the restyled rear valance. Bob assembled the mill before it was dropped into the smoothed and custom-painted engine bay crafted at Hill's Hot Rods. A 727 Torque Flight transmission fit with a Hughes 3,000 stall converter and a deep TCI pan and shift kit send gear commands and the Hemi's bite on down to the 3.73:1-geared Mopar 8 3/4 rearend.
When it came to the metal work on this car Bob wanted a real jaw-dropper, and the Hill's crew delivered with more body mods than a Hollywood movie star. For a real sharp and wild look many of the characteristics of the '10 Challenger were integrated into the metal landscape of the '70. New 2010 Challenger taillights were seamlessly integrated into the classic Challenger tail panel, while the front of the car wears a 2010 Challenger front grille and headlights all grafted in with custom-built sheet metal. Other metal modifications include flush-fit front and rear glass, shaved drip rails, shaved door handles, tucked and pinched front and rear bumpers and a reshaped front valance with 2010 Challenger fog lamps. Under the raised hood, the inner fenders and firewall were all shaved and smoothed to provide a perfect backdrop for the rumbling Hemi. Once Hill's Hot Rods had all the panels slick and smooth, Jason Hill mixed up custom colors from House of Kolor and PPG in a bold purple and charcoal split with a factory Mopar-style stripe in black and tipped in green striping. The look blends contemporary hot rod with retro muscle that pops off of the intense metalwork with one glance.
Once Purple Haze was cut and polished to a fine shine, Jimmy Davis of JD Glassworks gripped onto the keys and began to work his interior restyling magic. A custom dash panel was built and filled with Autometer Old Time white face gauges for the performance report. Jimmy custom built the door panels, console, rear panels, rear seats, trunk panels, kick panels and package tray for a seamless custom look, marrying distinctive Mopar classic features and modern hot rod interior tricks. The stock front seats were cut down 6 inches on the top and reshaped with foam for the right physique.  All of the custom panel work was covered with a combination of licorice ultra leather and charcoal ultra suede stitched by David Fisher of Fisher Auto Trim in Lubbock. Gray Daytona carpet is tacked to the floorboards. To accent the supple suede and leather combo a Billet Specialties Chicayne steering wheel tops the ididit steering column, and black anodized Billet Specialties gas, brake and e-brake pedals take abuse from Bob's size 12s. A Hurst pistol grip shifter commands the 727, while Electric Life power windows let in a bit of fresh air when Bob puts the hammer down.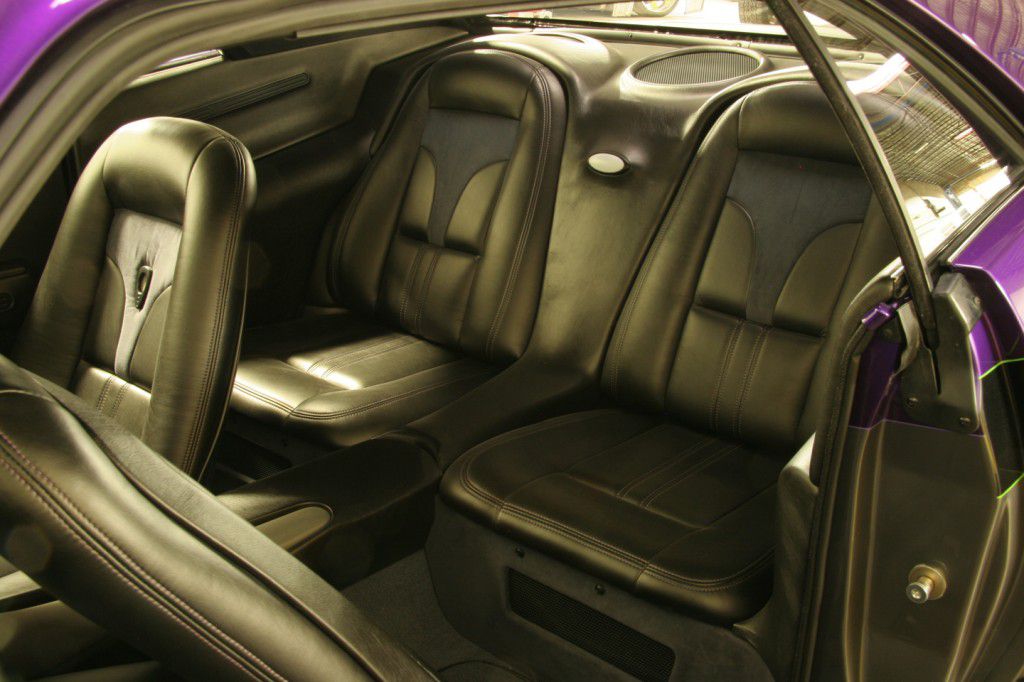 To rock the inside of this Mopar classic Jimmy went to town creating a symphony of sound to match the rocking jams cranking under the hood. An Alpine CDA 9884 AM/FM/CD/iPod radio sends audio signals to two Alpine amplifiers, including a PDX-4.150 amp for the front and rear speakers and an Alpine PDX-1.600 mono amplifier to drive the subwoofer. A PXA-H100 Imprint equalizer balances out the sound, while Alpine SPR-17C 6.5-inch two-way speakers in the front doors and Alpine SPR-6×9 two-way rear speakers handle the highs, with an Alpine 10-inch SWR1022D subwoofer delivering the bass. Stinger Roadkill sound dampening ensures a tight and noise-free cockpit, while Stinger batteries, wiring, interconnects, and power and distribution blocks provide for seamless electronics operation. Up front, Jimmy built a custom speaker grille into the dash to accept two Alpine 4-inch (SPS-400) speakers, while the Alpine radio is concealed inside the ashtray.
The crew at Hill's Hot Rods and JD Glassworks has built one radically modified custom Mopar that is right at home blazing down the highway at speed or strutting its stuff at the nearest Goodguys show. Although the car is detailed on every surface, Bob is not shy about laying hard into the Hemi to hear the sweet sound of the rumbling exhaust and the rear BFGs as they feverishly search for traction. That's a tune we could all get used to hearing.