HELL-EANOR: This Mustang is Built to Kill
Text by Scott Taylor and Simon Richards and Photos by Isaac Mion
Hell-EANOR: This Mustang is Built to Kill
Though Scott Taylor is retired now (actually, he refers to it as "RETIRED!!"), he was the laboratory supervisor of an animal science nutrition research lab. So it would only seem natural that he would want to build a Mustang. But he actually started this '68 Mustang project with the intention of building a nice Eleanor replica that his wife Laura could drive and attend local shows with. The Taylors have always had a strong appreciation for '60s muscle cars, but Laura felt somewhat overlooked because she didn't have a car of her own. Since she liked the Eleanor Mustang, they began looking around for a nice '67 or '68 fastback that would suit their needs. They finally located a one in San Bernardino, California, which belonged to an 18-year-old high school senior. He was reluctantly selling the car to support his future college education. The Taylors liked what we saw, purchased the car for $11,000, and drove it the 450 miles to back to their home in Sacramento.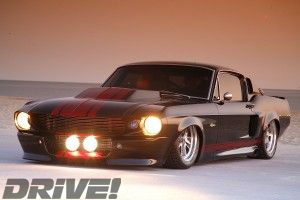 Once home, the pair immediately contacted an old friend, Tom Lucas at FE Specialties. He had worked on their daughter's "S" code '67 Mustang, and so they asked him to build an engine for the new car with the original Shelby era in mind. Lucas is a dedicated Cobra fanatic and he decided to build an aluminum 427 that would produce over 700 hp. Lucas held nothing back, beginning with decking the Shelby aluminum block and boring the cylinders 0.050-inch over. Lucas opted for custom 12.4:1 Ross pistons and pins fitted with Childs and Albert plasma-moly rings. The Scat billet crank and Scat H-beam billet rods were fitted with Federal Mogul race bearings and produced a final stroke of 4.250 inches, for a total displacement of 490 ci. This rotating assembly is kept in line with a Crower custom roller cam using a Milodon gear drive.
Lucas does all of his head work in-house and gave the
Edelbrock aluminum heads a Stage III port job and a four-angle valve grind. The Ferrea 2.25-inch intake valves and the 1.75-inch exhaust valves were fitted with Crower roller valve springs, locks and retainers, while Sig Erson rocker arm assemblies and Smith Brothers push rods maintained valve geometry. Mike Thermos at Nitrous Supply plumbed and installed the Pro Shot fogger nitrous oxide system. The induction system was topped off with a pair of chromed, 725-cfm Demon Junior carburetors. Spark is fed from the MSD coil and billet distributor to the plugs via Taylor Spiro Pro 8mm wires.
Since the rack-and-pinion steering setup made a front oil sump configuration impossible, Tom decided it was best to go with a dry sump system from Aviaid. This includes a custom Cobra, low profile, 3-inch sump oil pan, a four-stage Series I dry sump pump and a remote filter adapter. The pump uses a Gilmer belt drive system attached to the crankshaft. The oil storage tank is an Aviaid 8-quart oil reservoir.
Power is transferred to the rear wheels via a Tremec 600 TKO close ratio five-speed with a final overdrive ratio of 0.68 to make highway travel tolerable. Hooking all of the pieces together begins with a McCloud aluminum flywheel, which supports a 12-inch clutch cover assembly and a Tilton hydraulic throw-out bearing, with a Lakewood bellhousing keeping everything under wraps.
Engine cooling is handled by a custom-made American Pastimes aluminum radiator and includes two 12-inch puller fans, while a Billet Industries Tru-Trac serpentine system gets everything working as one. The headers were masterfully fabricated by Mike Lelchook at Performance Welding Racing Headers from 2-inch, 304 stainless steel. The four-way merge collectors reduced the exhaust to a 3-inch system, which transects the frame and exits just in front of the rear tires.
While the engine was being built, the Mustang was stripped down to a rolling chassis, and the crew began tackling the removal of the undercoating. The black gooey rust-proofing material covered the entire unibody and probably saved its life. Unfortunately, it also completely covered the evidence that the entire front end from the cowl forward had been previously replaced. Knowing this car would produce enough horsepower to make compromised frame rails a scary proposition, a call went out to David Henry at Henry's Hot Rods in Shingle Springs, California. Henry's suggestion was to put an Art Morrison Max-G frame under the car and build around it. The frame is mandrel-bent 2 x 4 steel with passages for the side exhaust and driveshaft, which allow for a low center of gravity and ride height and with the Air Ride Technologies suspension system, the car is capable of attaining a ground clearance of less than 2 inches. The Air Ride Technologies Ride Pro system components have found a home in the trunk area of the car and will control the ride height of all four wheels using a Thomas compressor with a 5-gallon tank and four-way solenoids.
Morrison's steel tubular control arms provide precise steering control along with an AGR power-assisted modified Mustang II rack-and-pinion system. The braking is handled by Wilwood billet SL6 calipers with 13-inch vented rotors, and it's controlled by Wilwood's aluminum triple master cylinder pedal assembly. The rearend is a Ford 9-inch housing held aloft with an Air Ride Tech-equipped Morrison triangulated four-bar containing a Strange Engineering posi enhanced third member with 35-spline axles and 3:73 gears.
Looking great are the American Racing Shelby Cobra 427 polished wheels (Front: 17 x 8 with 4.75-inch backspacing, Rear: 17 x 9.5 with 5.75-inch backspacing) that have been equipped with sticky Goodrich G-Force KDWS T/As (Front: 245/45ZR and Rear: 285/40ZR BF).
Ron Pepper of Pepper Fabrications stepped in to remove the Mustang from its unibody and placed it on the Max-G frame. Pepper then handled the daunting task of fabricating and welding on all of the sheet metal (floors, trunk, firewall, etc.) Once the body and the sheet metal were secured to the frame, the bodywork began. This included fitting and covering the Eleanor body kit in fiberglass. Leaving the best for last, Dave and Ron fabricated the hood hinges and release pins to allow the hood to pivot open from the passenger side while hiding all of the hardware beneath the inner fender panels. This eliminated any ugly hood springs or prop rods, and it's truly a work of hot rod art.
Troy Costa and Rodd White handled the painting tasks and at Autoworks of Gold River, and it turns out that both are perfectionists. They purchased a stock GT decal side stripe kit and had it reproduced in vinyl, but in its reverse image, which enabled them to mask off the stripes, and then paint them on the car. They went to great lengths to find a color that would give the stripes a striking appearance and finally settled on a PPG Candy Red over silver metalflake. Costa is the only person capable of reproducing these stripes and keeps his formula under lock and key.
The interior was given a makeover by Rene Cornejo and Ben Lizardo of Acme Tops and Tunes. The original dash has been fitted with Classic Instruments billet Shelby Signature 200-mph gauges and brushed aluminum panels, while the upper and lower consoles contain additional Phantom gauges. An Eclipse CD3200 head unit controls the Boston Acoustics amplifiers and speakers to provide an unparalleled sound, even with the engine running. The custom center console contains the Electric Life window switches and door locks, the Air Ride Technologies control module and the all-important nitrous arming switch. The classic Moto Lita steering wheel tops off the Flaming River polished stainless steel tilt column and complements the Shelby signature series leather seats, while Vintage Air unit provides cabin heating and air conditioning. All of the front, rear and trunk interior panels were hand fabricated or modified from the  stock units by Victor Chavez and upholstered in black leather by the Acme crew.
The resultant car is more than the Taylors could have hoped for, and it's one that Eleanor fans everywhere drool over. For those who want to see more pictures of this killer ride, especially the hundreds of build-up photos that Taylor has posted, go to www.427naja.com.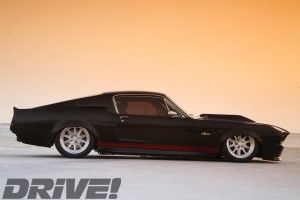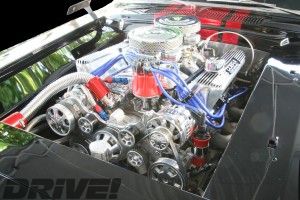 Displacing 490 ci and producing over 700 hp, this Shelby-inspired engine features Demon carbs, MSD ignition Scat crank and rods, Edelbrock aluminum heads and much, much more.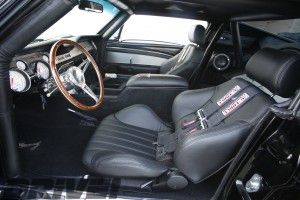 The autocross-ready interior includes Shelby signature series leather seats and a Moto Lita steering wheel, while the Eclipse-based stereo system is more for cruising the highway.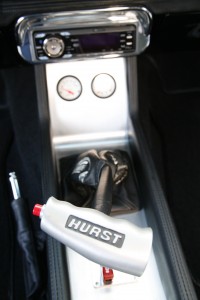 The Hurst T-handle is equipped with a hot button to activate the Pro Shot fogger nitrous oxide system.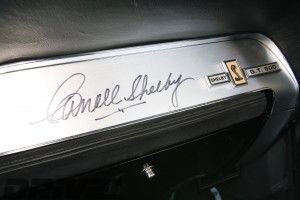 The man himself autographed the dash panel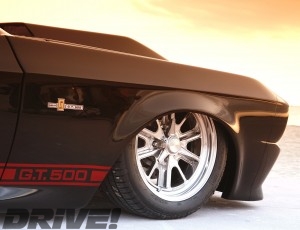 Peeking out from beneath the modified wheel openings are the American Racing Shelby Cobra 427 polished wheels that have been equipped with sticky Goodrich G-Force KDWS T/A tires.
Getting the same leather attention as the interior, the trunk also holds the tank for the nitrous system, the Boston Acoustics amplifiers and various electrical connections for the stereo.