From Rust to Radical: Doing all you Can With What you Have
Text and Photos by Matt Emery
From Rust to Radical: Doing all you Can With What you Have
When we met Matt Rabideau and his lovely wife Natalie they were a long way away from their Minden, Nevada, home. There was no denying that this '66 Nova was one of, if not the hottest rides at the Route 66 show, but once we heard Rabideau's story, we knew that we had our cover car. Rabideau says that when he got the car, it was a rust bucket that didn't have a motor or transmission in it, but hey, getting a '66 Nova for $1,200, you have to expect such things. But that's not the story we that hooked us.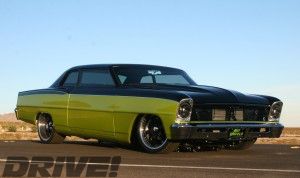 Rabideau bought the car from an acquaintance and immediately got the bug to build this car from the ground up. Problem was, he still had a '72 Chevelle. He quickly sold the Chevelle at a Barrett-Jackson auction in Las Vegas and when he got the money, he hit the ground running. Rabideau says that he stayed up all hours of the night to build the car and get it ready for Hot August Nights 2010. He wanted to do everything himself, and he had less than a year to pull it off.
It was only when Rabideau got the Nova home after the purchase that he noticed it was a post car. That's when he got the idea to chop it. He had the crew at Dream Street and M&D Custom chop 4 inches out of the A-pillars and lay them back. They in turn laid the C-pillar forward. The drip rails were pinched in and welded smooth. In addition, everything that could go did, as the door handles and cowl vents were shaved smooth along with the antenna and side moldings. Keeping with the smooth look, one-piece side glass now adorns the car. Adding attitude is the Goodmark 2-inch cowl steel hood held up with futuristic EMS hinges.
Once all of the many body modifications were done, Eric Collins of Final Finish Auto Body in Reno, Nevada, applied the House of Kolor Kandy Lime-Gold and Custom Black paint. The result is awesome, especially the crinkle finish of the graphics that run along the rear half of the car. The final touch was the addition of blacked-out 7-inch headlights.
The smooth treatment continued inside, as the entire dash was smoothed of all holes, vents and glove box lid. Rabideau still needed instruments, so a set of Auto Meter carbon fiber gauges now resides in a Covans gauge insert. A trick aluminum center console was fabbed up, and a black one-piece aluminum headliner replaces the cloth unit. The power bucket seats are modern units, and thanks to Audies Custom Upholstery of Reno, they have been covered with black leather with black ostrich inserts. Allowing Rabideau to keep a grip is the Billet Specialties rat tail steering wheel that sits atop an ididit steering column. Protruding through the custom aluminum center console is a B&M Megashifter that has been adorned with cool Von Chase wolf's head knob. A Rabideau-installed Ron Francis Wiring system connects the electrical dots.
But this Nova is more than just a pretty face. Below lurks the heart of a warrior. The frame has been enhanced with a TCI front clip with 2-inch dropped spindles and chromed TCI shocks as well as a TCI 4-link back end and subframe connectors and anti-sway bars. A pair of Air Ride Technologies Shockwaves is used to raise and lower the Ford 9-inch housing, which was narrowed 4 inches and equipped with a Posi unit and 3.70 Richmond gears. It was Matt Rabideau who handled all of the install work. Rounding out the suspension are the Boze Shifter wheels (Front: 18 x 7 and Rear: 20 x 8.5) that have been shod with sticky Nitto tires (Front: 555 225/35/18 and Rear: 555 245/35/20).
While they were at their share of the bodywork, the crew at Final Finish Auto Body also smoothed the firewall in preparation for the huge engine that was to come. What began as a 454 BB Chevy, Auto Marine Machine in Carson City, Nevada, took and bored out to a healthy 468-ci, fitted it with Keith Black pistons and handed the short-block back to Rabideau to finish. He installed an Edelbrock Performer intake manifold and fitted it with an Edelbrock 800 AVS carburetor. Rabideau says that the Pete Jackson gear drive is noisy, but cool, as are the Billet Specialties pulley system, smooth tall valve covers and air cleaner. The spent fuel is routed from the iron heads through Sanderson headers and finally hits the Spintech Super Pro Street mufflers. Spark is provided by a Mallory Uni-lite ignition system.
All said and done, the engine produces a dyno-proven 425 hp and 500 ft-lbs of torque.
Getting that power to the rearend is done with a Turbo 400 transmission that has been massaged by Elisons in Reno. They installed a Hughes 3,000 stall converter as well as a B&M trans cooler. The custom driveshaft work was done by Sierra Drive Line of Reno.
We really liked this car, and we liked the story behind it. Here is a young guy (Rabideau's only 27) who saw something he wanted, sold what he had to free up the cash (an amazing concept for some people), and then did all the work that he felt capable of doing. He wisely had the pros do what they needed to do, and then he bolted everything together himself instead of paying someone to do it for him (another concept that some are unfamiliar with).
And what were the results? He not only finished the car in time to make Hot August Nights, he came away with two Best in Class awards at the Hot August Nights-Atlantis and was a Best in Show finalist at the Peppermill scene at Hot August Nights.
It gives us hope for the future of our youth.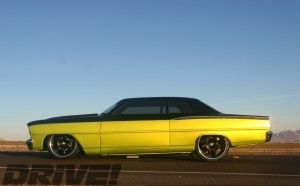 Thanks to the full Total Cost Involved suspension treatment and Air Ride Tech Shockwaves, the Nova sits low on the Boze Shifter wheels/Nitto tires combo.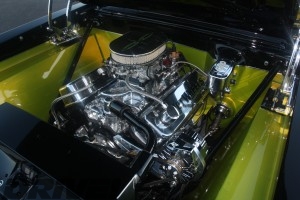 Measuring out to 468 ci and producing 425 horses, This BB features an Edelbrock Performer intake manifold and an Edelbrock 800 AVS carburetor, Keith Black pistons, a Pete Jackson gear drive and a host of Billet Specialties pieces.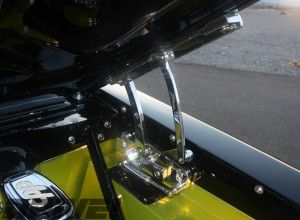 Not only do they look much better than the stockers, the sweet EMS hood hinges gets the 2-inch cowl hood up and out of the way in a much more secure way.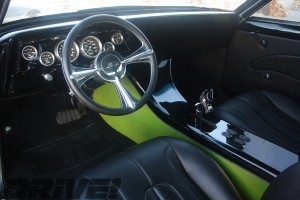 A Billet Specialties steering wheel combines nicely with the totally smoothed and painted dash. A full complement of Auto Meter gauges are housed in a Covans dash insert.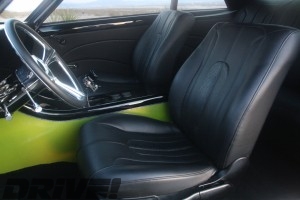 Covered with black leather and killer ostrich inserts by Audies Custom Upholstery of Reno, the bucket seats are as comfortable as they are stylish.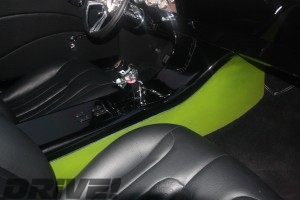 Sculpted out of aluminum, the center console is a work of art, but then so is the cool Von Chase wolf's head shifter knob adorning the B&M Megashifter.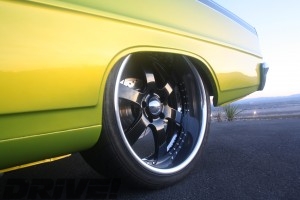 Rolling hardware is courtesy of Boze Shifter wheels that have been shod with sticky Nitto tires. Seen just behind the six-spoke wheels is but one of the four disc brakes found on the car.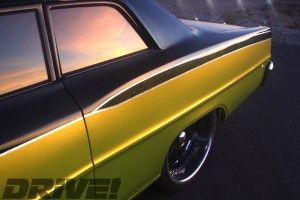 Providing visual appeal is the House Of Kolor Kandy Lime-Gold and Custom Black paint, but it's the accent stripe, done with the crinkled cellophane trick, that really sets this Nova apart.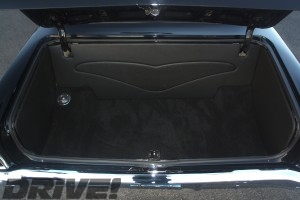 Not one to leave anything undone, Rabideau made sure that the trunk area was just as nice as the interior.