Fast times at WESTERN HIGH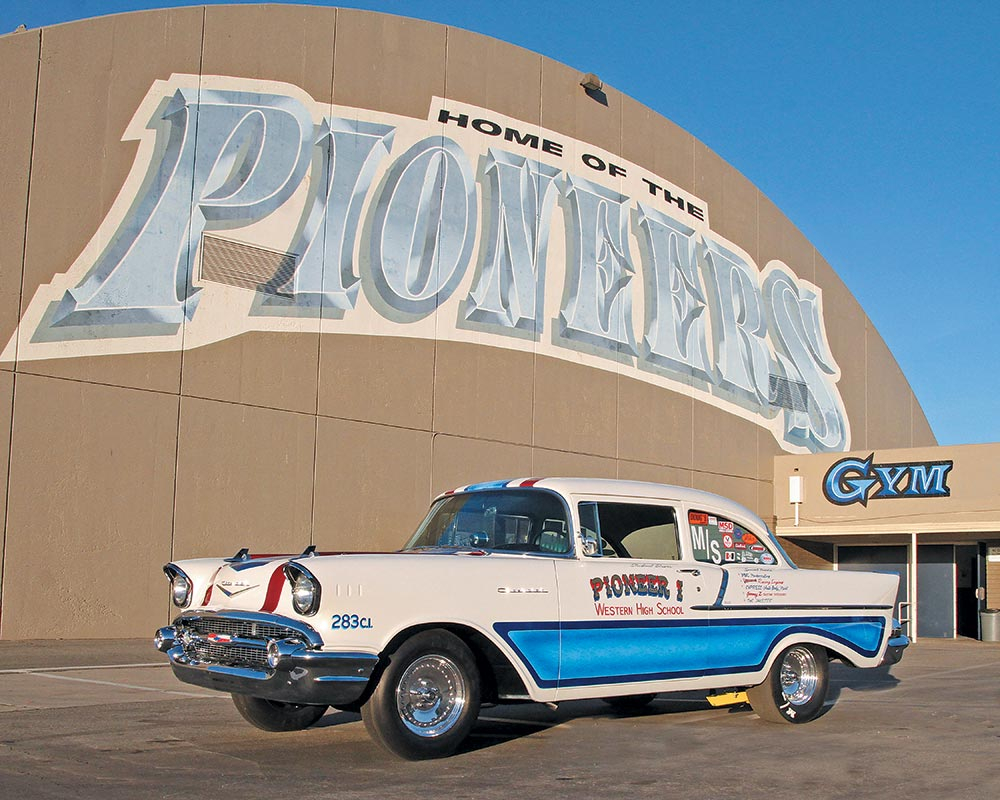 THE ADVENTURE BEGAN IN 1968 WITH AN AUTO SHOP TEACHER AT WESTERN HIGH SCHOOL IN ORANGE COUNTY, CALIFORNIA. THE TEACHER'S NAME WAS JOHN CESAREO, BUT HIS STUDENTS CALLED HIM "MR. C." HE HAD A STRONG DESIRE TO GET HIS STUDENTS AWAY FROM STREET RACING, SO HE FOUNDED A PROGRAM SPONSORED BY FORD MOTOR COMPANY CALLED THE HIGH SCHOOL SCHOLARSHIP DRAGS (HSSD). THE RACES WERE HELD AT NEARBY ORANGE COUNTY INTERNATIONAL RACEWAY (OCIR). MR. C THOUGHT THAT SINCE OTHER HIGH SCHOOLS HAD FOOTBALL, BASKETBALL AND BASEBALL LEAGUES, WHY NOT A DRAG RACING LEAGUE. HE WAS ON TO SOMETHING, AND MANY SOCAL HIGH SCHOOLS PARTICIPATED IN THE HSSD.
" IT HAD BEEN SITTING IN A CARPORT IN EL CAJON, CALIFORNIA, FOR 22 YEARS.MR. C BOUGHT THE CAR AND PROCEEDED TO DO A COMPLETE FRAME-OFF RESTORATION TO RETURN PIONEER I BACK TO ITS ORIGINAL RACING STATE,  WITH A FEW UPGRADES. "
Mr. C's classroom competition vehicle was a '57 Chevy two-door 150 discovered in the weeds behind Jon's Radiator Shop. It was purchased for $1, but neither the engine nor the drivetrain was included. There was one other drawback: The car couldn't be moved until a new litter of puppies that had been born in the trunk could be relocated.
Once the project car finally found its way to Western High School's auto shop, the students formed an auto club. The auto shop club members completely rebuilt the car with used parts scavenged from seven '57 donor cars. The club raised money for the project by slurry-sealing driveways, painting house numbers on curbs and scrapping donated cars. The engine was basically a stock Chevy 283-ci V-8 that produced 270 hp with dual four barrels and a high-performance GM cam, a Chevy three-speed transmission and a 1957 Chevy rearend stuffed with 4.11 gears. Rear wheel hop was kept to a minimum with the installation of a pair of slapper traction bars.
Western High School students are called Pioneers, hence the race car was christened Pioneer I, and in 1970, it competed with student driver Bill Allen at the helm in the first and second High School Scholarship Drags at OCIR. It also ran in the 1970 NHRA Winternationals at Pomona, California. On the track it wasn't very competitive, but the finished quality and patriotic candy apple red, pearl white and blue did attract a lot of attention. The resulting media coverage caught the interest of other shop teachers around the country and the team received support from local businesses.
Once the school district realized the car was actually being raced, they killed the racing part of the program, but Bill Allen bought the car and continued to race it at NHRA events.
Jump to 2003 and the original '57 Chevy project has found its way back to Mr. C. A nostalgia race car buff put him in touch with Pioneer I's thencurrent owner. It'd been sitting in a carport in El Cajon, California, for 22 years. Mr. C bought the car and proceeded to do a complete frame-off restoration to return Pioneer I back to its original racing state, with a few upgrades. The Chevy engine was delivered to Vangordon Racing Engines in Upland, California, where Jim Vangordon disassembled, cleaned, machined, blueprinted, balanced and assembled the engine. After the body was removed from the frame, the frame was trailered to PSC Powdercoating in Chino, California, where it and assorted other parts received a variety of powder-coated colors and finishes. In fact, the owner of PSC Powdercoating was an ex-student of Mr. C's. The ragged body was handed over to Tom Rodriguez at Cypress Auto Body in Cypress, California, where Tom and his crew did some minor body repair, and then primered and block sanded the surfaces straight and smooth. Tom applied 2002 Infinity White Pearl paint and buried it with multiple coats of clear.
"…MR. C HAS BEEN DISPLAYING IT AT CAR SHOWS AROUND CALIFORNIA WHERE IT'S RECEIVED NUMEROUS AWARDS…"
Then the '57 Chevy's pearl white blank canvas was given its original paint scheme by Danny D Valdez, famed painter and pinstriper from Baldwin Park, California. Danny D laid down the timeless light blue-laced graphic panel with royal blue borders on the front fenders, doors, rear quarter panels, hood, roof and trunk lid. Broad candy apple red stripes were painted on the hood, roof and trunk lid. Larry Fator at Quicksilver gave the '57 its reclaimed identity by laying out and gold leafing "PIONEER I" before adding red and blue drop shadows. He also added "Special Thanks" panels under the rear side windows of the rear quarter panels. The '57 150 interior was refurbished by Jimmy Z Custom Interiors in Cayucos, California. At Jimmy Z's the interior was rebuilt and the original factory bench seat and door panels were recovered with OEM two-tone seat covers. A black headliner and OEM rubber mat floor covering were also added. A timeless chrome Sun super tach was mounted on the dash to indicate and synchronize precise engine rpms and shift points. A set of vintage Centerline polished aluminum wheels was fitted with Mickey Thompson M/T ET Drag bias ply slicks in the rear and Mickey Thompson ET Drag bias ply tires up front.
Ever since Pioneer I has been restored to its original trim, Mr. C has been displaying it at car shows around California where it's received numerous awards and is always a big hit with show-goers.
---