American Muscle!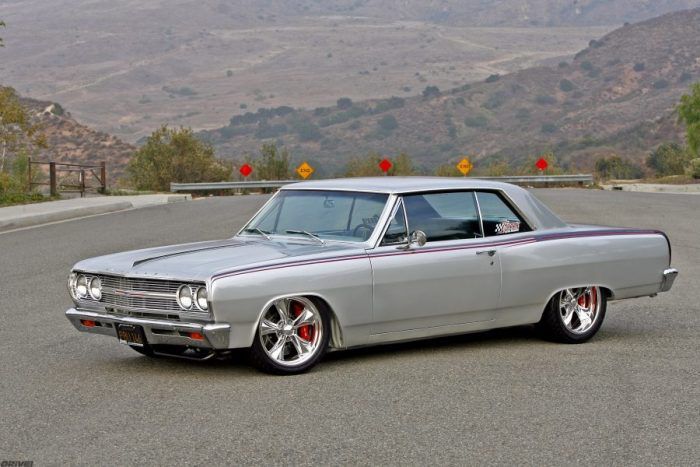 Text and Photos by Harley Camilleri
This Chevelle is Packing a Huge Punch!
A lot of thought goes into planning a custom-built muscle car. We want the best of all worlds combined: good looks, great handling, plenty of power, comfortable interior and the ability to hop in and drive anywhere. Many builds go way off the scale one way or another, with too much flash or too many body mods to feel comfortable driving, but it's the well-balanced machines that really grab our attention. But, what is a well-balanced muscle car? Charles Currie of the Anaheim, California, has built what we believe to be a muscle car that most anyone would absolutely love to own.
If the name sounds familiar, it's because Mr. Currie is part of the family making some of the world's finest axle assemblies. But one of the great things about Charlie Currie is his desire to drive his toys. He has a couple to be sure, but he is no stranger to getting behind the wheel and motoring down the road. Check out the images of the undercarriage on this '65 Chevelle SS. It's as clean as most any trailer queen, yet this car has been driven across the country and back. That is the kind of positive attitude we can get behind.
Underneath the car is a supply of parts providing fabulous looks with matching performance. Up front, Savitske Custom adjustable upper control arms work in conjunction with RideTech lower StrongArms. ATS aluminum A/FX spindles, from Savitske, hold Chevy C5 Corvette hubs and 14-inch Baer brakes with six-piston calipers. A Hotchkis sway bar keeps the Chevelle from gathering too much side-to-side momentum through the twisties. Under the rear are Currie Curretrac billet lower control arms that serve to steady the Currie-fabricated 9-inch rear axle. The back-braced axle is filled with 35-spline axles for strength and an aluminum center section with 3.25 gears. A Hotchkis rear sway bar works in unison with the front. All four corners are suspended by RideTech ShockWaves controlled in-car with a digital RidePRO e3 system. Foose Nitrous II wheels in 18 x 8 and 18 x 9 are wrapped in BFGoodrich G-Force KDW rubber.
Popping the hood reveals a newer LS engine, but its true potential cannot be seen, it must be felt. Beginning with a 6.2L block, ED Taylor of Ventura Motorsports and Kenny Duttweiller of Dutteweiller Performance combined to build one bad monkey. Forged pistons ride on Scat rods around a Scat crank squeezing out 10.7:1 compression. Dart Pro1 aluminum heads carry massive 2.16 intake valves with 1.59s on the exhaust side. Atop the 414-ci beast is a fully polished MP2300 supercharger from Magnuson Magnacharger. Sucking air through a UMI Racing 90mm throttle body, the intercooled supercharged engine belts out 770 hp at 5,800 rpm with torque ringing in at an impressive 743 lb-ft at 4,100 rpm. A GM 4L65E by TCI does what it can to twist an Inland Empire 3 1/2-inch aluminum driveshaft off the car. The thirsty mill is fed a steady diet of high octane thanks to an Aeromotive fuel pump and Rick's Rod Shop stainless fuel tank. A Matson's aluminum radiator keeps the power cool enough to drive year round.
Hanging out in the mountains allowed car builder Bob Bauder to keep a clear head. Without going overboard, Bob smoothed and straightened the Chevelle's aging steel panels before coating them in brilliant two-tone silver. Lil' Louis of San Bernardino, California, gets credit for the colorful, yet tasteful stripes. Opening the doors reveals a customized interior from Pete at Westminster Upholstery. Factory Chevelle SS buckets and rear bench were reshaped a bit before being engulfed in black leather with red stitching for accent. Between the buckets is a factory-fresh SS console, and the original SS dash has been modernized with digital gauges from Dakota Digital. The stainless three-spoke steering is actually from a '70 Chevelle SS, and what appears to be a legit head unit is really a Classic Auto Sound radio controlling a 10-disc CD changer in the trunk.
It's always hard to look at a muscle car such as this and imagine it rolling down the road, much less often, or even less believable is driving it cross-country. We are here to tell you, though, that is exactly what this car gets. It's used well but not abused.
Charles Currie has built himself one cool Chevelle that most of us would love to have sitting in our garage. This car is proof positive that you don't have to go hog-wild to get attention or build something so over the top that you can't go out and enjoy it. Keep it fun, make it look good and definitely make it handle and haul…you know what.
Captions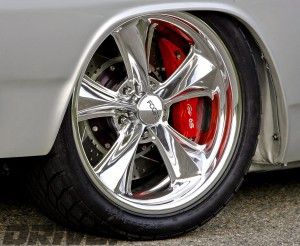 The wheel size game has seemed to go up and down in recent years. Currie's Chevelle SS is lightly tucking a four-pack of 18-inch Foose Nitrous wheels. They seem to fit the size of the body just about perfectly.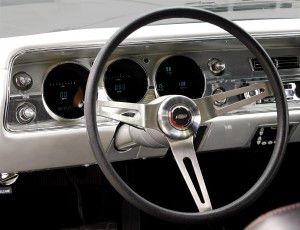 A sharp eye will tell you that steering wheel is not from a '65 Chevelle. If you guessed it is a newer '70 version, then you win the eagle-eye award.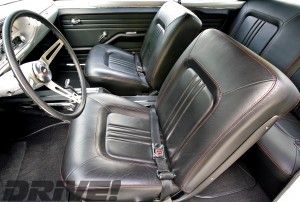 Factory SS buckets, door panels and the rear bench were upgraded to hand-stitched leather from Pete at Westminster Auto Upholstery. What you can't see is the roof. It's covered in black suede and contrasts nicely with the supple black leather, silver dash and fresh trim.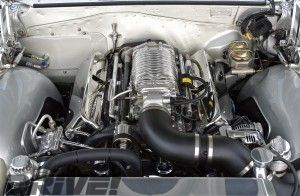 Having a supercharged engine would be just fine for most muscle car owners. Currie chose to go a lot more hot and heavy, opting to build a fully forged internal 414-ci from a GM 6.2L block. The engine now spins the dyno to 770 hp with an equally impressive torque reading of 743 lb-ft.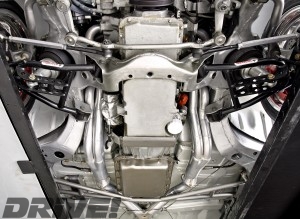 Up on the lift, the underside does little to show onlookers the true mileage and use of this car. Just remember, this is what happens when your car does not leak any vital fluids for years on end and you actually have a lift at home to keep everything wiped down.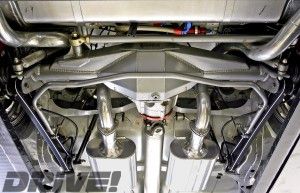 No member of the Currie family would be caught dead with anything less than the family's axles under their ride. Charles is no exception and chose a fabricated 9-inch stuffed with a posi and 3.25 gears in an aluminum center section.