CALI NOVA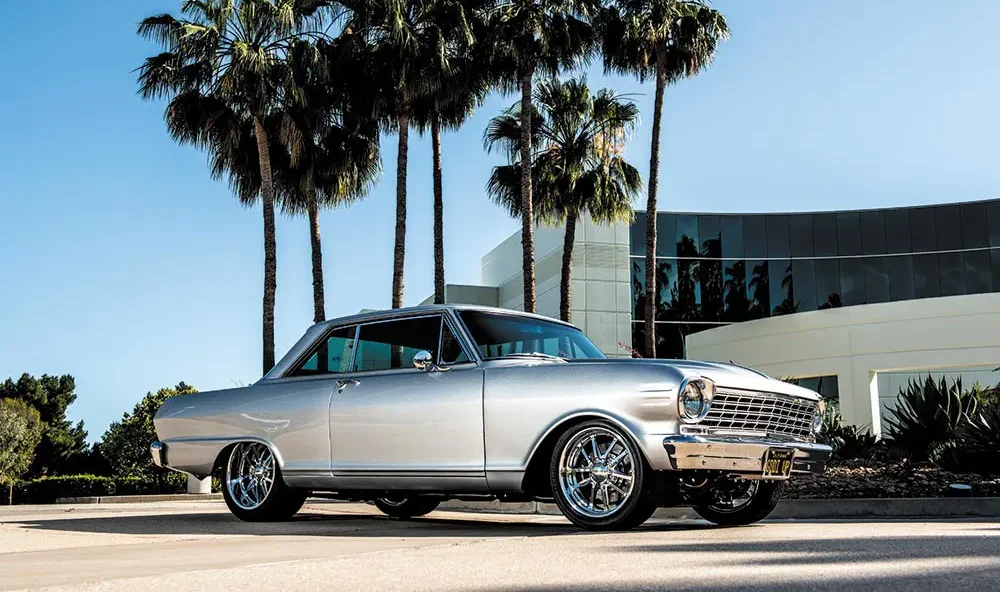 True to form
Growing up in Southern, California with a fairly large age gap between myself and my two older brothers, I had the privilege of watching my brothers build some amazing cars in my parent's garage, throughout the course of my childhood. Every penny my brothers earned from after school and summer jobs would be spent wrenching on their cars, for weeks on end. Asking questions, watching them wrench, and the pure excitement as they fired them up, rattling the windows in our parent's and neighbor's house, placed a smile on my face I could not begin to explain!
Then on that one special Saturday night at the age of 13 years old, my oldest brother asked if I would like to take a ride prior to him heading off to Whittier Blvd. to cruise and find a few races as they did every Saturday night. Excited beyond belief, I hopped in my brother's car and we proceeded to drive over to the oil fields in Santa Fe Springs, CA, better known as the industrial section today. No idea what I was in for, my brother came to a complete stop dead center in the middle of the street. Curious as to why we're in the middle of the road and before I could even ask, the engine revved, the clutch was dumped, my head whipped back as the car begin to shift to the right. Like a kid in the candy store, smiling ear-to-ear, my brother slammed the shifter into 2nd as he steered slightly back to the left and proceeded into 3rd,  the sound the engine made, the smoke in the street and inside the car, was a feeling of pure adrenalin like I've never felt before. Holding on for dear life as we headed into 4th, I knew horsepower and muscle cars were in my blood for life!
I made the decision to tear down the entire car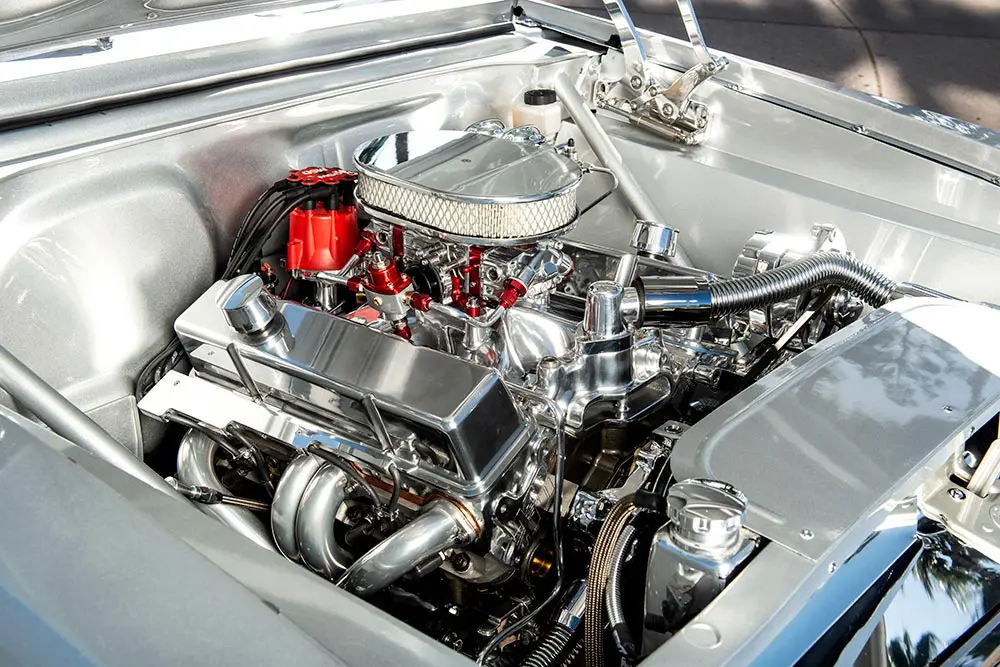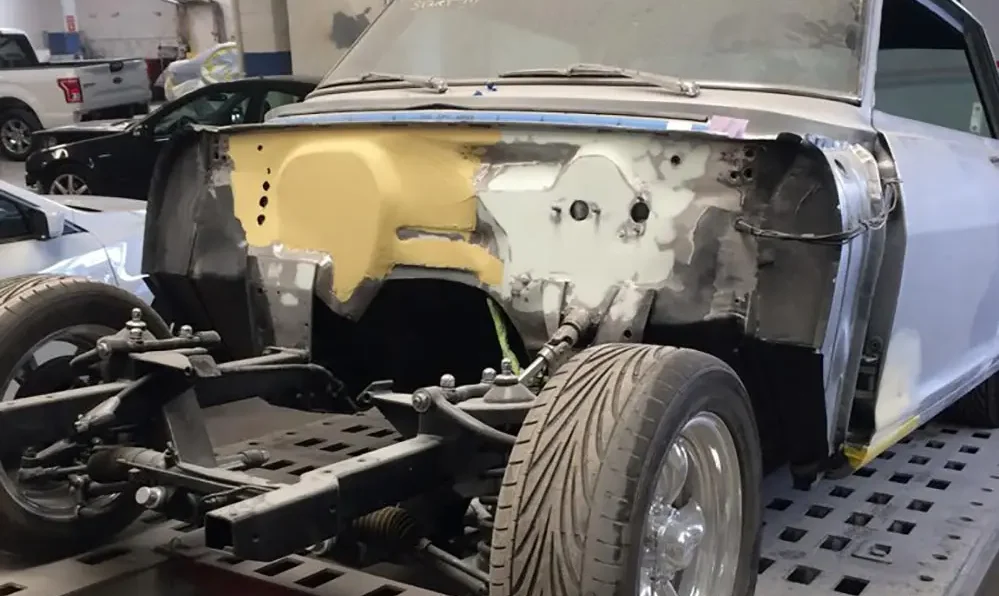 Eager to build something different and slighter smaller to accommodate the build within my two-car garage, I set out to find an early Chevy Nova.  After months of searching, I purchased the 65 Nova nearly 4 years ago from a gentleman in Chicago, IL where I had the car immediately shipped back to my residence in Southern CA.
Coming from a 55 Chevy with a blown big block with nearly 850 horse that I sold 6 years ago to assist with our kid's college funds, I found driving the 65 Nova with its mild built 350, 325 horse to be quite boring to say the least.
Determined to build one of the nicest 65 Nova's on the street, I made the decision to tear down the entire car to the shell by removing the engine, suspension, interior, wiring and glass, assuring all I had left was a body and empty canvas. Assuring the Nova had the perfect look and stance, the car was then mini-tubbed and fitted with TCI 4-Link Suspension out back and TCI Mustang 2 Rack/Pinion Power Steering up front.
Staying within the silver theme that was on the car when purchased, the car was then shipped to Auto Perfections in La Habra, CA where Loy, (owner) personally spent nearly 6 months welding, grinding, aligning every gap/seam to flawless perfection, followed by filling in every spot weld on the entire body and blocking for countless hours. With the car now laser straight, the entire car was sealed, re-blocked, followed by applying the custom mix, 2-Stage Silver Metallic, cut and buffed to a deep mirror finish.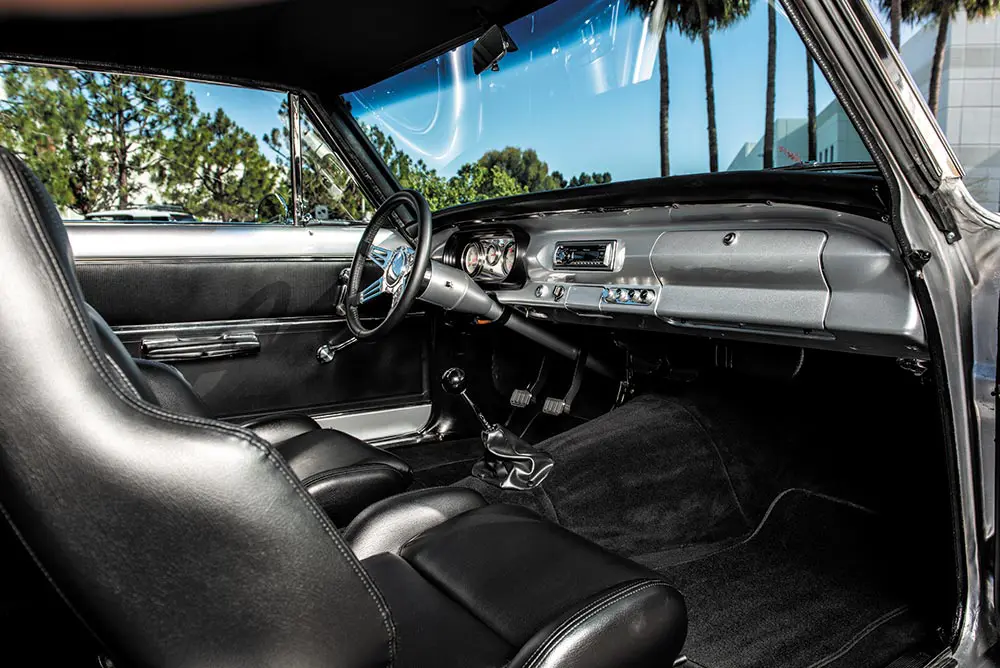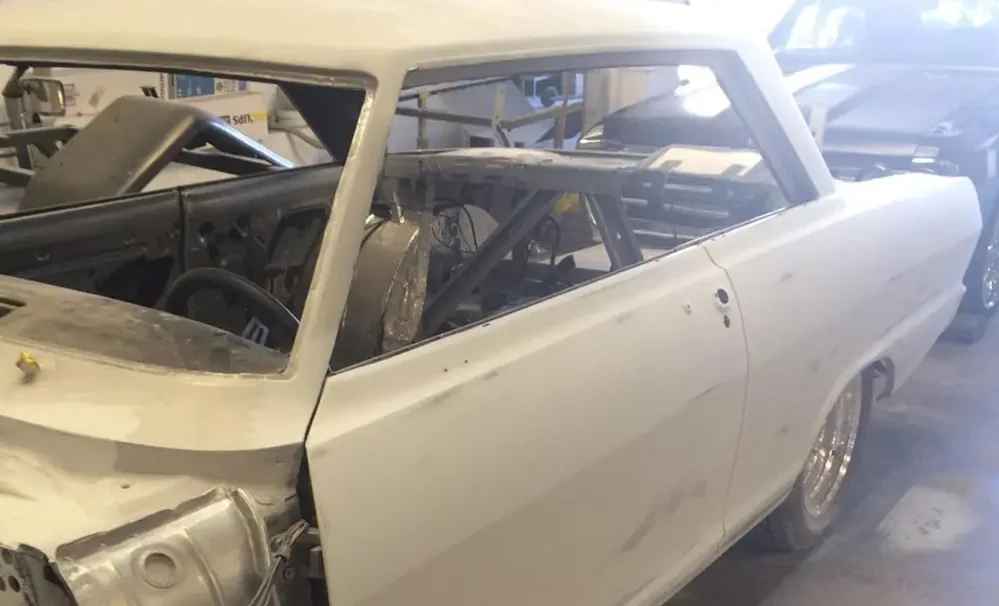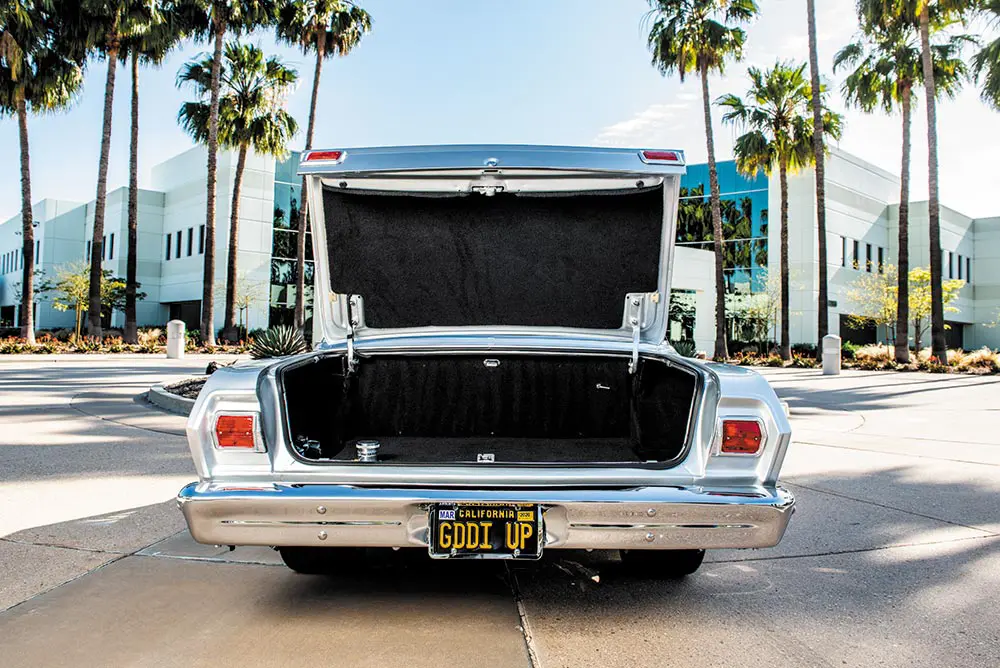 With the body now back in my garage, this is where my own personal fun and countless hours began: covering and bagging the entire car, assuring it's well-protected from any future overspray or scratches. With the car now bagged and ready to go, POR-15 was applied to all floor and trunk pans, followed by the same 2-Stage Silver Metallic, matching the exterior of the car to perfection. Requiring the ultimate look, the front, and rear suspension was finished to a mirrored perfection with 2-Stage Maserati Metallic Black with 10% silver metallic flake.
Starting with the front suspension install, the steering linkage was fitted with polished stainless U-joints and a chrome steering shaft.  Assuring the rear can accommodate the future horsepower, the back was fitted with a custom, narrowed 9" differential with Eaton Tru-Trac Posi, 31 Spline Mosier Axels, and fully-polished aluminum pinion retainer. Requiring plenty of stopping power, all four corners were then fitted with Wilwood 12" slotted/drilled disk brakes and fully-polished brake lines. The undercarriage detail would not be complete without installing all fully-polished stainless fuel tank, and every single nut and bolt is polished stainless or chrome.
Thanks to the hands of Bobby at BC Performance in Santa Fe Springs, CA for building a fully custom motor, the stroked 423 SBC received a new Dart block, Scat, forged pro-series crank and rods, custom solid roller cam, Carrillo forged pistons, AFR 220cc heads, MSD ignition, and Edelbrock Vic. Jr. manifold with Quick Fuel carburetor, making slightly over 600 horse and 595 ft lbs. of torque.  Assuring we have plenty to polish, the entire exterior of the AFR heads, manifold, water pump, alternator, pulleys, valve covers, Wilwood master cylinder, air cleaner, Griffin aluminum radiator, to the Billet Hood Hinges are fully polished. Assuring the engine runs cool year-round, duel Spal electrical fans and adjustable temp. control was installed.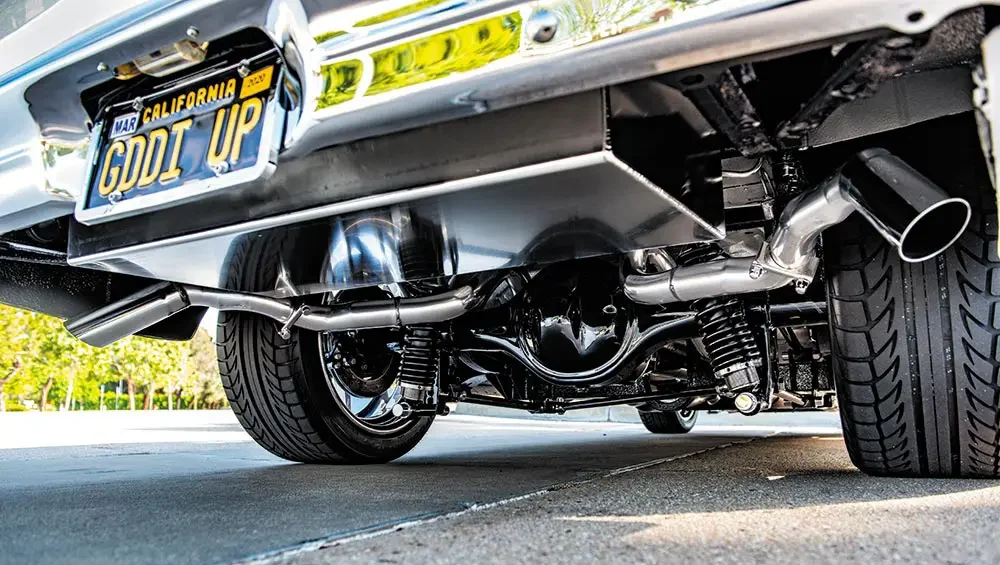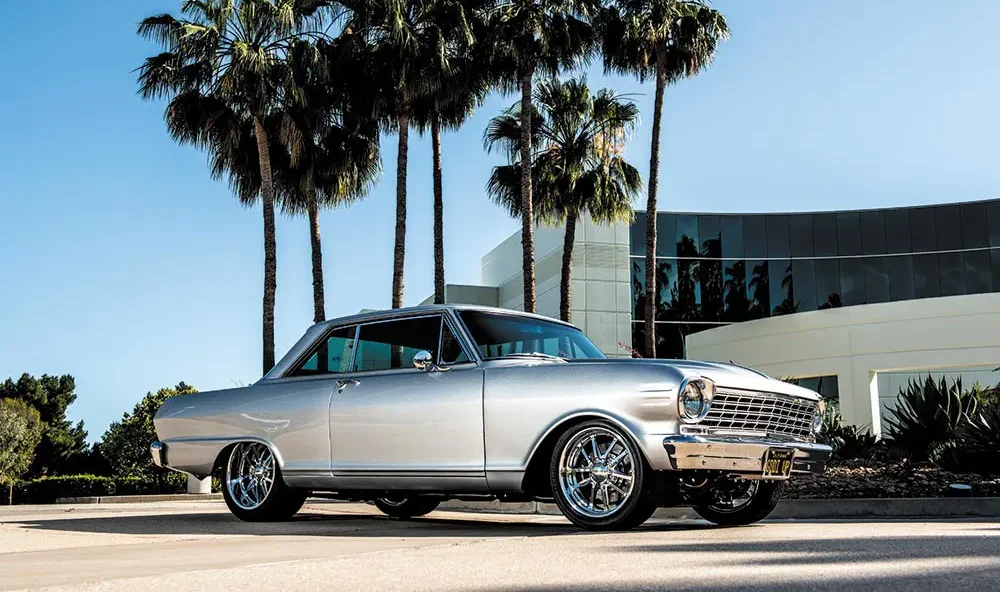 Thanks to the extra set of eyes and hands from a dear friend, we installed the engine accompanied by a McLeod billet flywheel, RST twin disk hydraulic cluck, backed by a Tremec TKO 600 transmission coated to match the undercarriage of the car. The engine was fitted with 1-3/4" fully-polished, ceramic coated headers and fully-polished 2-1/2" exhaust fitted with 12" Dynomax bullet mufflers, assuring the old-school hot rod sound is still alive!
The car was then fitted with all new rubber seals, window regulators, tinted glass, fully polished gauge cluster with white-faced Dolphin gauges, tilt steering column and all-black leather interior followed by a fully carpeted trunk and chrome fire extinguisher.
Assuring a slightly different look from the traditional '65 Nova, the car was completed by installing a '63 grill with lower blinker signals, custom-fitted Budnik Knives Wheels, 18" X 10" rears, 17" X 7" fronts, mounted on 225 and 275 BF Goodrich tires to complete the show-quality build. Every wire in the entire engine bay and undercarriage of the car was painstakingly hidden, leaving the human eye to wonder where are the wires on this car?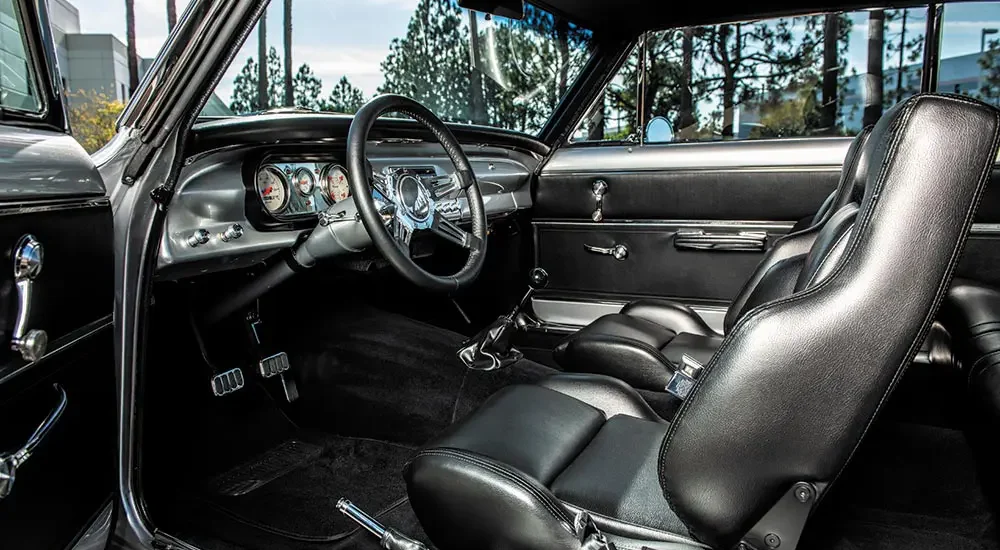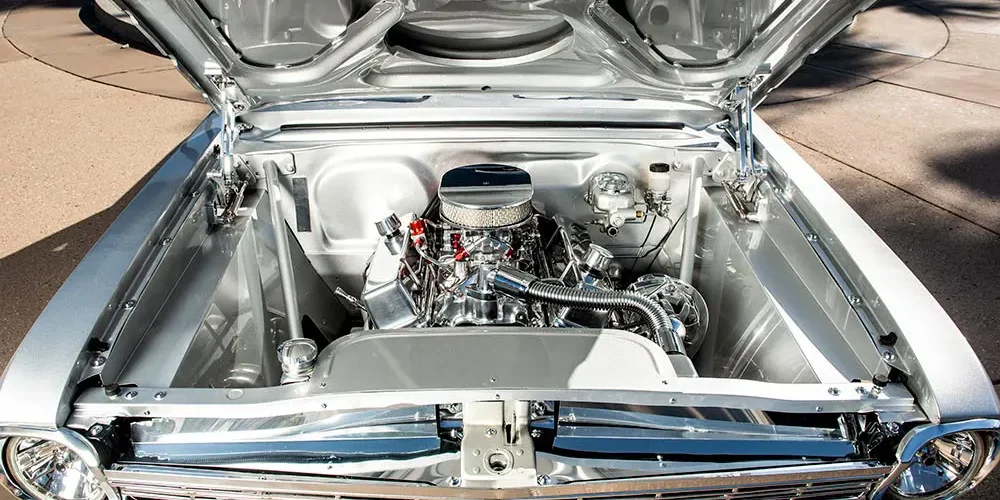 ---