Blue Oval Power: Building a Ford Racing 392 for EFI Performance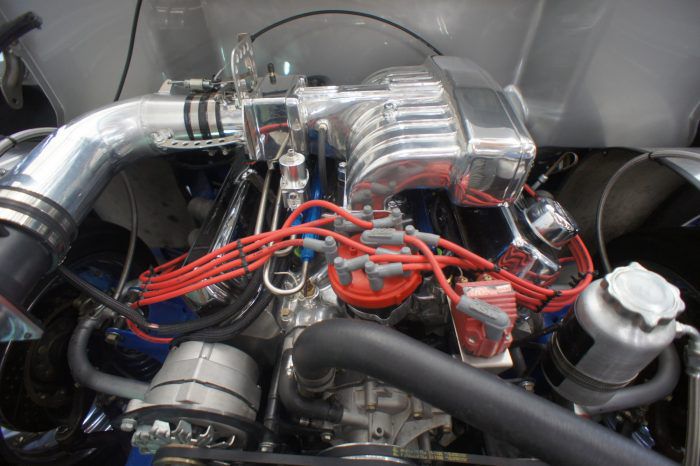 Text by Harley Camilleri and Photos by Marcel Venable
Blue Oval Power: Building a Ford Racing 392 for EFI Performance
Turning our web browsers towards Ford Racing Performance Parts, reveals a drop down menu with a number of short and long block engine configurations that can be ordered for our muscle cars. Ford Racing offers everything from mild small blocks, through the 4.6L modular engines, and even the supercharged 5.4L normally found under the hood of the GT500 Mustang. One engine configuration that was offered but has since been discontinued is the 430hp, 392ci bracket race engine. The engine existed under Ford part number M-6007-A392 for the long block topped by GT-40 aluminum heads, or the short block could be found under part number M-6009-B392. Since the engine has been discontinued, what are the Blue Oval guys supposed to do?
The obvious route is to build a 392ci V-8 from existing Ford and aftermarket parts. All the pieces and specs are easily located with a little fishing to create your own 430hp mill. Our goal was to assemble a comparable engine able to endure racing in short course and autocross events. It wouldn't hurt to try and squeeze a little more power from the small block, because we just can't help ourselves. To begin, we gathered a 4.030-inch over-bored 351W block and 3.85-inch forged steel crank from Ford Racing. We filled that with cast, bushed connecting rods, topped with Probe Industries forged pistons, all held together by high tensile ARP hardware. A pair of aluminum GT-40 cylinder heads were fit with Crane aluminum roller rockers that saw input from a Crane roller cam measured at .566 on the intake side and .576 exhaust. Topping it all was a single plane intake and an 850cfm Holley carburetor. Of course, that was all before the EFI conversion. How did it turn out? Follow along…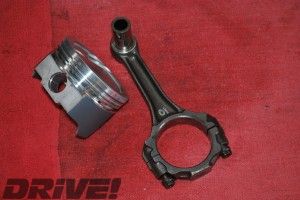 We chose to preassemble the Probe Industries forged pistons on the bushed rods first. All eight of the pistons and connecting rods were weighed and paired accordingly for best balance.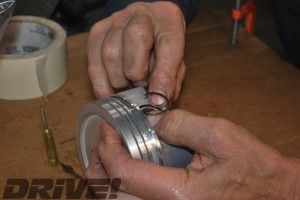 Spiro locks were used to hold the pistons onto the floating pins.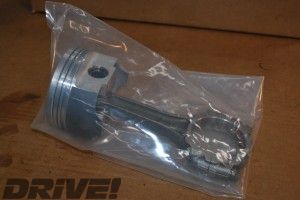 With the piston and connecting rod assemblies situated, they were cleaned and oiled, before being bagged and tagged to keep them ready for insertion later.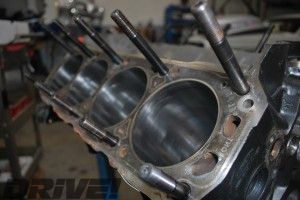 Each of the threaded holes in the block was tapped and cleaned out with compressed air. ARP head studs were installed with a touch of Royal Purple assembly lube and torqued to 105 lb-ft.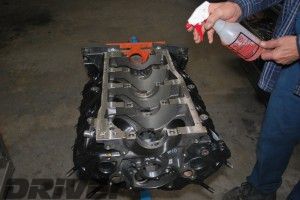 Before we delved into assembling the bottom end, it was necessary to thoroughly clean the block. Even fresh from the machine shop, the block will still be contaminated. Cleanliness will pay off in the longevity of the engine.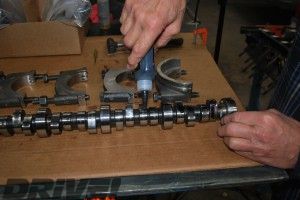 In preparation for installing the Crane camshaft, the Speed Pro cam bearings were fit and the cam slathered in Royal Purple.

With a little bit of effort, we had the camshaft safely in place.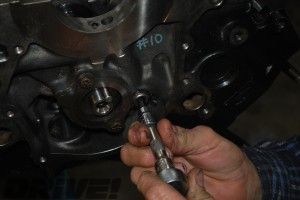 After locking down the camshaft's locking plate, the passenger oil galley plug was sealed and torqued in place to restrict oil flow for the planned roller lifters. That allowed us to mount the upper gear for the double roller timing chain.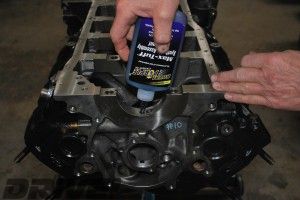 Max-Tuff was liberally applied to the crank journal surfaces and main bearings from Speed Pro were slipped in position.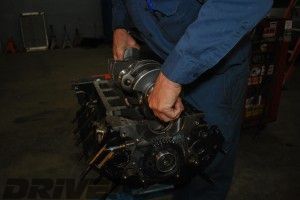 The 3.850 forged stroker crank dropped right into its new home.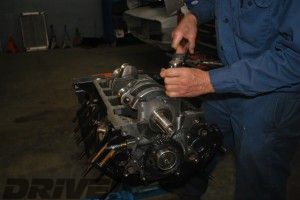 Each of the five main caps and bearings were bolted down and brought to final torque in increments to 105 lb-ft.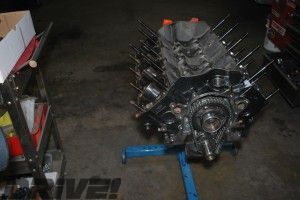 The timing marks were aligned on the camshaft and crank gears so the double-roller timing chain could be installed.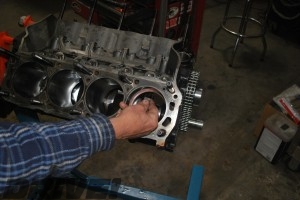 File-to-fit compression rings from Total Seal were chosen for our Ford 392ci. Proper installation required squaring each of the compression rings in the cylinder and measuring the ring gap with a feeler gauge.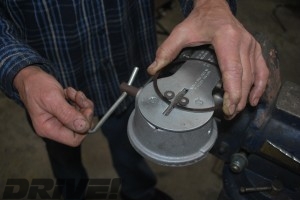 Multiple trips to the ring filer were necessary to get each of the cylinders measured and customized accordingly. Top rings were set at .020-inch opening with the second rings slightly tighter at .016-inch gap.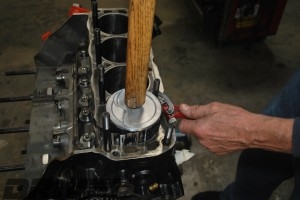 Each of the Speed Pro rings were set onto the Probe pistons and squeezed into the cylinder they were designated for. The big ends of the rods were clamped to the crank journals and the ARP hardware set at 50 lb-ft.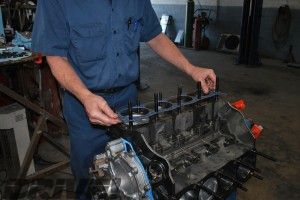 Following the specifications of the Ford Racing long block, the piston to deck height was machined at zero. Ford's engine was set for 9.7:1 compression but we utilized a thinner Fel-Pro head gasket to allow a slight bump in compression. You'll notice, in the photo, we had already bolted on the water pump adapter and a billet steel crank damper.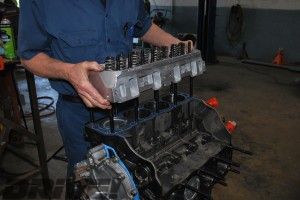 Ford Racing's aluminum GT-40 heads slid right down the ARP studs and were cinched in three steps to 105 lb-ft. We deviated from the original Ford specifications here. The change was in the heads' part number for the 430hp version's 1.94 and 1.50 intake and exhaust valves. Our heads were equipped with larger 2.02 and 1.60 valves to allow better breathing for a bump in output.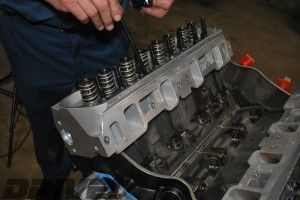 Crane supplied the stronger 7/16-inch pushrods.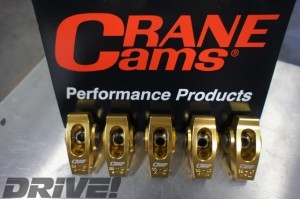 Billet aluminum Gold Race rocker arms from Crane were chosen because the roller design provided significant increases in performance and have proven to be exceptionally dependable.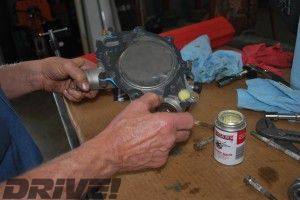 Any of the paper-style gaskets received Gasgacinch sealer to prevent them from coming back to haunt us with fluid leaks. Here, the water pump was getting a slathering before being bolted to the front block adapter.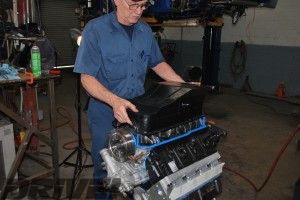 A Fel-Pro one-piece, rubber oil pan gasket was placed around the block's perimeter and the oil pan set into place. Using a light hand and proper torque sequence will keep the oil pan from twisting and causing a messy oil leak. If you look closely, the Fel-Pro gasket has metal sleeves to prevent the installer from crushing the gasket too far.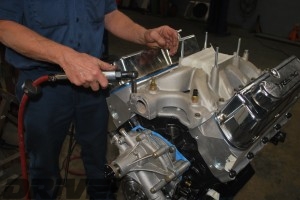 Reaching in to the Ford Racing parts bin, we pulled out a pair of chrome valve covers with breathers and a M-9424-V351 Victor Jr. single plane intake manifold tuned for use between 3500 and 7500 rpm. This engine will see plenty of road course use and constant high rpm times making the Victor Jr. a perfect match for our combination.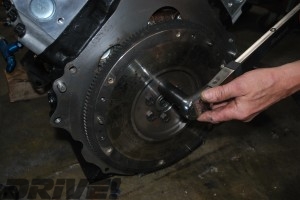 We'll be rowing the gears through a T-5 manual transmission once installed in the vehicle. In preparation for that, a steel flywheel was bolted onto the end of the crank.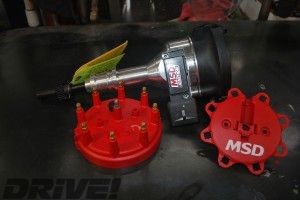 Pro-Billet distributors were used for both the carbureted and EFI versions of our 392 V-8 testing. Shown, is the TFI EFI 351W Pro-Billet distributor with module found under part number 8452 from MSD.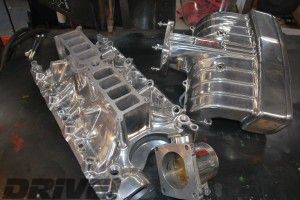 After settling the engine in on the dyno with a carburetor, we went back and placed this Professional Products Typhoon EFI system on top of our racing engine. Installing it on the engine was a breeze, but modifying the vehicle's fuel system to support the EFI was a bit more work and something for another story.
After delivering our Ford Racing 392ci V-8 to the dyno shop, we strapped the engine down, hooked up power, fuel, and water, and spent a good portion of timing running some break in time on the camshaft to ensure our future horseplay would not damage it. Once well run and warmed up, we went back and checked the final valve lash and timing before letting the throttle get hammered. Set by Ford Racing, our baseline information told us we should have been at 430 horsepower. Adding our slight bump in compression combined with larger intake and exhaust valves had us thinking otherwise. Running on 91-octane fuel straight from the pump, our version netted us 442hp at 6250rpm, after a few timing and jetting adjustments to get us running true. Ford Racing states that with a larger, solid roller cam and Super Victor intake, they were able to produce exactly 500hp at the crank. It appears we have another mark to strive for.
ARP
(805) 339-2200
arp-bolts.com
Crane Cams
(386) 310-4875
cranecams.com
Fel-Pro
(248) 354-7700
federalmogul.com
Ford Racing
(800) 367-3788
fordracingparts.com
Holley
(270) 782-2900
holley.com
MSD
(915) 857-5200
msdignition.com
No Limit Engineering
(909) 386-7637
nolimit.net
Professional Products
(323) 779-2020
professional-products.com
Probe Industries
(310) 784-2977
probeindustries.com
Royal Purple
(281) 354-8600
royalpurple.com
Speed Pro
(248) 354-7700
federalmogul.com
Total Seal
(623) 587- 7400
totalseal.com