Augie Delgado's Flashback '66 Nova
Text by Travis Noack
Photos by R.K. Smith, Mike Morgan Racing Photography
Article
There is a pocket in time when drag racers were yanking their cars to the track behind station wagons and sedans and fueling their passion one quarter-mile at a time. There were no big-time corporate sponsors, no million-dollar rigs, just a set of cheater slicks, a homebuilt engine, a small toolbox, a week's worth of wages, and a heavy right foot were all it took to get in the game.

The '60s were primetime for Gassers, and from the Willys coupes to the muscle cars everyone was getting in on the action. It was pure nose up, pedal down fun, and in garages across America the Gasser craze was running strong as legendary race cars were born. Some became world famous by their appearance on infamous asphalt playgrounds like Lions Drag Strip and Orange County International Raceway. Smoke filled the air, the smell of race fuel permeated nostrils and wrenches spun like mad in primitive pits as these cars were punished from weekend to weekend.
Today many have locked on to the Gasser look and built cars that instantly rewind the clock when the pipes cackle to life and the loud pedal is slammed to the floor. Augie Delgado of Fullerton, California, was born in 1960, and at the ripe age of 7 started standing on the sidelines at Lions and Orange County watching his heroes make performance history. It's no surprise that those early years of tire-smoking influence were transformed into the stunning Gasser-style '66 original L79 Nova stretched across these pages.
The car was originally raced with the name "Young's Land Clearing" lettered down the side of the quarter panel, and it was an altered wheel base race car with an injected small-block. Don Hicks Race Cars out of Buena Park, California, had originally set the car up, and 44 years later a few of Don's tricks still remain. According to Augie's drag racing crystal ball (he actually did a ton of research on the car), his pride and joy was formerly owned and campaigned by Hicks and Young, and enjoyed track time at Lions and Orange County.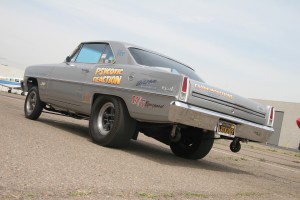 The car was prepped and raced as a Gas Altered wheel base car, and eventually Hicks and Young decided to step it up with an injected big-block and go match racing. With all of the lettering done and the new horsepower in place, the car never made it to the track and was destined for a little street play before it was delivered to Stick City in Whittier, California (a hot rod car dealership of the day), and offered for sale.
Fast-forward 40 years and Augie was hot to trot for a vintage race car, and he wanted to dig in and bust some knuckles, too. Tipped off by former Hot Rod Tech Editor Steve Magnante, a '66 Nova was discovered in a field in San Bernardino, California. Time had not been kind to the old Duece, and busted glass and a bullethole riddled, hollow carcass was all that remained. The motor and transmission were long gone, but the original rearend housing and roll cage were still intact.
As he stared at this worn down piece of grassroots drag racing history, the performance detective came out and tracing the car's history began. The first clue came when Augie ran a tack rag over the quarter panel and discovered Young's Land Clearing Service lettered down the side. A trip to the Hot Rod Reunion with some photos of the car and striking up the right conversations revealed the car to be Sunny Young and Don Hicks' old race car.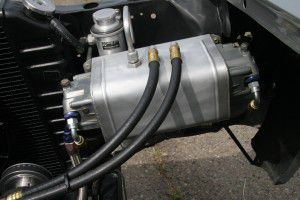 Augie spent the next several years rebuilding the Nova and has returned it to the street and strip with regular Saturday cruises and a few hard passes down the quarter-mile. The car and Augie were invited to Yokohama, Japan, in 2006 for the Mooneyes show. He said, "It was the most incredible experience driving my hot rod around in another country." Looks like persistence and passion paid off as this old drag strip terror returns to the glory days.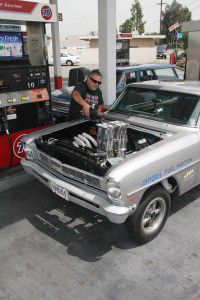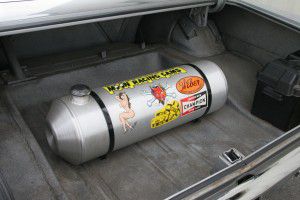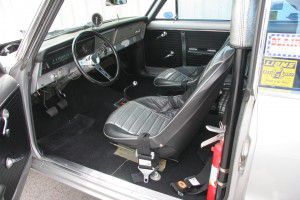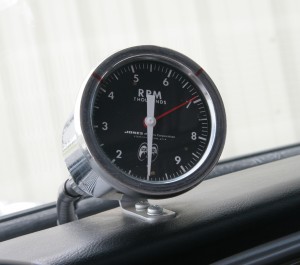 FastFacts
1966 L79 Chevy Nova II
Owner/Builder: Augie Delgado
Factory Options: Radio delete, heater delete, 4.11 gear, 327/four-speed
Engine: 331-ci small-block Chevrolet
Bore: 4.030
Sroke: 3.25
Crankshaft: Stock Chevrolet
Rods: Stock Chevrolet
Machine Work: Larry's Machine Shop
Pistons: TRW
Compression Ratio: 11:1
Camshaft: Vintage Moon equipment
Lifters: Isky solids
Valves: TRW
Rockers: COMP Cams roller rockers
Valve Springs: Vasco Jet
Heads: Vintage Race-ported '64 Corvette fuel injected
Oil Pan: Custom-made
Intake: Jackson fuel injection
Ignition: Vertex magneto, Mallory solid core wires
Hoses/Fittings: A/N hoses and black rubber
Water Pump: Vintage McKay
Headers: Custom-made, coated white by Embee Powder Coating
Mufflers: Spintech
Fasteners: ARP
Valve Covers: Vintage Mickey Thompson-Moon breathers
Horsepower/Torque: 460 hp, 450 lb-ft
Engine Built By: Augie Delgado
Transmission: Muncie four-speed prepped by Rick Delgado
Driveshaft: Orange County Driveline
Shifter: Hurst
Rearend: 9-inch Ford
Axles: Henry's Billet
Rear Suspension: Old style lift bars
Rear Shocks: Koni
Front Shocks: Koni
Steering: Vintage Covico
Front End: Custom tubular front clip and tube axle
Wheels Front: 15 x 4-inch American mags
Wheels Rear: 15 x 6-inch American mags
Tires Front: Coker Tire bias ply 500-15
Tires Rear: 30 x 10-inch M/T pie crust cheater slicks
Front Brakes: Wilwood
Rear Brakes: Stock Ford
Paint: 1966 Corvette Silver Pearl by Richard Gill
Gauges: Stewart Warner
Tachometer: Vintage Moon/Jones Mechanical
Timeslip: 7.50-1/8-mile
Helpers: Rick Delgado, Larry Fator, Richard Gill, Steve Magnante
Special Thanks: Kelley Bolling and Chris Bolling