A Look at SpeedFactory and the '09 Challenger
Text and Photos by Matt Emery
Article
Have it your way may be a well-known advertising tagline, but the crew at the SpeedFactory thinks that they have a better one, "Your imagination is our blueprint." The crew at SpeedFactory rounds up the latest in Dodge and Chrysler iron and then takes them to the next level. Today we look at the '09 SpeedFactory Challenger SF700R.

There can be little doubt that the original Dodge Challenger is one of the icons in the world of muscle cars, and its rebirth is one that even non-diehard Mopar fans can rejoice in. We feel that the company did the original designers proud in that the car significantly resembles the original, and any changes that were needed to keep up with current safety standards were blended in very well. And with its Hemi power plant, the new version has nearly everything that a gearhead could want. That is until you see the SpeedFactory version.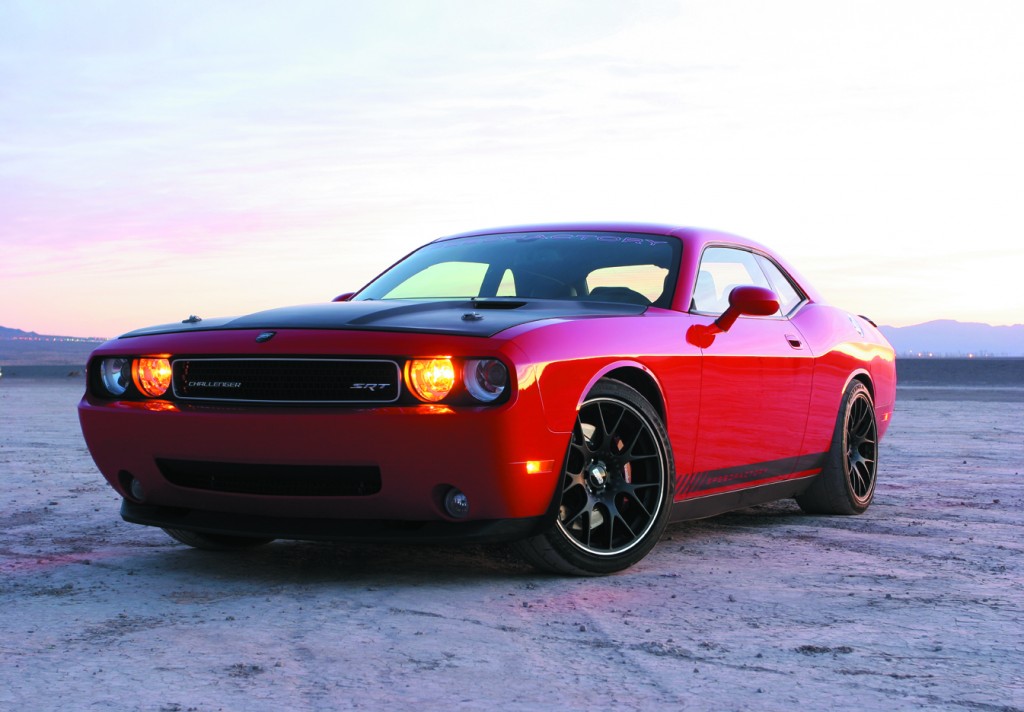 Based in Morrow, Georgia, the SpeedFactory begins the transformation with upgrading the suspension by adding high quality Bilstein shocks that have been equipped with Progressive springs. In addition, there are Hotchkis anti-sway bars and SpeedFactory modifies the front and rear strut tower braces for extra rigidity through the corners. Speaking of corners, sticky Bridgestone tires (Front R255/40 ZR20, Rear R285/35 ZR20) provide grip, while the race-bred BBS CH-R wheels (Front 20 x 9, Rear 20 x 10.5) provide killer looks as well as strength.
Peeking out from behind the wheels are another race bred item: Brembo disc brakes (Front six-piston with 15-inch rotors, Rear four-piston with 14-inch rotors). Brembo is a name long associated with big time racing, and these slotted units are the perfect binders for this big and very fast car.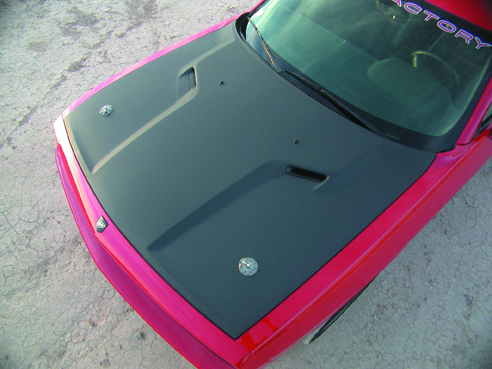 When one sees a Mopar vehicle, the first thing that comes to mind is whether or not it has a Hemi engine. Well, they wouldn't be called SpeedFactory with anything less, and the engines that come in their cars are not simply from the factory, these engines are fire-breathers! SpeedFactory begins with an all-aluminum 440-ci Hemi block, then bores, strokes and balances it in preparation for the Vortech V3 centrifugal supercharger to come. To get the most out of the Vortech unit, SpeedFactory uses Mahle piston and rings, forged Scat crank and rods and special Mopar/CNC aluminum heads. The result is a very strong bottom end and at 8.6:1 compression ratio which is perfect for the forced induction. An 11-quart Moroso oil pan ensures that plenty of the slippery stuff makes its way to the engine.
With more airflow, more fuel flow is needed. SpeedFactory replaces the stock injectors with large Siemens units and Mopar billet fuel rails with a 6.1 Hemi throttle body and a high volume K&N air cleaner. To get the spent fuel out just as quickly, a Corsa stainless steel cat-back system with cool chrome tips does the job.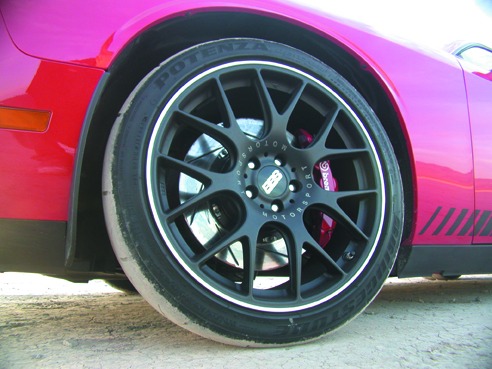 And with the horsepower rating a solid 700 ponies, this Hemi does the job, so the tranny and rearend need to keep up. That's why the SpeedFactory upgraded the package with a Mopar Performance Reman NAG 1 transmission and a very healthy Getrag limited slip IRS rearend. They even included 1,000-hp rated half-shafts just to be sure that there wouldn't be any problems. Top end won't be a problem either thanks to the sky-high 3:06 gear ratio.
Since the very first Challenger to come off the line, there is little doubt that the shape of the body was beautiful, but SpeedFactory even saw a way to enhance that. They added a carbon fiber hood, rear deck lid spoiler and SpeedFactory graphics, which work perfectly and really adds to the stock Tor Red paint.
The interior of the original Challengers wasn't bad for their day, and the new ones are very comfortable, but the SpeedFactory knew that they could make some improvements. They did so by recovering the stock seats with their SpeedFactory signature interior kit. The kit includes new leather and graphite upholstery for the seats, door panels and floor mats. The instruments are stock but now have SpeedFactory signature gauge faces, and a cool "T" handle replaces the stock ball. The stereo is the factory SRT8 unit, but a huge Kicker subwoofer resides in the trunk to add to that bass response.
This car is serious iron, one made for those who love high performance as well as high style and comfort. But the best part is that obtaining one is as easy as entering your local Dodge dealership. Yep, you heard that right, SpeedFactory is in cahoots with Dodge, and if you have the wherewithal and want one of these killer rides, either contact SpeedFactory (www.speedfactorycars.com) or simply walk into a Dodge dealership and tell them that you want to look great and haul a.., um, the freight. They'll know just what you want and will hook you up.