A Tiger's Tale – This Drop Top GTO Has Teeth
Text and Photos by Matt Emery
Featured Article
When you think of convertibles, I bet you pictureleisurely drives along the coast with the top down, someone special beside you and lunch in Santa Barbara. Mostdon't think of huge horsepower and a state-of-the-art handling and brake package.
But Devin HoustonofSiloam Springs, Arkansas, wanted all of those things and more. Okay, maybe he wasn't thinking of lunch in Santa Barbara with his wife Trish, but the Arkansas equivalent of it. Either way, Houston, who is a biochemist and owner of Houston Enzymes, is a long-time Pontiac lover (he has owned a '68 Firebird, and'79, '80 and '95 Trans Ams) and wanted it all with his car.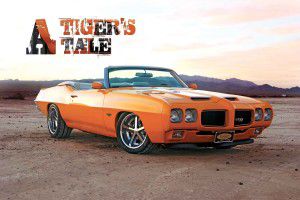 When he bought this '70Pontiac,Devin says that it was in good shape and he considered it a decent driver, but that didn't stop him from contacting Tim McDevitt at Willoughby Hot Rods of Osage Beach, Missouri. The first thing that they did was examine every part of it and decide what they wanted to modify. The list they came up with was long.
The frame is stock, but the crew at Willoughby Hot Rods boxed and reinforced it. Part of that reinforcement included adding aMoser Engineering rearend. Their 9-inch unit was narrowed2inches before being filled with a posi unit and 3.73 Richmondgears. Rear brakes are Baer Track 1 units that feature a twin-piston caliper and accompanying 12-inch rotor.
Front brakes are Baer Track 1 two-piston calipers but with 13-inch rotors. They combine with the Bonspeed SuperStar wheels (front: 17×8, rear: 18×10) and Nitto NT 05tires (front: 255 40/ZR17, rear: 275 40/ZR18) to ride at all four corners. Another item found on the corners is the complete Ride Tech Ride Pro 3 system. Houston wanted his car to handle well and look good, too, and the Air Ride system does all of that and more.
Houston also wanted his car to have serious power, that's why he had SpeedTweekerz of Osage Beach build the 364-ciPontiac engine. They acquired a prototype ProCharger P1SC supercharger, for carbureted LS engines, and combined it with a Quick Fuel SS-650 carburetor/Edelbrock Victor Jr.Intake manifold. The result is the engine has been dyno'ed to 600hp at the flywheel. Of course, it took some more pieces to get to that number. SpeedTweekerz installed one of itsCompetition Cams-made custom ground blowercam, anMSD 6LSignition system, and a set of Kook custom headers that connects tostainless Pypes 3-inch tubes.
Adding a little style is the finned/black powder coatedPML valve covers,ProChargerair cleaner ducting, and the pulley system is stock except where the ProCharger unit is concerned. That power is then fed to the T56 six-speedtransmission via the Spec Stage 3clutch. Then it was up to the Driveline Shop inSpringfield, Missouri, who built the 3-inch driveshaft that finally got it to the rearend.
While one side of Willoughby Hot Rodswas devoted to the frame and drivetrain, in another part of the shop the crew was working on the body. Houston says that the car was in pretty good shape when he got it (it should haven been for the $23,000 he paid for it), but that didn't mean that a few mods weren't in order. Willoughby added a custom Glasstek flat 1970 Lemans hood with 1971-72 hood scoops anda fiberglass front nose. Out back, the rear bumper was narrowed and recessed into the bumper cavity, with allof gaps closed up with lead.Speaking of closed up, all of the holes left by the removal of the factory sidemarkerlights /reflectors in thefenders werefilled.
Once the bodywork was done, the car was sprayed DuPont Premier Orbit Orange by another Willoughby employee.The paint wassupplied by O'Reilly Auto Parts. And keeping the outside, outside, the drop top's material is a blinding white.
In the inside, however, Houston hadLegendary Auto Interiors of Newark, New York, imbue the factory buckets with frost white vinyl and custom SC/Tiger graphics.They added the graphics to the door panels, too. Willoughby Hot Rods custom-made the dash insert panel,into which went a set of Auto Meter American Muscle Series gauges. A Grant steering wheel and a floor shifter from a 2005 GTOcompletes the mechanical manipulators. Even though an air conditioning system in a drop top may seem redundant, a Classic Auto Air system was installed. Another trick that was handled by Waves & Wheels of Osage Beach was the addition of the EZ Wirewiring kit, including a push-button start.
Waves and Wheels also installed the killer sound system. It begins with a Clarion NX500 touch screenand a bunch of Audio System X Series amps before heading to the four Focal 6.5 kick panel/side panel-mounted speakers and then to the trunk where the twin 13-inch subwoofers reside.
In less than a year, Houston and the crew at Willoughby's turned a nice car into a killer ride capable of looking great while flying down the road. The GTO was invited to be part of the 2010 SEMA show, and thanks to its top down look and huge horsepower, it would seem that the only thing to be said about this GTO and its owner is, "Houston, we have no problem."