A-Bone's Latest Statement: Turning a '39 Ford Rust Bucket Body Into a Hot Rod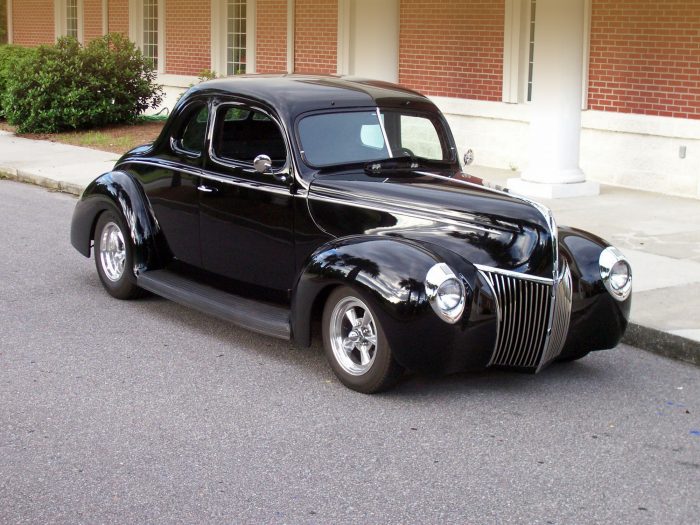 Text by Rotten Rodney Bauman and Photos by Jeff "A-Bone" Yocum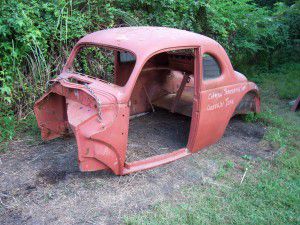 So what do you look for when shopping raw material for a new project? Would it be safe to assume that the majority of us focus on body condition? More specifically, we want as little rust as possible, right? Careful selection of the right raw material can save the builder time. However, in some rare cases this particularity can actually slow the process. It all depends upon one's willingness to work. While most of us are shopping, Jeff "A-Bone" Yocum of Goose Creek, South Carolina, has already dragged his home, and you can bet that he's already busy in his garage. See, Jeff was born without fear of rust. As a prolific builder of black, Poncho-powered rods, he's willing to work harder than most for the results he achieves.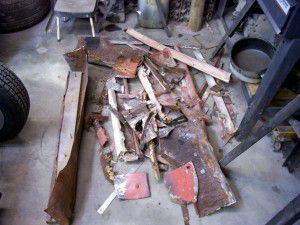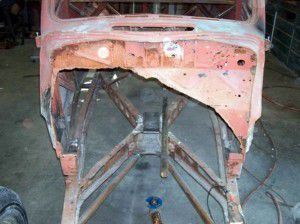 Jeff's latest, a '39 Ford deluxe coupe, began as others before it have, rough and rusty with no usable wheel wells, no firewall and no floor or rocker panels to speak of. Rust had also had its way in every corner and crevice imaginable, but hey, it's not as rough as it looks. Let us assure you, it's much rougher.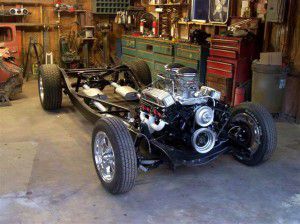 In the early beginnings, much attention was paid to the ol' Ford's framework and suspension: a dropped I-beam, buggy spring and split 'bones upfront, while a 9-inch Ford rearend suspended by parallel leaves a la the 1957 Chevrolet brings up the rear. Ample whoa power is supplied by fairly straightforward stuff: a '76 Firebird master cylinder and booster applies the pressure to a combination of discs and drums.
Like other Jeff Yocum-built rods, the drivetrain makeup would hold true to Jeff's time-tested formula: an owner-built 389 Pontiac mill (poked 'n' stroked to a butt-whompin' 462 ci) would provide plenty of go power, which in-turn would be transmitted through a Turbo 350, prepared by Dell Harwell Racing of Moncks Corner, South Carolina.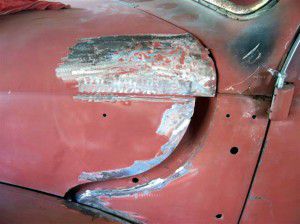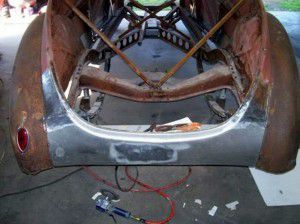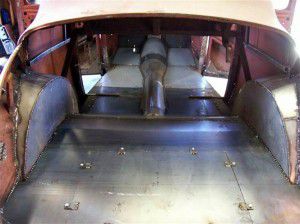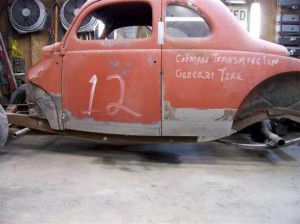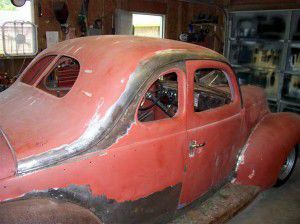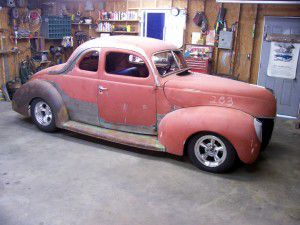 Once things were rolling in the chassis department, Jeff could turn his attention toward impending patchwork. Yes, patchwork. There was plenty of that, as well as a wide variety of lumps, bumps and wrinkles, which add up to make this particular project a brave undertaking.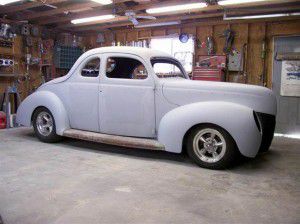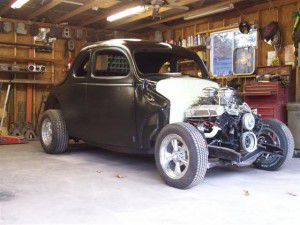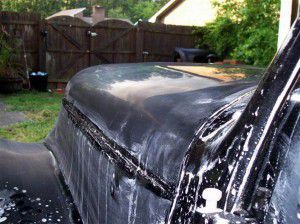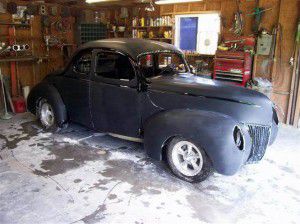 Then as if to put the period on his bold statement, Jeff fearlessly refinished his Ford in black. Dark and deep, these BASF topcoats do not deceive. Jeff's latest masterpiece of patchwork artistry, like the long string before it, is a very well executed save.
It seems important to point out that while Jeff farms out very little, he'll gladly accept assistance from his now 13-year-old son Jake. Perhaps a chip off the ol' block, Jake enjoys blocking out Bondo. Even in the 13 F bitterness of a Goose Creek winter, he'll work right alongside his dad. "He knows that old cars take real work, and they don't just build themselves like on television," says Jeff.
Over a period of 18 short months, on weekends, after school and after work at Jeff's full-time regular job, Team Yocum's latest statement has been made. In fact, they've already moved on to their next, a rough and rusty, but soon to be black and Poncho-powered '34 Ford five-window coupe. 
So how goes the shopping y'all? Have we found "the right raw material" yet?
Chassis
Frame/Manufacturer: Mostly stock Ford
Wheelbase: Stock
Rearend: 9-inch Ford, 31-spline, 3.00
Rear Suspension: 1957 Chevy leaf springs
Rear Brakes: Drum
Front Suspension: Dropped I-beam
Front Brakes: Disc
Master Cylinder: 1976 Firebird
Steering Box: 1983 S-10 manual
Steering Linkage: Tie rod ends and tube
Steering Column: Exhaust tube and sealed bearings
Front Wheels: Straight spoke Torque Thrust, 15 x 5
Front Tires: 155/80/15
Rear Wheels: Straight spoke Torque Thrust, 15 x 8.5
Rear Tires: 225/60/15
Fuel Tank: 15-gallon
 Engine
Make/Displacement: Pontiac 389 now 462-ci
Machining/Assembly: Machining by Don's Machine, Assembly by Jeff Yocum
Heads: 6X-4 98.00 iron
Alternator: GM 1-wire
Manifold/Induction: Offenhauser 2×4
Valve Covers: Moon
Ignition: MSD
Exhaust: 2 ½-inch dual, 1 7/8-inch headers by Jeff Yocuim
Transmission: TH-350 by Dell Harwell Racing
Converter/Clutch: Hughes 11 inches
Shifter: B&M
 Body
Body Style/Manufacturer: 1939 Ford deluxe coupe
Hood: Stock
Radiator: Re-pop 1939-40 Ford
Grille: Stock
Bodywork By: Jeff Yocum
Paint Type/Color: BASF BC/CC, black
Painted By: Jeff Yocum
Headlights: 1940 deluxe
Taillights: Stock 1939
Other Body Modifications: Nope
 Interior
Dash: Mildly modified 1939 Ford
Gauges: Moon
Stereo: Nope
Wiring: Jeff Yocum
Steering Wheel: Moon
Upholstery: Bent Brothers
Fabric/Leather Color: Black naugahyde
Seat Manufacturer: Cut down 1983 S-10