A 425 Horsepower Chevelle with a Whole Lot of Attitude
Text by Travis Noack
Photos by Joseph Dowling
Article
Controlled horsepower is a beautiful thing. It's great to know that when you bury the fun pedal and dive into a corner that you have the right gear under the hood and in the suspension to accept the challenge. In factory trim with the right power plant, a '71 Chevelle was a decent performer on the straight line, but when it came to twisty back roads, you had better hang on.

With the muscle car revolution in full swing and companies making everything to transform these old cars into performers in a variety of driving situations, it just doesn't make sense to leave the factory suspension, brakes and power plant intact. If you have an ultra-rare big-block SS, don't let that stop you from putting a numbers-matching mill on an engine stand and dropping in a modern fuelie motor for more reliable performance. Go ahead and bolt up a set of massive brakes and thick anti-sway bars, too, allowing you to charge in and out of the corners.
Ken Hefner of North Richland Hills, Texas, was not content with the stock washing machine suspension under his Chevelle. The stock 350 was a bit wheezy too, so the time was right for a full rebuild in 2004. Under the metal went a full Hotchkis Performance suspension system with adjustable 4-link centered around a GM 12-bolt with 4.10 gears and Strange axles. The nose received Hotchkis tubular control arms, Eibach springs and KYB shocks for the right stance and handling characteristics. To cap off the undercarriage updates and keep the car safe during high-speed travel, Baer Brake Systems 14-inch rotors and six-piston calipers were bolted on up front, with Baer 13-inch rotors and Baer calipers bringing up the rear. To set off the stance Ken mounted up a set of Asanti 19 x 8.5-inch front and 20 x 10-inch rear wheels, mounted on P255/40ZR19 front and 325/30ZR20 rear Goodyear GSD-3 rubber. Ken is the manager of a Discount-America's Tire Company, so when it came time for rolling stock, he needed something that instantly made the car flash off.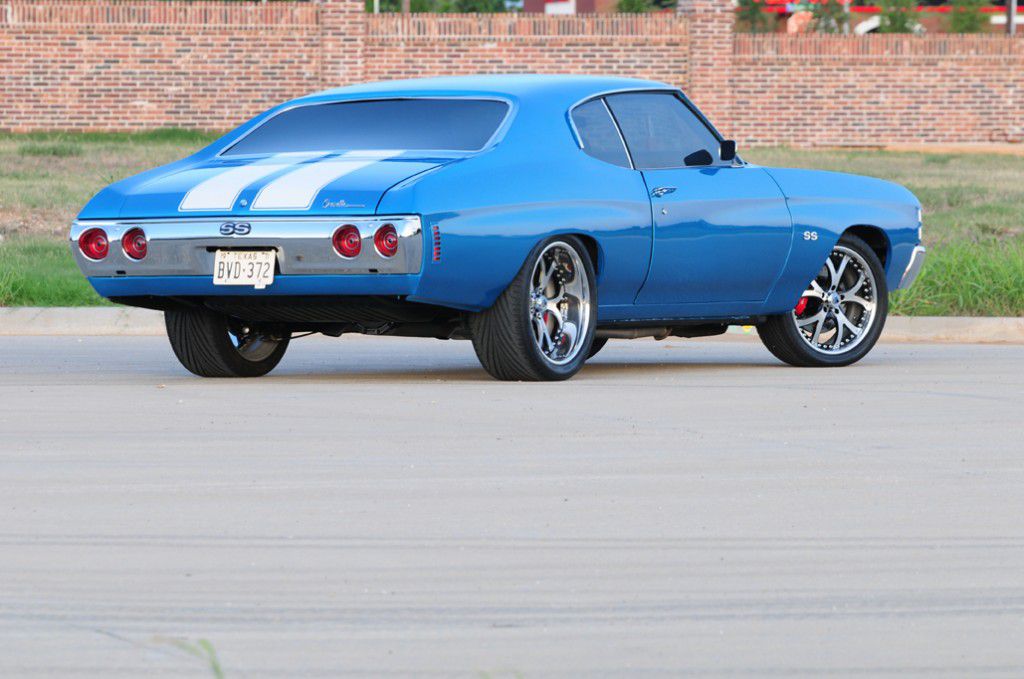 Ken modified a 2004 GM Performance Parts ZZ4 crate engine a touch. The mill was bored out to 392 cubes and fit with a Scat crankshaft and rods pushing and pulling JE pistons. A GMPP oiling system does the lubricating, while a GMPP camshaft operated at 228 degrees of duration and 525 degrees of lift thumps when the key is clicked. The aluminum 60cc heads breathe deep, while GM pushrods, roller rockers and lifters complete the valve train. A GM Performance dual plane intake is topped by a Holley 750 double pumper. Lighting the fire is a Mallory distributor, and Hooker headers and Flowmaster Super 40 mufflers show spent fumes the door. Billet Specialties valve covers and air cleaner dress up the engine. Backing the 425 hp and laying down the 450 lb-ft of torque is a Turbo 350 transmission prepped with a TCI Street Fighter 2,500 stall speed converter and finished out with a TCI valve body and TCI shift kit. Ken built the transmission himself to handle the power from the ZZ4 and the punishment from his size 12s.
When it came to the sheet metal, the scenery was left stock and bathed in PPG Blue by Jimmy Boadraux. The factory SS stripes were laid on the hood and deck lid in white, and ghost flames in the stripes add a little subtle flavor.
Between the doors, the cockpit is all business with the factory black vinyl seat covers replacing the worn original interior. Shawn Richard and Ken attended to interior. Shawn installed a Covan's dash insert complete with Auto Meter gauges doing the reporting on the small-block's behavior. A custom billet steering wheel was installed for updated control, while power windows and locks lend some modern creature comforts. A Painless wiring system ensures all electrical pulses and signals get to their destinations.
What would an asphalt-pounding muscle car be without a spine-tickling audio system? A Pioneer navigation head unit was mounted in a custom panel in the dash, and an 1,800-watt amplifier sends power to Alfasonic 10-inch subwoofers, four 6.5-inch mids, two 5-inch highs and two 3-inch tweeters. Shawn custom built all the audio enclosures and installed and wired the entire eardrum-shredding gear.
The Chevelle took five years to build into the beauty seen here, and Ken is eternally grateful to Shawn and George Richard for all of their help with the build. Shawn was instrumental in helping get all of the electronics dialed in the car. George Richard helped out in several facets of the build, sprinting for parts, grabbing tools and keeping the shop clean. It didn't matter what time of day Ken and Shawn were working on the car George was always there pitching in. George has a love for the hobby and poured as much love and care into this project as Ken and Shawn. The car is a stunning example of what teamwork, determination, vision and the right parts can do.