The 67th Grand National Roadster Show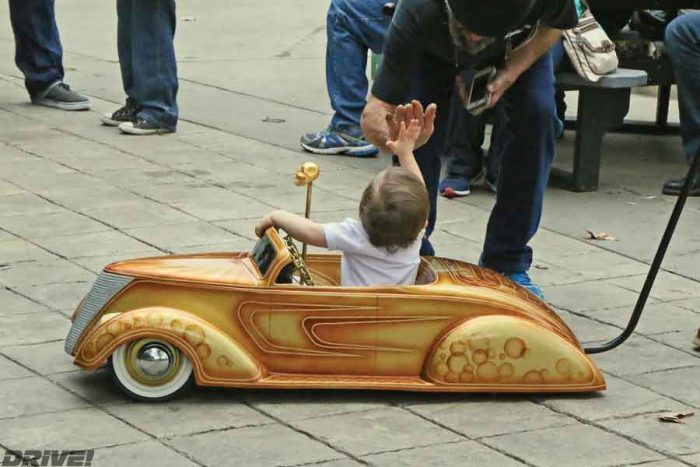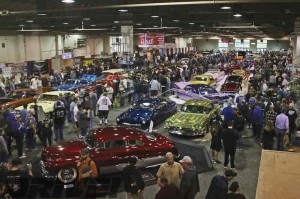 Text by Richard Parks \ Photos by Roger Rohrdanz
The Grand National Roadster Show (GNRS) is a paradox of sorts, in terms of feelings that fans of the event hold for this epic car show. That's because it's both large in scope and yet one feels connected to it like a smaller community event. You get a sense of the warmth of individual effort. John Buck, the owner and promoter of the show, extends an invitation to nearly everyone. GNRS is electric, ecletic and, at the same time, simple. It is a beauty pageant of cars and the car culture without being presumptuous. There are hidden gems within this show that are breath-taking and magnificent. The enthusiasm of the spectators and participants draws people from all over the world. It is neither the biggest car show nor the flashiest, but it is the oldest and one of the most respected hot rod, custom and roadster shows found anywhere in the world. An interesting thing about the GNRS is that wherever you look there are booths, sponsors and people who look familiar and that you have most likely seen at prior shows. Just ordinary people who will willingly strike up a good-natured conversation—and in a moment or two you will find similarities between their lives and yours. It is a degree of separation that is amazingly short. An example of that is found in Building 4 where the eager employees of Hot Rods & Hobbies set up their large display of four cars and hot rod equipment.
Another sponsor of the GNRS was the LA Roadsters, a club formed six decades that includes show promoter John Buck among its members. John purchased the GNRS and the Sacramento Autorama car show and gave it new life and a new direction. Today the GNRS is bigger and better than ever. I even met a young couple from France who spoke little English (and I speak no French), but we got along famously, with the car culture and some automotive terms serving as a bridge to our understanding.  They were delighted to attend the GNRS.
In Building 5 I saw a nice selection of custom cars. In Building 6 Larry and Charleen Schuss invited me to see their restored 1915 Ford Model-T Center Door Sedan. Another show sponsor, Hop Up Magazine, was a show stopper. Building 7 had a smorgasbord of vehicles, including customs, hot rods, trucks, pickups, muscle and race cars. Building 8 had a nice collection of VWs. Near those were many outstanding Woodie Station Wagons. Setting up a display of 12 custom cars was the Lifestyle car club which has been around since 1974.
I met a young man from Finland who was eager to take to his homeland as much history as he could. He recorded several people at the show including John Buck and myself. Toshi Akatsuka led a contingent of hot rodders from Japan and, even though there was a language barrier, we had no trouble communicating by means of our common hot rod heritage. Also at the show were Anna Marco and Mike Basso representing Ol' Skool Rodz and Car Kulture Deluxe Magazines. Anna is a member of the Society of Land Speed Racing Historians and a contributor to our newsletter, which is located on Landspeedracing.com and Hotrodhotline.com. David Steele and Jim Miller manned the American Hot Rod Foundation booth (Ahrf.com). Andreanna Ditton was at the show in the Hot Rod Hot Line booth.
The pinstripers reunion has been a mainstay at the GNRS for years. Some forty or more pinstripers from all over the country participate in the show at their own expense and they will pinstripe any object for a donation which goes to a charity. They also hold several auctions of their artwork and that money is also donated to charity. Howie Nisgor is a pinstriper from Poughkeepsie, New York, one that I have met at previous GNRS pinstripers' reunions. Also at the reunion were local favorites Jimmy C, Jeff Styles and Tom Kelley.