55 Annual March Meet
Text and Photos by Author
Article

Mother Nature came this year and brought rain and some high temperatures in the 50's. The 55th annual March Meet at Famoso took an extra day but it is in the books. Approximately 500 cars competed in 13 NHRA Hot Rod Heritage Series classes. In "The Grove", behind the grandstands, the beautiful Show & Shine cars stretched the length of the track.
As drag racing moves into the 21st century, the Hot Rod Heritage Drag Racing Series, as seen at this event, provides a sharp contrast to the current NHRA National events. Racers compete within a rules package that presents the cars as they competed in the 60's, 70's and early 80's.

Over the last several years, Famoso Raceway owners John & son Blake Bowser have improvised or created something new to improve the event for the fans.  An extra day of racing has been added. The coolest thing was the "Return Lane".  After their run, Top Fuel and Funny Cars can return to their pits using this lane that passes right in front of the grandstands, the fans really appreciated this addition.  The show also included 2 awesome Jet Cars!
From competing at the highest level of nitro funny car, to stirring the political pot of drag racing in the 80's, the 2013 Bakersfield March Meet Grand Marshal, Billy Meyer's love of the sport has always driven him forward into uncharted territory and his unconventional thinking and powerful motivation has brought NHRA drag racing and it's facilities forward into the 21st century.  Art Chrisman was Named Honorary Starter.  He won the first March Meet on March 1,1959 when the Smokers car club invited Don Garlits out to California to prove himself against the West Coast racers. Chrisman beat Garlits in the first round and went on to win the race against local driver, the late Tony Waters.
Drag racing celebrities on-hand included, Ron Capps, Art Chrisman, Tom "Mongoose" McEwen, Rick Stewart, Wayne King, Bob Muravez, Del Worsham, Jim Head, Gary Densham, Dave Wallace Jr., and many others.
Thanks for the Show!!
The results,
Nostalgia Top Fuel Jim Young from Salem, WI. (far lane) takes home the Top Fuel
trophy (again) after beating Denver Schutz in a great Final Sunday night.  Young ran a
5.651ET @ 269.08 mph to beat Schutz of Fresno, CA. losing 5.703ET @ 242.15mph.
This is back to back wins for the Cropduster team.
Nostalgia Funny Car Repeat winner Tim Boychuk (far lane) from Scottsdale, AZ. ran
a 5.814ET @ 249.21mph to defeat Mark Sanders from Maple Valley, WA. with a
15.39ET @ 51.49mph.
A/Fuel Winner Darrell Waters father, the legendary Tony Waters, passed away in
December 2012. Darrell had been to the finals before only to be denied the victory.  Waters qualified #1 and was paired with Bill Wayne in the finals on Monday. Both drivers struck the tires, with Waters trailing Wayne off the line. Waters ran him down running 6.352ET @ 220.58mph just nipping Wayne's 6.432ET @ 211.69mph.
7.0 Pro Michael Peck of Woodinville, WA. ran a 7.027ET @ 166.91mph on a 7.0 index to
win over Bobby Cottell of Whittier, WA. in the final round.
Junior Fuel winner Wayne Ramey, of Simi Valley, CA., survived the eliminations
meeting Richard Brady, from Fort Worth, TX., in the finals. Brady went red and Ramey ran
a 7.046ET @ 187.68mph.
A/Gas 7.60 Index
Winner – Dean Hill 7.551ET @ 183.49mph.
Runner Up- Ray Padgett    Foul
B/Gas 8.60 Index
Winner – John Saliani 8.612ET @ 157.37mph.
Runner Up- Kevin Riley – 8.584ET @ 151.41mph (Broke out)
C/Gas 9.60 Index
Winner – Ken Brown 9.576ET @ 130.48mph.
Runner Up- Jason Barta 9.544ET @ 137.13mph.
D/Gas 10.60 Index
Winner – Ed Carey 10.681ET @ 120.83mph.
Runner Up- David Mallory 10.753ET @ 124.51mph.
Nostalgia Eliminator 1 7.60 Index
Winner – Danny Schrokosch 7.627ET @ 167.93mph.
Runner Up – Steve Schoenfeld 7.631ET @ 165.76mph.
Nostalgia Eliminator 2 8.60 Index
Winner – Rick Nordness 8.611ET @ 145.69mph.
Runner Up – Jason Francev 8.550ET @ 154.67mph (Broke out).
Nostalgia Eliminator 3 9.60 Index
Winner – Roger Turley 9.539ET @ 135.67mph
Runner Up – Lindsey Lister 9.507ET @ 134.60mph.
Hot Rod
Winner Alan Ross 10.355ET @ 129.38mph on a 10.37 dial in
Runner Up  Bill Smith Jr.   Fouled
  Foreign country's flags were hanging across the track to symbolize the international appeal of the March Meet.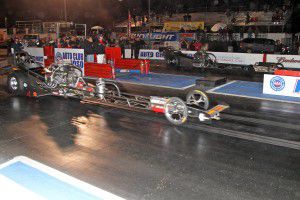 Jim Young from Salem, WI. (far lane) takes home the Top Fuel trophy (again)
after beating Denver Schutz in a great Final.  Young ran a 5.651ET @ 269.08 mph to
beat Schutz's losing 5.703ET @ 242.15mph.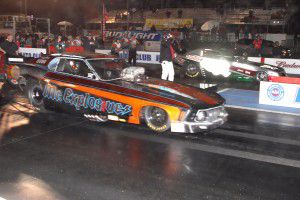 Funny Car winner Tim Boychuk (far lane) ran a 5.814ET @ 249.21mph to defeat Mark
Sanders with a 15.39ET @ 51.49mph.
Bobby Cottrell was runner-up in 7.0 Pro.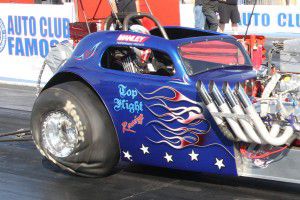 At launch look what happens to Lawton Ferreira's rear tire!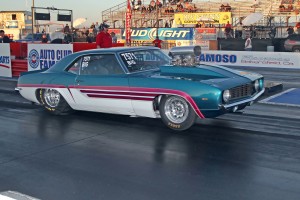 John Saliani of Saugus, CA. won B/Gas in his '69 Camaro.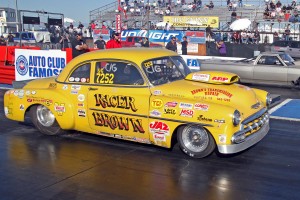 Ken "Racer" Brown of Ventura, CA. wins C/Gas.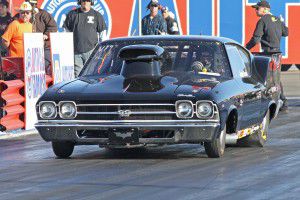 C/Gas runner-up Jason Barta in his '69 Chevelle.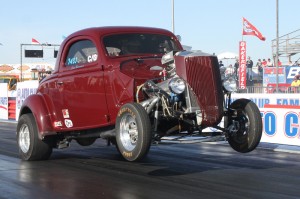 Joe Bernier's '36 Ford was a crowd favorite.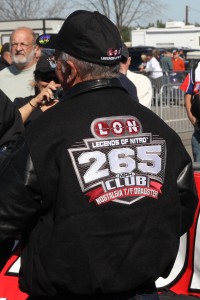 The "265MPH" jackets were presented.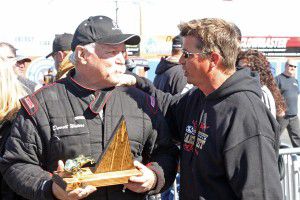 Darrell Waters emotionally received an award from Blake Bowser honoring his Father
Tony Waters who passed away last December.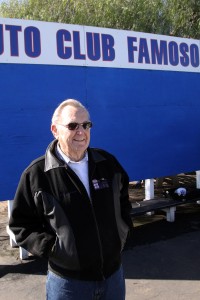 Art Chrisman.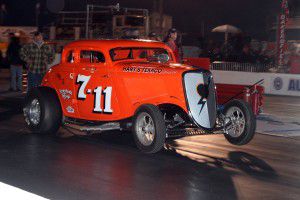 This very popular car belongs to Troy Moyle. Hart's Texaco and the color
orange have drag racing historical significance.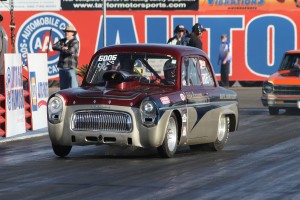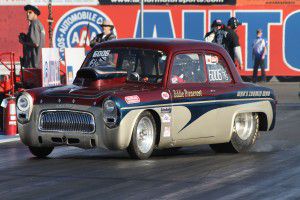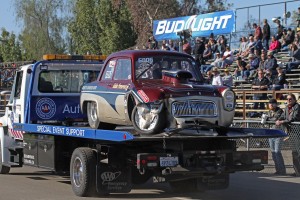 Eddy Prenevost's
'52 Anglia runs over it's own water to cause this accident. No one was hurt.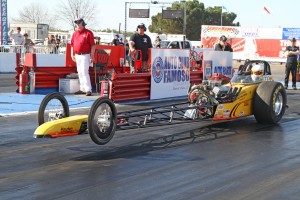 Don Enriquez launches his Junior Fueler.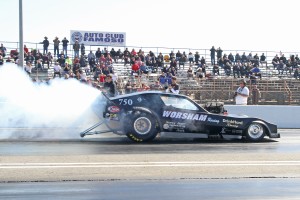 Del Worsham and family were there.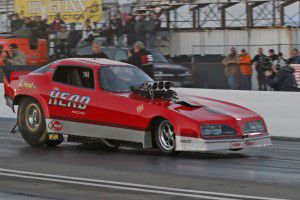 Chad Head at the wheel and Dad (Jim Head) is the crew chief.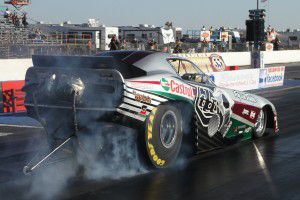 Eventual Funny Car winner Tim Boychuk.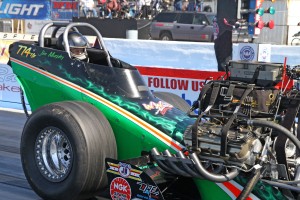 Jim Murphy's Top Fuel dragster.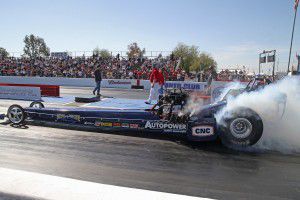 Rick White of San Diego does a burn out.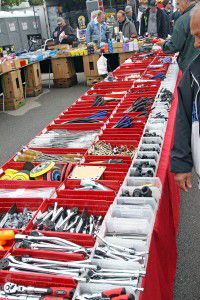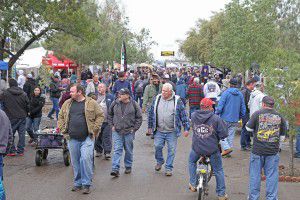 The vendors midway was full of vendors and shoppers.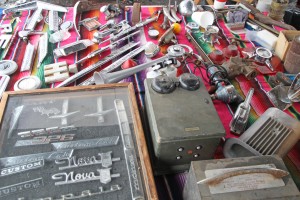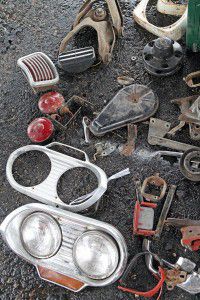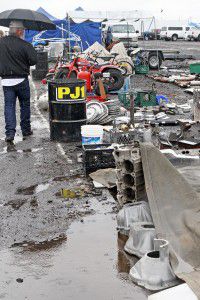 The swap meet was well stocked but the "Swappers" were
affected by the rain.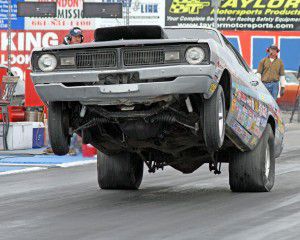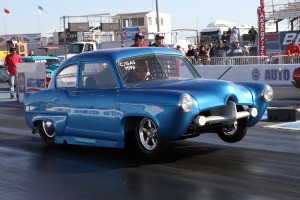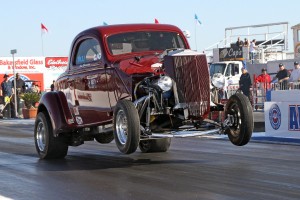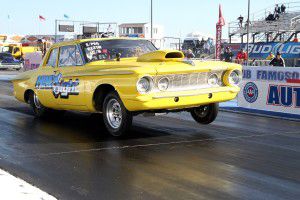 More hot cars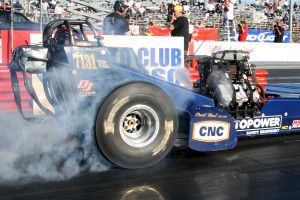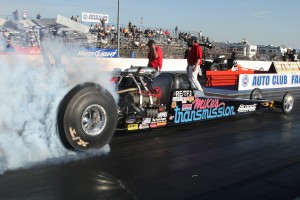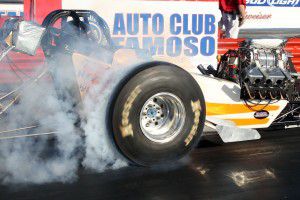 Wheels!
Story and Photographs by Roger Rohrdanz